Happy weekend! I haven't done one of these posts in a while so I figured I was due for a little Instagram roundup. Unfortunately I don't have time to do a full blog post on every outfit I post , but do get a lot of requests for links to specific items that I am wearing in photos on instagram (@themotherchic). As you all know, instagram doesn't display clickable links in the comments, but the easiest way to get the links is to use the liketoknow.it feature. It's super easy – just enter your email here and if you "like" an image that I post on Instagram with the #liketkit hashtag, they will automatically send you an email with all the links to what I'm wearing (magic!). You can set your preferences to get emails as often or as infrequent as you prefer. Personally I like to get them right away! My husband wishes I would never get them, but we didn't ask his opinion did we? Ok, enough business.
Look 1:
The easiest way to dress up jeans and a sweater? Throw on a leather jacket and OTK boots. I am wearing the "save" version of this jacket in the color "revved up" in an XS, but size up if you plan on wearing a heavier knit underneath. For more of a splurge version, I am obsessed with this one (and it is actually on sale!). The boots are SO super comfy (read: walkable) and butter soft. They are selling out fast for good reason, but check back if they don't have your size because they have been restocking. A similar option would be this one, and the ultimate splurge version #inmydreams would be these.


Look 2:
This one hasn't been posted at all yet, but this cardigan is at such a great piece at a great price point I figured I would give a little preview here first. I love the two-toned drape. And guess what? This is literally the same exact outfit as I am wearing in the leather jacket shot above, but such a completely different look! Much more soft and casual. Capsule wardrobe, anyone?

Look 3:
Switching gears to athleisure. This photo got more love on instagram than any photo since, well, since I gave birth to my son! These moto leggings are actually high waist yoga pants that you could easily wear out (save version here). The hoodie is old Lululemon but this Patagonia one is virtually identical (full zip version is here). Throw on a colorful scarf to pull it all together and you are supermarket ready 😉

Look 4:
Sometimes all black is the way to go. My tip for making a monochrome outfit more exciting is to make your pieces not-so-basic. This "ripped" neck sweater (on sale for $29) gives this outfit an edgy vibe (similar here) and I'm wearing my all time favorite black pants. They are SUPER high rise and amazing. I even got Alison (my amazing photographer) hooked. Great price point too and they come in ripped and non ripped. Baby = all mine <3.

Look 5: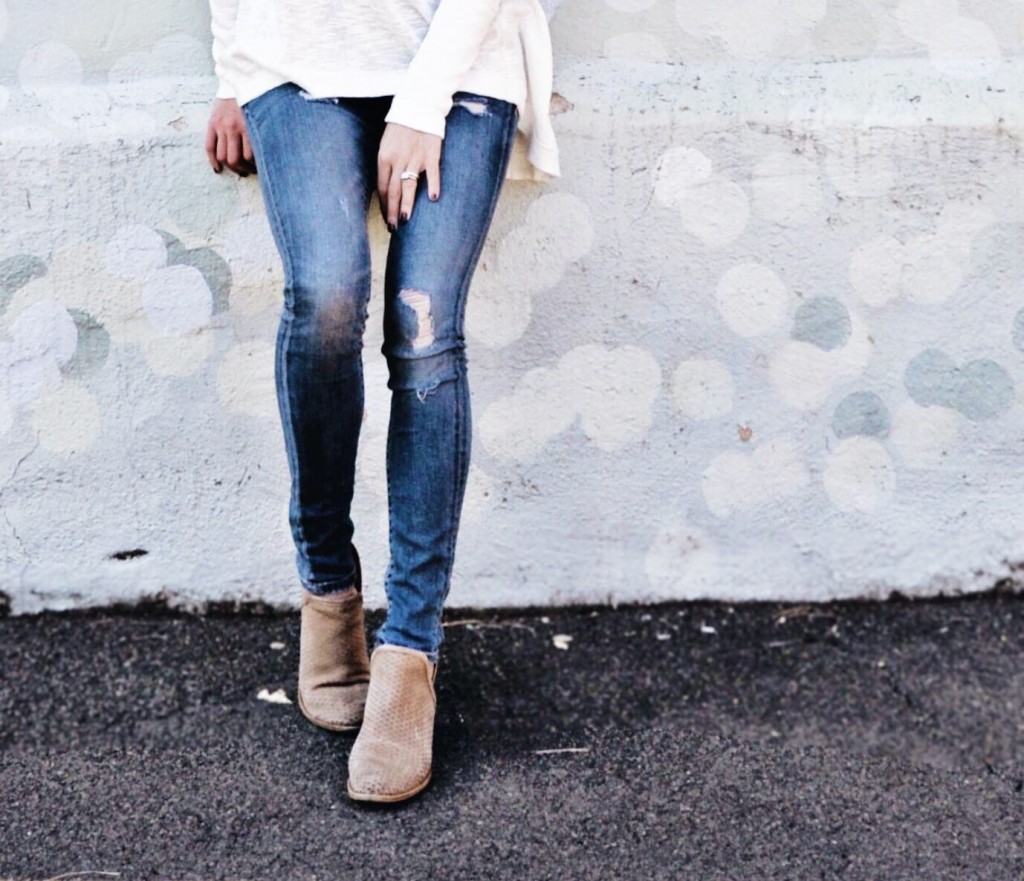 Surprise, surprise! I've only mentioned these jeans about 100 times on this blog before, but for good reason: they are the perfect wash, a great fit and only $88. My friends over at Social Threads have them fully stocked and are giving Motherchic readers $15 off $100 all February long with code: MOTHERCHIC15. They run true to size and have a touch of stretch. The booties, another favorite, are the perfect transitional shoe as we inch our way closer to spring. I'm also wearing this split back turtleneck (more sizes here)- styled before here and here.

Look 6:
This embroidered pullover is a weekday SAHM essential or working mom's weekend staple.. Also makes a cheeky new mom gift, or gift for your smiliest friend. What I'm trying to say is, this sweatshirt can do no wrong.

Look 7:
And Abby over at @the_sisterchic got lots of questions about this top! It's non-maternity, but obviously you can rock it with bump! The only problem with this one? Which color to get it in?! Abby is also rocking these budget friendly maternity pants and her shoes are old but these are similar.

Hopefully this post answered some of the q's people asked on Instagram! Be sure to follow us both!(@themotherchic and @the_sisterchic).