One of the more surprising things about parenting multiple children is the different personalities that they have developed. All silly? Yes. All wild? Yes. All messy? Yes. Yes. Yes. AND YES! But their range of demeanor is larger than I ever could have imagined. We've got the competitive perfectionist, the reserved yet feisty one, the goofy, attention-loving one, and then there's the baby – easy going, happy, and l.o.v.e.l.y. (shhh, don't tell his big brothers). Put them all together, and our house is anything but peaceful. And while they claim to disagree on most things, they all agree on one thing: If it doesn't "feel right", they won't wear it (see rules for dressing boys). Nordstrom asked me to take a look at their kids department which was really no chore. Nordstrom is fully stocked with all of our favorite kid clothes with a selection big enough to suit the personalities of all of my kids for every occasion. Major bonus points. In my seven years of being a parent, one battle I've learned not to pick is fussing about what the kids wear. If you want to get out of the door in the morning with one less fight, let them choose their own outfits. So here's what happened when I let my kids each pick out their own ensemble, put on some fun music (24k Magic on repeat), and let them work the camera. Oh, and girl mom's don't fear. I recruited my nieces to give you a little taste of the girls' department. Clearly, the kids didn't have any fun helping me out….
Groove:
What he choose: A dressed up casual look with a hipster vibe. Khaki joggers (hello, elastic waist band!) with a playful polo, bomber jacket and retro/classic kicks.
Wearing:
Shirt | Jogger Pants | Bomber Jacket | Sneakers
Get the Look:


Move:
What he chose: Everyday sporty uniform. We live and breath the activewear department. No explanation needed.
Wearing:
T-shirt |  Shorts | Hoodie | Sneakers (old, similar)
Get the Look:

Play
What he chose: The perfect compromise for character tees (goodbye Paw Patrol – no offense, hello vintage Donald D!), paired with the jeans we SWEAR by (again, with the soft waistband) and the coziest zip up. No really, I wish they made it in my size.
Wearing:
T-Shirt | Zip Up Hoodie | Jeans | Sneakers (old, similar)
Get the Look:

Snuggle
What I chose for him: Our romper days are numbered, and this one is as cute as it gets. Classic stripes with a hood, and sherpa lined Robeez – and yes, they actually stay on.
Wearing:
Get the look:

Shine
What she chose: Staple every day leggings, with a ruffle hem striped tank, shiny kicks, and the cutest raincoat I ever did see.
Wearing:
Tank (sizes are limited, but this is similar) | Raincoat | Leggings | Sneakers (similar here and here)
Get the Look:

Dazzle
What she chose: Well, for starters, TWO outfits because how is a little girl to decide? Playful polka dots paired with a pop of red, and shades of blue with the sweetest straw hat. Girl, I couldn't have picked it better myself!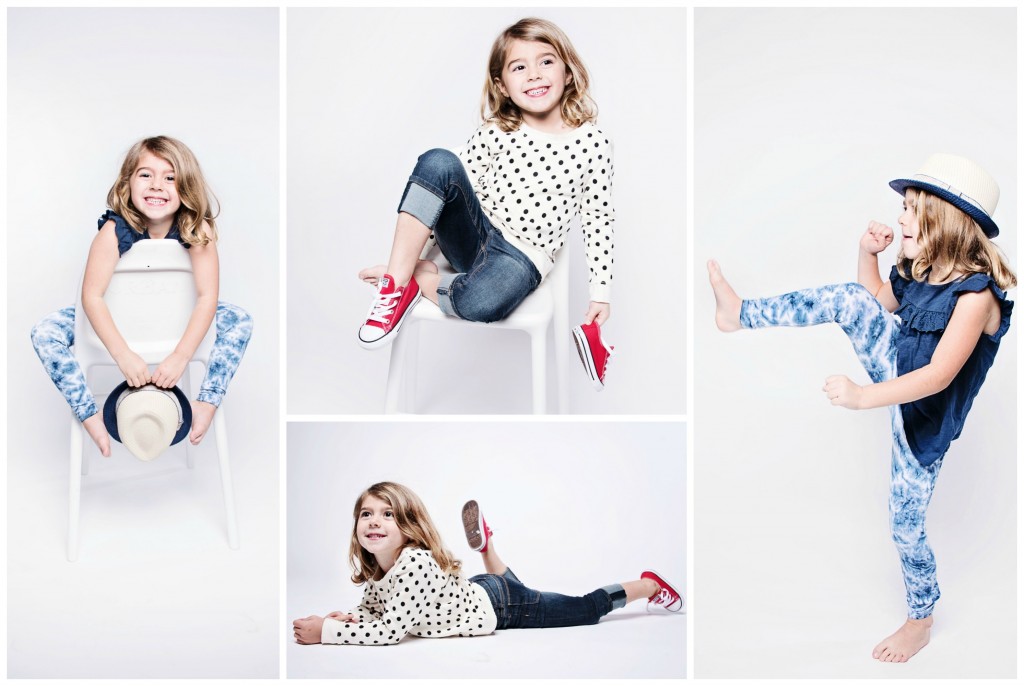 Wearing:
Blue Outfit: Ruffle Tank | Leggings | Hat
Polka Dot Outfit: Sweatshirt | Jeans | Sneakers

Thank you to Nordstrom for being our one stop shop for the entire family. We are busy people and only having to visit one website for our ever growing kids makes our lives so much easier. Oh, and the free shipping helps!

This post was sponsored by Nordstrom. All opinions, outfit selection, and children are my own (well, sort of!). Photography by Alison Cornell and the last photo set by Anna Murray (amazing photographer for anyone in the Florida area!)
P.S. A little behind the scenes…