It's finally spring! Well, maybe should say it's "technically spring". We still have several inches of snow on the ground here in Philly. Mid February, it was 60 degrees, mid March it's 30 degrees. I give up. We are all confused. Regardless, due to the popularity of our capsule wardrobe posts, I have been on the hunt for key wardrobe pieces for the season. If I find something that can be styled a bajillion ways, you can bet I am going to buy it (blogger code for "taking one for the team") and see what magic can be made. Good news. I found a great tank dress that fits the bill without a hefty price tag. I played around with styling it several different ways and, of course, we picked one of those 30 degree day to shoot these looks. I'm sure fashion bloggers are not supposed to divulge the reality behind such circumstances, but pretending that I was frolicking in the warm sunlight only lasted so long. My face in the first image says it all: I am freaking cold. The proof is in the goosebumps. But what can I say? I was excited to share this dress and so I froze my buns off in the name of a great find.
Just the Tank Dress
Tank Dress – I am wearing an XS for reference in 'gray medium heather')
This is it. A simple tank dress (comes in several colors – ) with a few great details that separate it from the other tank dresses of the world: the criss-cross hem (draws the eyes inward -which, yes, is a good thing!) and singular side ruching for a waist cinching fit. So yes, you can rock the dress alone, but I know what some of you might be thinking. It's too tight to be worn alone. And I agree. Or should I say, it's not the look for everyone. But I like to think of this dress as a great base for layering. And if you are pregnant, this dress TOTALLY works!! Just size up and rock that bump. Throw a drapey cardigan over if you want booty coverage, and you will be comfy and chic. Here are a few ways to wear this warm weather wardrobe staple….
The Tank Dress, Dressed Up
Pairing the dress with cute peep toe booties (or heels) and simple clutch (this one is old but similar linked below) is an effortless date night look.


The Tank Dress, Dressed Down
Swapping out booties or heels for your comfiest pair of flats is the easiest way to get a more casual vibe.


The Tank Dress + Top Layer(s)
The Farmer's Market Outfit
Adding a denim jacket, baseball hat, and sneakers is a playful way to dress it down for running errands, weekend shenanigans with the kids etc… and we don't have many outdoor farmer's markets around these parts, but if we did, this is what I would wear;)


The Edgy Date Night Look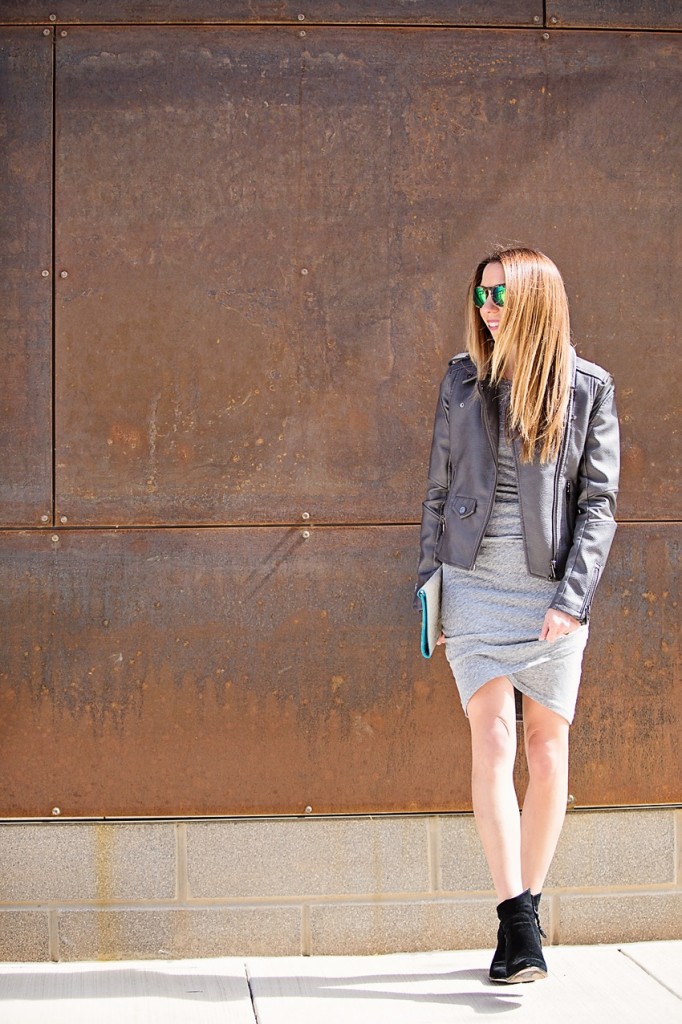 For a night out in the city where you are going for an edgier look, add a faux leather jacket and booties.

The Softer Side
For a more romantic look, swap out the structured jacket for a draped version to create softer lines.

These are just a few of many other ways to style this dress – throwing a knit cardigan over your shoulders, or an oversized button down or even a pullover sweater to create the illusion of wearing a skirt… just to name a few!
Get the Look and Shop Our Favorite Tank Dresses: