Last week after sharing some feelings about the struggle to strike a balance between between motherhood and working, I was truly lifted up by so many of your comments. I used to be a "working mom". My son went to daycare and I had a full time job teaching elementary school. My husband and I look back on those years and the conversation always ends with a comment about not being sure how we survived. It was rough between the high demands of his job and the fact that a teaching job doesn't end when you exit the building at 3:45. There are papers to grade, content to plan and parent emails to address. Add a toddler into the mix (one who you haven't seen all day) who needs to be bathed and fed and entertained and loved and then prepped for the next day – breakfast, lunch and snacks packed up and cut into 87 million small pieces (which honestly was my least favorite part), it was a lot. A lot. After I had my second son I decided to take a year off and stay home with my boys. A year came and went and literally the day after I sent in my resignation, I found out I was pregnant with my third baby.
I loved being a stay-at-home-mom. It took me a while to get into my rhythm and to find friends to help get through the day, but when I was about 7 months pregnant with my third I recognized that I needed some sort of creative outlet. So I wrote a blog post and accidentally posted it to Facebook and the rest is really history. For three years I worked on the blog in little nooks and crannies throughout the day. But the more the blog grew, the harder it was to distinguish my role. Am I am a stay at home mom? Am I a stay at home mom with a serious hobby? At that point, I really wasn't making much money (which was never the intention) so it didn't make sense to hire a sitter so I could write about parenting and share my favorite fashion finds with other like-minded women. I did a lot of work during nap time, a LOT of work after the kids were in bed, and I tried to squeeze even more in during the day when they were distracted or playing or making a mess that I would just deal with later. During this time I had a lot of guilt. I was doing something I loved, but felt that I was wasting the gift of being able to stay at home with my kids. Did I deserve to pursue my own passion? Of course. But at what expense? I think this is a question every mom struggles with.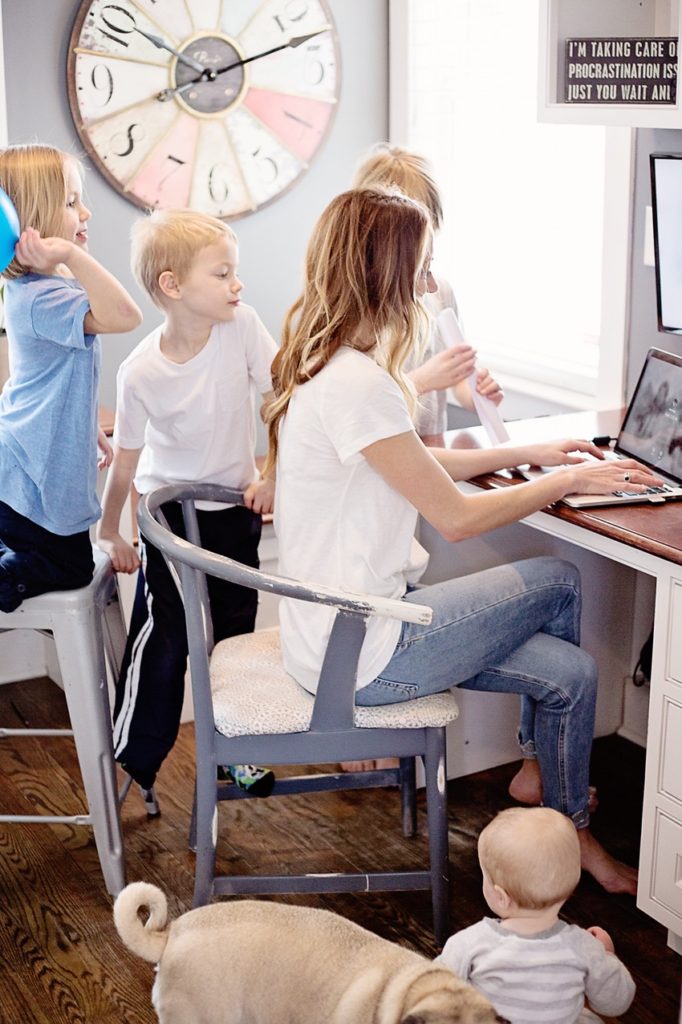 Two years later my youngest son entered this beautiful thing called preschool. He was there three mornings per week for three hours each and my older boys were also in school. I dropped him off at school and parked my butt at a coffee shop and worked pretty much (uninterupted) for 2 hours and 34 mins straight (the time quickly diminished after factoring in travel time). Suddenly there became a clear distinction with the amount of time I could invest into this blog, the more successful it became.
But surprise, pregnant again!
When my 4th son was born the blog had already picked up some good momentum and so it made sense to have a sitter a few mornings per week to watch him while my older boys were all in school. And that brings us to today. Yes, I do have help. My team is growing (Abby and Alison you guys are the best) and we are looking to expand even more. Anyone know of a great intern…… (kidding, actually, not really).
So that's my story, but here is my struggle. It's the working from home thing. I struggle with hiring a sitter for an entire day because I WANT to be home with my kids and still consider myself a stay-at-home mom. I do go out in the mornings to work. I eat a bagel and drink a latte and blog. But, uh, how long is too long to camp out at coffee shop? For anyone who is wondering, they really clear out at about 11:45am. But, in all seriousness this job of mine, never really ends. There are so many components from creating content, to researching trends, to finding clothes (and scouring reviews for fit, feel and quality), to shooting looks, editing photos, creating graphics, responding to emails, and the whole social media part is a full time job within itself. But you guys, I LOVE IT. I love every last inch of it (except making graphics, I really don't like doing that or telling someone that I don't think their brand is a good fit for my blog. I am such a softy but I digress). I love it so much that I literally could do it all day long. The only times I don't love it are when I feel like it is taking a toll on my kids. And that's the thing about working from home. There can be an "off switch" but sometimes it's more like a flickering light.
Somedays working from home means you are peeling clementines with one hand and editing a post on your laptop with the other. Or watching the baby who is splashing in the dog bowl (why are they obsessed with that by the way) while taking a call and trying to hide the fact that you aren't also emptying the dishwasher. The hardest part for me is that I'm not sure my kids completely understand what I am doing when I have my computer out or am looking at my phone. They know I have a blog, but they don't really know what that means. They see me scrolling through pages of clothing on my computer and they see me looking at my phone posting things to social media. My biggest concern is that I don't want them to be on their phones all the time when they grow up. Yes, it's my job, but I'm not sure it looks like that to them. So I struggle with that. I really do.
One person commented that "this is having it all" and striking balance is overrated. Some days we are really present with our kids and other days we are really present with our jobs. How fortunate am I to have this problem, I suppose – to be needed by so many wonderful things.
Outfit:

Home:

Photography by Alison Cornell