There is no question about it, I am a jeans girl. The happiest shelf in my closet contains my two (not-so-neatly) stacked piles of denim. Ok so it's busting at the seam and we might need to buy some real estate on the sweater shelf, but I live in jeans and am pretty passionate about finding great ones. Nordstrom asked me to take a look at their impressive denim collection and I thought it would be fun to do a spring denim preview. There are a few trends that are big for spring: embellishments and raw/fringe hem detail to name a few. Then there's the classic spring denim go-to's, namely white jeans and pastel hues. And because no one choice is better than the other, I tried on ALL of them. And……I had Abby try on ALL of them too. To make this even more fun, for each trend one of us is wearing a "splurge version" and one of us is wearing a "save version". See if you can guess! To be honest, there wasn't a single pair that we didn't love for one reason or another – props to Nordstrom for making this job so easy. Let's take a look, shall we?
Embellished Jeans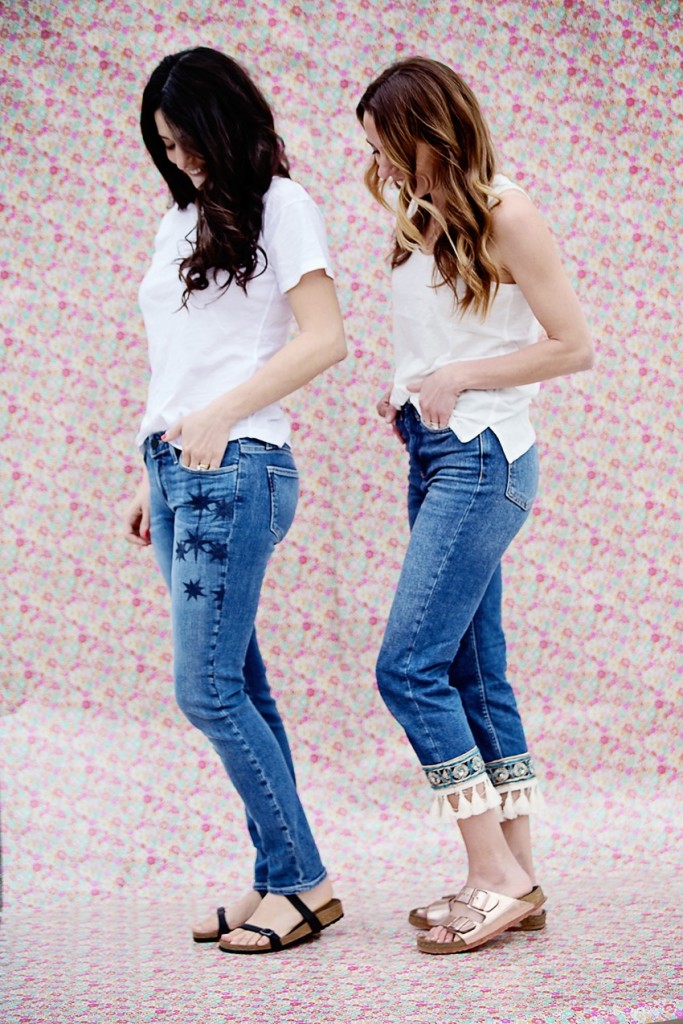 Lindsey's Pick:
Topshop Embellished Jeans | Tank | Birkenstocks
The Details: These Topshop embellished jeans have a super high rise fit. They run true to size although the denim has little spandex, it does give and form to your body. I am wearing my normal size, but sizing up is the way to go. The embroidery and the tassels bring the eye downward so let the jeans to do the talking and wear these with a simple tank.
Abby's Pick: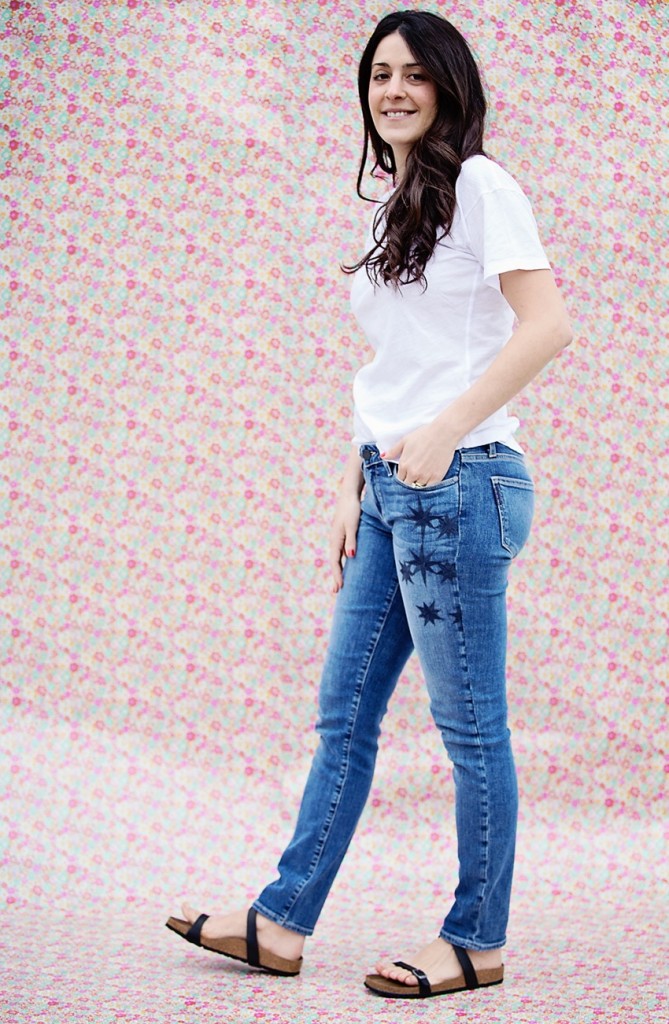 Paige Skyline Star Jeans | Tee | Birkenstocks
The Details: For those not sold on the embellishments, these jeans are the way to go. The indigo embroidered stars give just a taste of this trend without going overboard. These run true to size in our opinion even though some other reviews say to size up. Abby did note that these jeans were a little lower rise than she normally wears (and I might I add she just had a baby 4 weeks ago). The best thing about Nordstrom is free shipping and returns so you can always order 2 sizes and send one back. In true Paige denim style, these have the perfect amount of stretch. Again, we would wear these jeans with a simple, solid tee. The embroidery did make this particular pair a little pricier, but if you love the fit and want to save a little, the classic skylines (in white or blue) have our seal of approval.
Released Hem

Lindsey's Pick:
Rag & Bone Jeans | Striped Tank | Sandals
The Details: Released hem jeans are everywhere these days. For me, they are a fun way to update your everyday denim. The jeans I am wearing are by Rag & Bone (so yes, these are the splurge ones), and they are actually classified as a "slim boyfriend". I actually sized down because I wanted an even slimmer fit. For light wash jeans, these are perfection!
Abby's Pick:
Released Hem Jeans | Top | Wedges
The Details: Abby said these released hem Sanctuary jeans felt so so good. By far, her most comfortable fit. They have a decent amount of stretch and are very bootie friendly for those with curves – made with a special "body contouring" fabric. They run true to size and although they are not classified as "high rise" they hit higher on the stomach than your average pair. Abby dressed them up with a flouncy tube top – perfect for date night (and nursing friendly!).
White Denim

Lindsey's Pick:
Articles of Society Jeans | Side Tie Tee | Peep Toe Sandals
The Details: I was blown away by these Articles of Society Sarah Distressed Skinny Jeans. They are sort of an all-in-one for me: the distressing is on point, the frayed hem makes them not too polished, but can easily be dressed up. They have the perfect amount of stretch BUT best of all…. they are only $59. If nothing else, these jeans! Also, they run true to size.
Abby's Pick:
Frame Jeans | Tank | Twist Bow Slides
The Details: Oh, Frame 'Le Color' Skinny Jeans, there is a reason why people swear by you. These jeans have a great fit and good amount of thickness for a white pair of jeans (meaning, if you happen to be wearing polka dot undies, we might not even know!). Obviously we recommend wearing these under any light denim, but sometimes there are slips and we get that 😉 These jeans have great stretch and the length was perfect for Abby who is about 5'6.
Pastels

Lindsey's Pick:
Garment Dyed Crop Jeans | Chambray (old, similar) | Sandals (old, similar)
The Details: Like I said before, I'm a jeans girl – as in very partial to my distressed blues, but then I tried on these. I felt a little preppy and I sort of loved it. Did someone say they wanted to lunch at the country club? I'll be there wearing this. These are actually by J.Crew and are their high rise garment dyed crop jeans. If you have never worn high rise before – do it! A higher rise makes your legs look longer and sucks everything in. I always recommend this cut for women post-baby. This pair is made from Turkish cotton so they are silky soft and have stretch. These fit true to size.
Abby's Pick:
Rose Skinny Jeans | One Shoulder Top | Red Pumps (old)
The Details: These rose colored jeans are slightly pinker in real life than they appear in this photo (first photo is more accurate). Abby thinks she probably ordered a size too big and these run very long (tall girls here you go!). As with most lighter colored jeans, the material is thinner than your average denim, but very comfortable. Pastels jeans are a fun way to brighten up your look for spring and Abby played on the pink/red trend that we are seeing a lot of these days.
The Shorts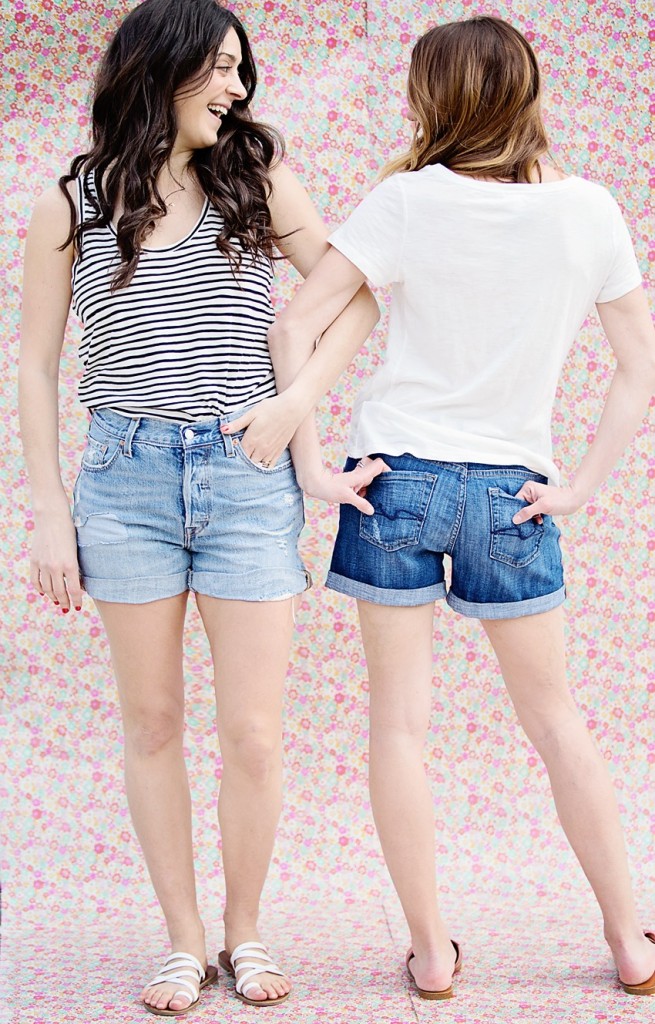 Lindsey's Pick:
Relaxed Cuff 7's | Twist Front Tee | Slides
The Details: Jean shorts are SO hard. We feel your pain. While a higher ticket item, this 7 for All Mankind pair is pretty amazing. The denim is super soft so there is no, ugh, chaffing issue. I typically size up in shorts so I have a touch more length and a touch more wiggle room. I don't like when shorts cling to my legs so sizing up is my trick for finding shorts that fit. The wash and the distressing on this pair = perfection.
Abby's Pick: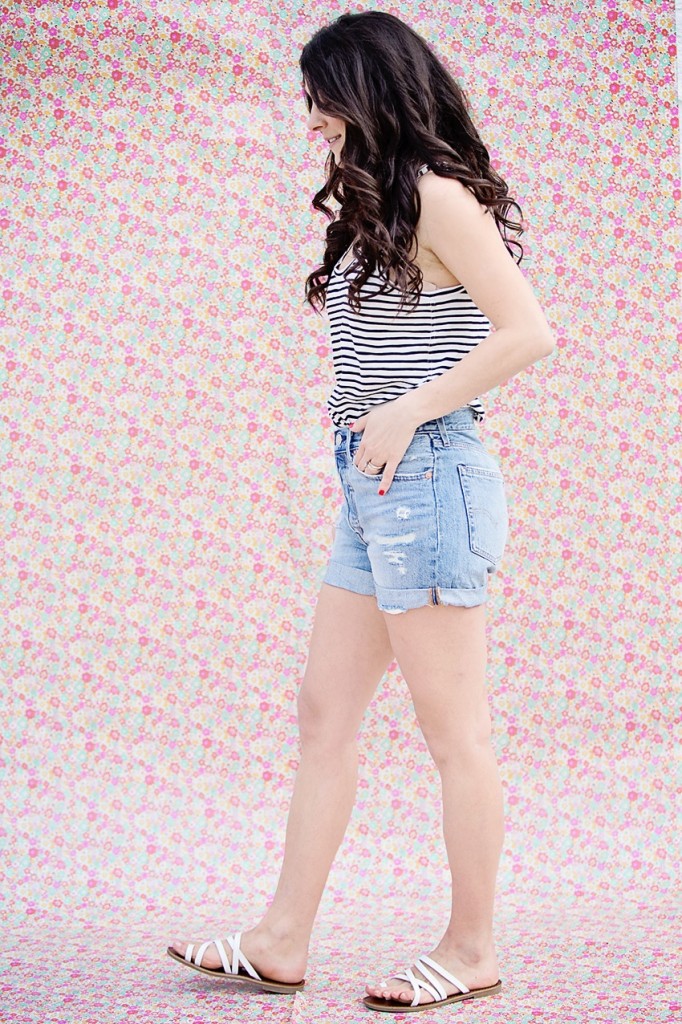 Levi's Long Denim Shorts | Striped Tank | Sandals (old, similar)
The Details: We love a trusty old pair of Levi's and this pair was no exception. The fit is slimmer than we expected so size up if you are wavering. This pair has a longer inseam and higher rise so they are "picnic friendly" (meaning you can sit in them without worry!).
Nordstrom, your denim selection is on point! Clearly we didn't have any fun sifting through the goods…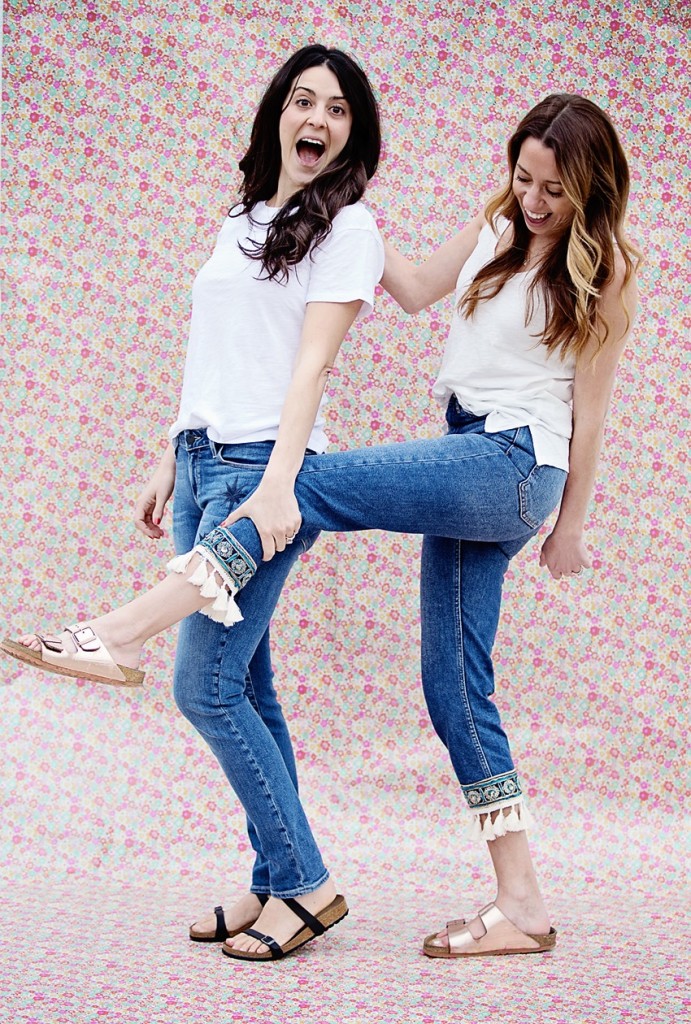 Let us know if you have any questions regarding fit, style, which sister is actually taller in real life etc…;)
Spring Denim Picks:

Thank you to Nordstrom for sponsoring this post. All opinions and selections, as always, are our own. 
Photography: Alison Cornell