This past weekend I attended a fashion blogger conference in Dallas, Texas. My first official "business trip" if you will. As many of you know, leaving the kids behind is no easy feat. No joke, one day I had three different babysitters watching my kids while my husband was at work. And then mid-trip, tee ball had to go and get cancelled and throw off my 7 page instruction note and on top of that, I forgot to RSVP to a birthday party (wasn't the first time) so I'm just publicly saying, I'm sorry, Samuel, it was totally MY fault my kid didn't make it to your party, but if I did in fact reply last minute, the chances of my husband figuring out an appropriate gift and bringing all 4 kids to the store that sells it are slim to none, so maybe after all we were better off pretending we never saw the invite in the first place, no? So yes, going away for a day let alone three, is pretty insane with 4 kids. Heck, I might have missed three birthday parties and didn't even know it. Bottom line. We all lived to tell the tale and my house was super clean when I came home. My husband is kind of great if I do say so myself. Meanwhile, I was working….
(reason #317 I love my job)
I know I write about clothes and fashion and hopefully (seemingly effortlessly) share my favorites with you on a regular basis. But planning outfits for a fashion blogger conference??! Yeah. The the whole what-to-wear game is at a whole new level. I stressed and I stressed some more, and then I just decided to be me and wear what I am most comfortable in – looks that reflect this space here at The Motherchic. Truth, I contemplated buying these to "fit in" with my peers. No joke, almost every girl at this conference was wearing them. But in the end, I went back to being me and settled on a seriously adorable alternative.
This conference was all about learning the business of blogging, connecting with like-minded people (Living in Yellow, Jo Lynne Shane… I'm talking to you!), and networking with brands. In our brand meetings when we had to give our little "elevator speech", I always started by saying that I think of my blog as a lifestyle/fashion resource for busy moms. It's a place where women can come for easy, accessible outfit inspiration which hopefully elevates their everyday look and makes them feel a little more confident about themselves. In the end, this is my goal and I wanted to reflect by wearing things that I would share here with all of you. If you follow me on Instagram (@themotherchic), you've already seen a few of the outfits I wore, but here is a full round up with links and fit info.
Travel Outfits
Whenever I'm traveling, I like to be comfortable. Normally I have 4 kids in tow and I literally wear gym clothes because it is nothing less than an olympic sport. I always wear shoes that I can kick on and off super fast and I usually bring an extra layer. I didn't get a photo of my first look (sorry, it was too early in the morning), but below is an old photo of the exact outfit I wore. I threw this draped jacket over top for warmth (and an effortlessly styled look). These types of jackets are perfect for that because you can literally wear them over anything. It was unseasonably cold in Dallas so I ended up wearing this same jacket over my dress for the black tie event!
PHL –> DFW
Tee Shirt (runs true to size but next time I'll size up for a slouchier look – I'm wearing a small for reference) // Jeans (size down – they are supposed to be Tomboy fit, but I went a size down for a slimmer look) // Jacket (runs TTS) // Birks (not pictured, but what else to wear to a fashion blogger conference then these?) – kidding! I love these shoes, but they are pricey. Here is my favorite dupe.
DFW –> PHL
Sweatshirt – I actually wore this exact outfit to get coffee one morning with (gasp) no tee underneath. The leggings are high waist though so there's that 🙂 If cropped isn't your thing, but ADIDAS gives you all the old school nostalgia, it comes in regular length as well) // Longleeve (old Lululemon) // Leggings – my favorites in the entire world. Wearing an XS for reference // Flipflops // Hat (gift from Abercrombie at the conference! Also, how cute is this version?!)
Daytime Outfits (Classes/Lunch/Brand Meetings)
Day 1:
For the first day of classes and brand meetings I went a little boho wearing a flowy top, same jeans, and my favorite draped cardigan (not pictured). This is one of my favorite looks – full post coming soon!
Top // Jeans // Shoes // Earrings
Day 2:
For day two, I wore a longline button down/tunic (which can be worn a million ways) with white jeans, and peep toe booties. Both days I carried this reversible tote to hold my laptop and notebooks.
Button Down // White Jeans (I sized down and would suggest doing the same if you are wavering) // Peep Toe Booties (TTS) // Tote (comes in 3 colors)
Party Outfits
Night 1:
The night we arrived in Dallas, Sole Society hosted a rooftop pool party. The theme was "beachy chic" so I wore a pretty floral maxi. What I love about this dress is that you can unbutton it, throw on a pair of jeans, give the slip a little front tuck, and wear it as a "robe" – which is a thing and is super cool. Just trust me on this.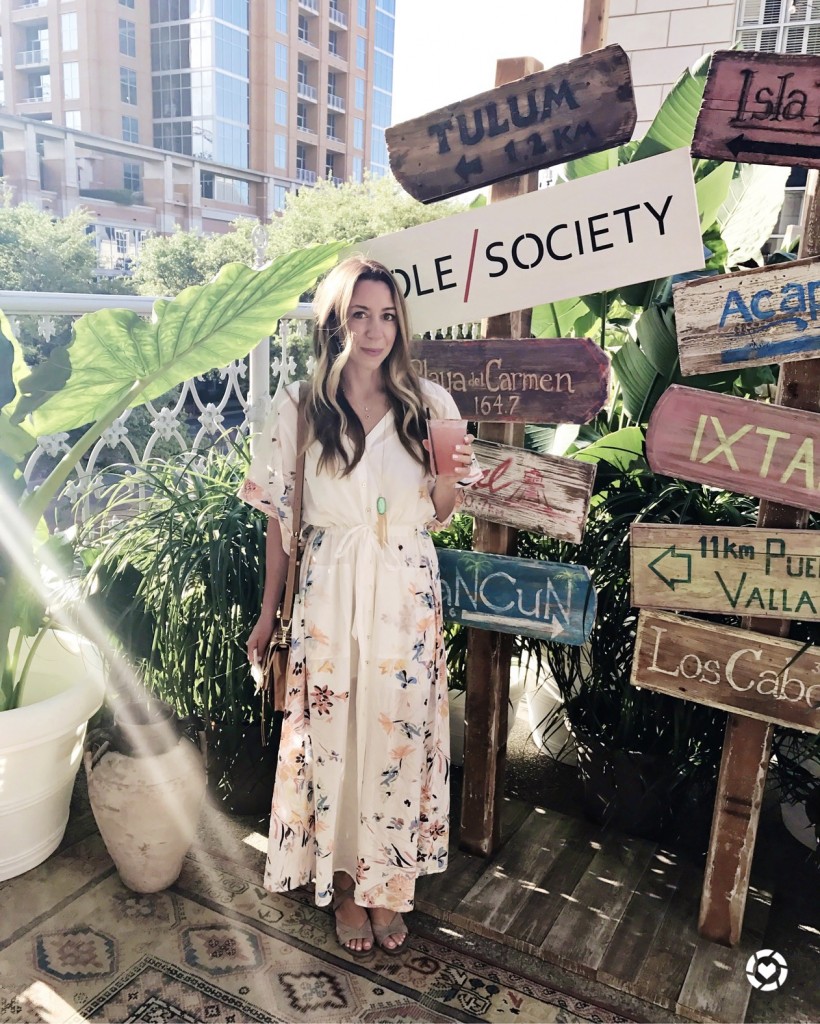 Dress (size down – runs big) // Sandals (TTS) // Tassel Necklace (comes in 3 colors and only $19)
Night 2:
The second night we attended a cocktail party with Bumble BFF (an online dating app where their tagline is "women make the first move" – v. cool!) I wore a flirty and fun ruffled wrap dress and dressed it up with pumps and statement bag.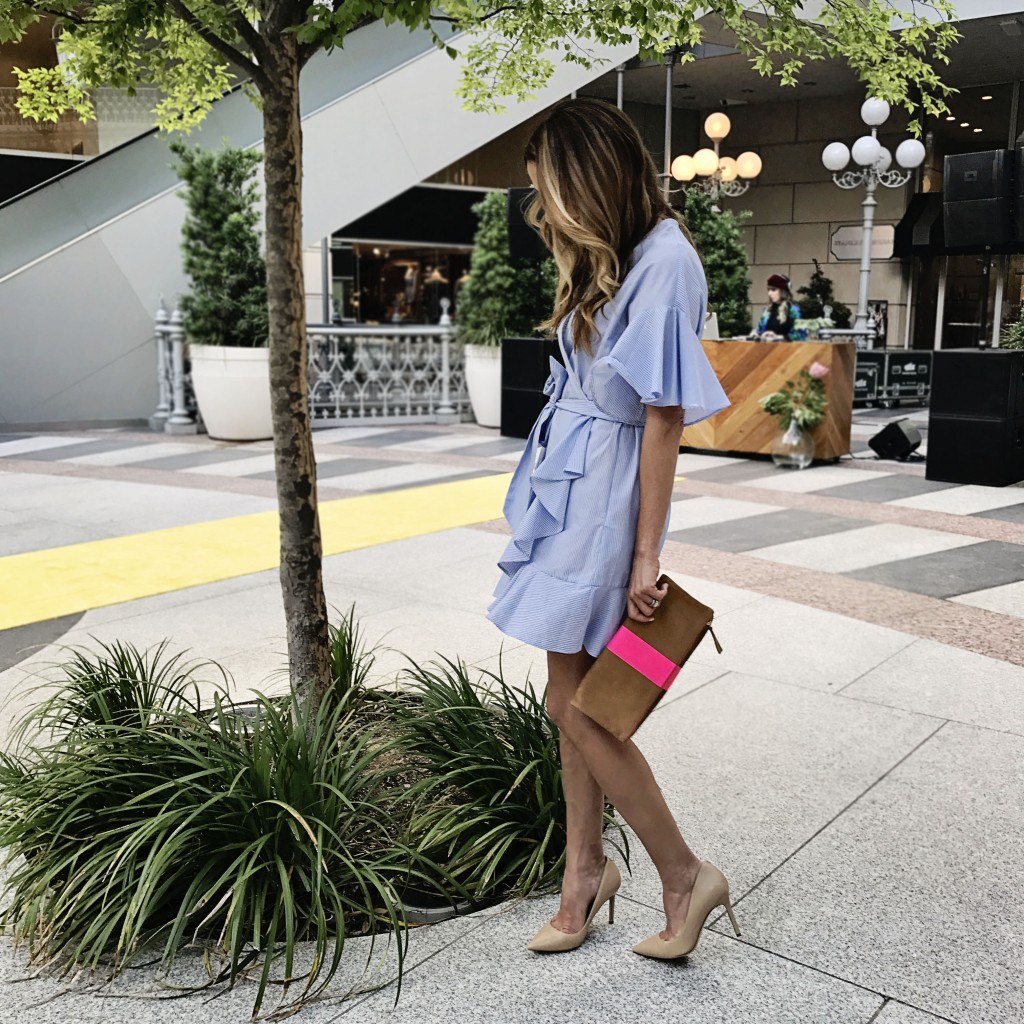 Dress (uses European sizes so use the chart to help. I am wearing the 4 for reference) // Shoes – TTS, but wearing these made them SO much easier to walk in // Bag – stole it from the_sisterhic + never giving it back // Earrings – come in tons of colors
Night 3:
The finale party on the last night was black tie optional – this special dress is getting it's own post, but here is a sneak peek!
Anyway, I home. My boys smothered me in kisses. My baby's tooth came down a millimeter which seems like a mile and he can do like 3 new tricks. How does that happen in three days? A lot happened in these three days. I am equal parts inspired and tired. Story of my life!