Striped Button-Down Shirt | Jeans | Booties | Earrings | Shades | Lipstick
I cannot believe it, but we have known this next reader style crushee for over 20 years! Ally is one of Abby's best friends and although she is absolutely adorable and would look cute in a brown sack, she credits any fashionable item that she owns to the sister chic – and that is a quote! Ally is a first grade teacher at Mastery Charter School, Smedley Elementary in North East Philly. Being that every day is so different (and exciting!) with her class of 30 six and seven year-olds (can you imagine?!), dressing comfortably is a must! When teaching little ones, she needs to easily get down on the carpet with students and is constantly pacing the classroom. Luckily, the teacher wardrobe, as with many other professions, has taken on a more casual vibe. Ally could easily wear this comfortable button-down top to work, but created more of a weekend vibe by knotting the front and pairing it with a chic pair of raw hem denim jeans and peep toe bootie. Ally, a newlywed, lives in the Philly suburbs with her husband, Mark, and dog, Winnie. Let's meet Ally!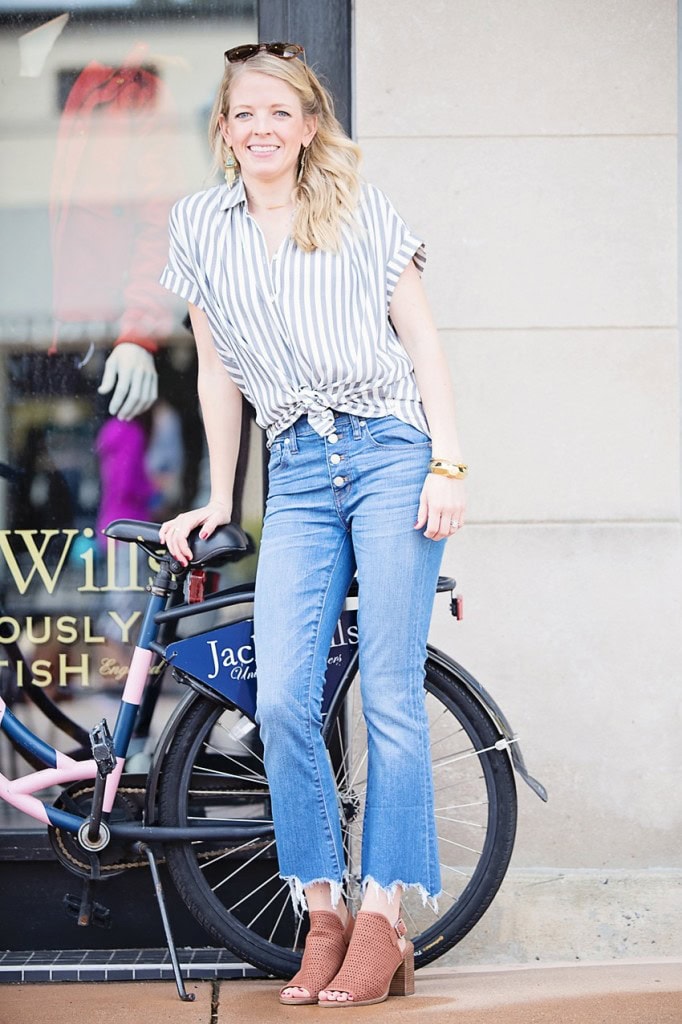 How would you describe your style in 5 words or less?
Comfortable but chic and feminine.
What's your favorite pair of jeans?
My favorite pair of jeans is definitely a pair of Pilcro ones that I bought back in the fall. They're the Stet Ankle Jeans and are so soft. I could sleep in them.
Most worn item in your closet?
The most worn item in my closet right now has to be a denim button down. It's a looser fit, but can be dressed up or down. I love that I can wear it to school or on the weekends.
Favorite way to stay in shape?
I always pack a workout bag to go to the gym on my way home from school. If I stop at home first, all hope is lost, but if I get there right away, I'm good. There's a high intensity interval class called Grit that I love and kicks my butt. The best part is that it's only a half an hour.
What would you do if you had 30 Minutes to yourself?
Hmmm. I would say that when I have 30 minutes to myself I'm either vacuuming up my dog's fur like a maniac (a little OCD?) or taking her to the Wissahickon trail for a walk or run.
What is your favorite local restaurant?
Pepperoncini. Hands down. This restaurant is half of a block down the road from me and is my go-to any night of the week. They're perfect for take out, happy hour or a nicer dinner out with friends.
Get Ally's Look:

More of Our Favorite Stripes: