Well it's finally spring here in Philadelphia. What does that mean for us? Yesterday it was cold and rainy, today it is still cold and rainy. Tomorrow will be 80. This weekend it will be 90. And if we are lucky, it will be sunny and 70 and least one day next week so we can close our eyes, breath in the spring air (aka pollen), sneeze, and as we wipe the water away from our eyes and reach for a kleenex we will think to ourselves, "I'm just glad it's not snowing." We should really move to San Diego. But seriously, I love this time of year (I really do) and love dressing for transitional weather because you can incorporate multi-seasonal pieces into our daily outfits. Today I'm sharing a fool-proof 30 second outfit that has become my spring uniform of sorts. Here's the formula:
Denim Shorts + Drapey Long Sleeve + Ankle Booties +  Optional Layering Piece
Denim Shorts (run TTS, but I size up in shorts almost always so I can pull them down and have a little more wiggle room – I am wearing  26 for reference) | Thermal (TTS – supposed to be slightly oversized – selling out fast but I also love this one | Booties (TTS but size up if in between sizes. I am wearing the sesame but also love the blush!) | Cardigan (splurge, but such great detail! Less expensive reader favorite option is here)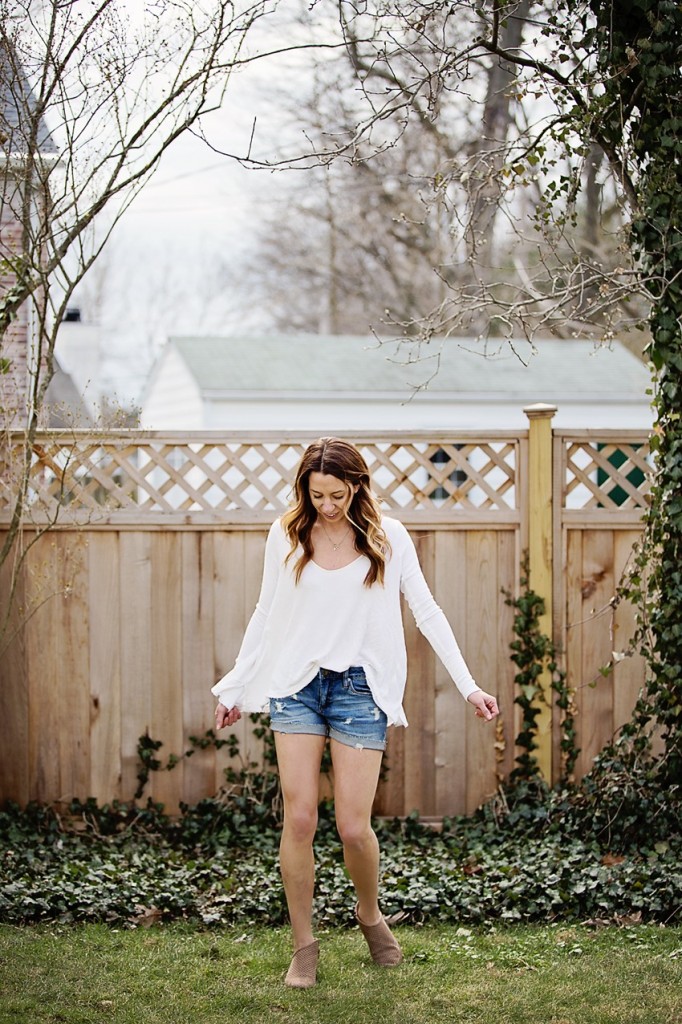 Another quick note about the shorts: The hem is stitched in place so they do not unroll. Last time I posted about these they sold out fast!! The lovely team at Social Threads has free shipping which is such a nice perk. Other favorites from their site that would look great with these shorts? Glad you asked!
Left to Right:
Go causal with this top (half front tucked, of course) and easy slides.
Dress them up with this floral top and espadrilles.
Be playground ready with an adorable baseball tee and sneaks.
Link to shorts: here
We would love to hear what you guys are wearing on a daily basis this spring? We also love your post suggestions so keep them coming! If you get inspiration from one of our posts and happen to post a pic on instagram, let us see it with #motherchicstyled
xo,
Lindsey