Shorts can be divided into three categories: 1. Denim shorts, 2. Khaki shorts and,  3. Everything else. We've discussed the best denim shorts at length (you can check that post out here if you've missed it), and in terms of khaki shorts just buy these and be done with it, but today's post is dedicated to "everything else"…. because there are some seriously cute and comfortable shorts that the world needs to know about. The shorts I am featuring in this post are the softest chambray with a tie front detail. Swap your denim shorts out for these tie front shorts when you'd like to look a bit more polished but don't want to sacrifice the comfort factor. Also on hot days, these definitely breathe more than regular denim. I paired these shorts with a basic tank and threw a neutral open back sweater over top – the perfect summer pullover. So when you are not denim-ing and your not khaki-ing, you can be doing this…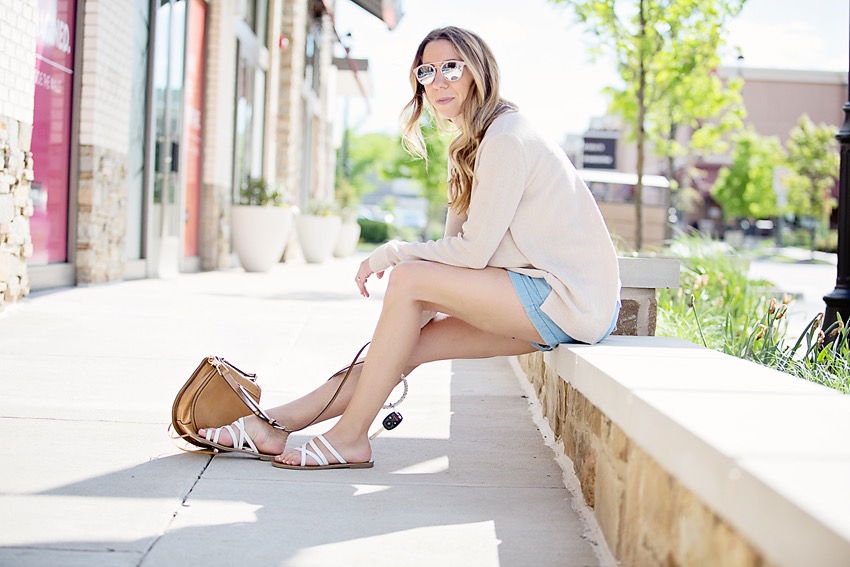 Wearing:
Tie front shorts | Split back sweater | Tank | Bag | Shoes (old, similar) | Sunglasses
More of our favorite "not denim" and "not-khaki" shorts:

Basically we are just happy the sun is shining. No really, SO happy!