Confession: My name is Lindsey and I like to take a few minutes for myself in the morning.
Ok clearly it's not BY myself, but FOR myself. I don't care if I have 4 kids climbing on my head. My mini morning beauty routine will happen, no matter what. Order of events: Kiss my babies. Coffee. Makeup. Then wherever the day may take us. Look better, feel better, be a better mom…. or something like that, right?
I recently did a little Macy's beauty haul to give my summer makeup situation a refresh. Admittedly, I am a beauty junkie, but there are certain products I buy over and over again. In the summer months (or who are we kidding) in ANY month, my time to get "ready" is minimal and I have mastered the art of the 3 minute makeup routine. The main goals? Mask the tired, add a little color/glow, and emphasize the good while maintaining that less-is-more-fresh-faced-summer-dew. I promise it's easier than it sounds. You might even be able to do it with a kid or 4 climbing all over you. You would be amazed at how intrigued boys are with make up. Especially with eye lash curlers but I digress…

I just reordered my 5 makeup must haves from Macy's. They have all of my favorites (with free shipping!) in one place. And not to toot my own horn, but the ratings on all of my favorites are pretty amazing. I'm totally chalking that up to the fact that I have good taste.
Here is my simple 3 minute summer make up routine: 
*video for the visual minded at the bottom!
Prep: A few times per week I exfoliate with M-61 PowerGlow Peel (followed by moisturizer and sunscreen). These pre-soaked clothes are amazing for shrinking pores, minimizing fine lines and wrinkles and evening skintone. It's paraben/yucky-stuff free to boot!
Conceal: Next I conceal the under eyes with Bare Minerals Complete Coverage Serum Concealer. I swipe the wand under each eye (think war paint) then gently blend with my ring fingers.
Cover: I never leave my house with out Bare Minerals Complexion Rescue in shade "tan". I put a generous pea sized amount on my palm, rub together and smooth evenly over my entire face. If you have never tried this product, please do. Your I-should-have-gone-to-bed-at-9pm face will thank you. It evens everything out, yet is super lightweight and as an extra touch of SPF.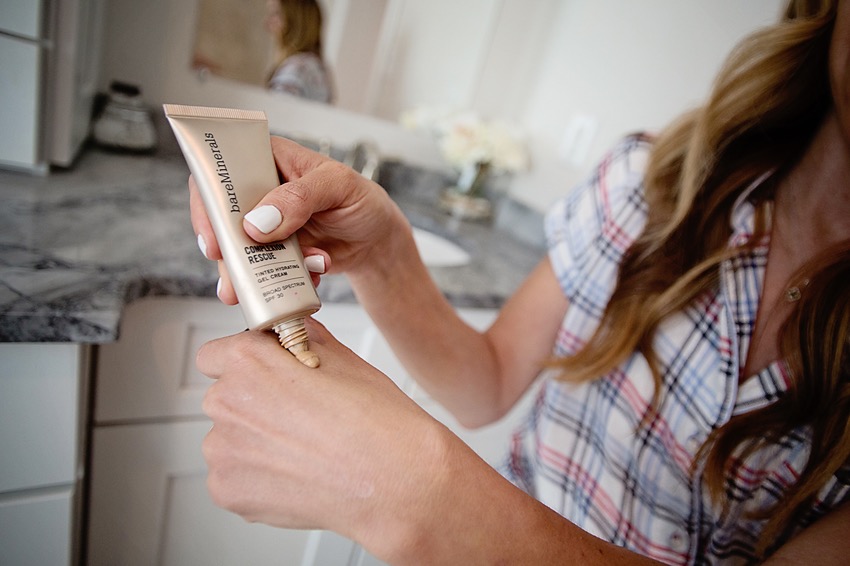 Bronze: Once the complexion rescue is set (I wait a few seconds for it to dry), I bronze with Bare Minerals Luminizer Duo. I start in the center of my forehead and make a "3" shape into my cheekbone and down to my jaw line and repeat on the other side. Next I de-shine the T-zone with Bare Minerals Perfecting Veil which is one of my favorite products for absorbing oil.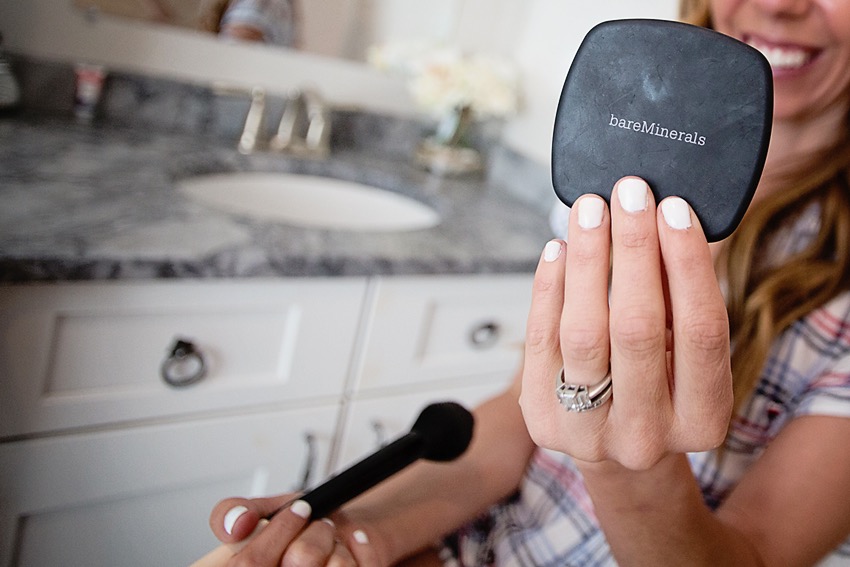 Blush: In the summer months I gravitate toward creme blush for a dewier look. I pop some color with Clinque Chubby Stick Cheek Color Balm in color "Rosy Poly". To apply, I use a small angle brush and swipe some color from the stick onto the brush and apply to the apples of my cheeks. This is a great product to throw in your bag because you can also apply directly to your cheeks and blend with your finger. You can also use it on your lips! If you prefer a powder brush,  love this palette for summer.
Shimmer: Moving to the eyes, I highlight the lids with Bobbi Brown Shimmer Brick in color "Pink Quartz". I use my finger and swipe over all of the colors on the brick and apply all over my lids from lash to brow for a subtle shimmer. This brick will last you all year. No joke. I'm pretty sure it's meant for use as a highlighter but that's the fun thing about make up. There are no real "rules". For nighttime, I use the individual colors for contouring.
Extend: Next I curl my lashes and then apply a few coats of Better Than Sex Masacra. This was recommended to my by a reader a few years ago and I have never gone back to anything else. It is jet black and has serious volumizing/lengthening capability!
Pucker: Finally I moisturize the lips with Bare Minerals Pop of Passion Lip Oil Balm. This lipstick gives the perfect sheer tint and is super hydrating for summer. I am currently loving this peach shade.
Then I throw on some version of a 30 second outfit – currently crushing on all things breezy and maxi and in my makeup haul I couldn't help but notice this Free People dress was on major sale.
And because the back is tricky, I go for a cute bralette or just throw it over a swimsuit and head to the pool.
I've been living in these slides (these are worth every penny if you are looking for that perfect blend of cute/comfort).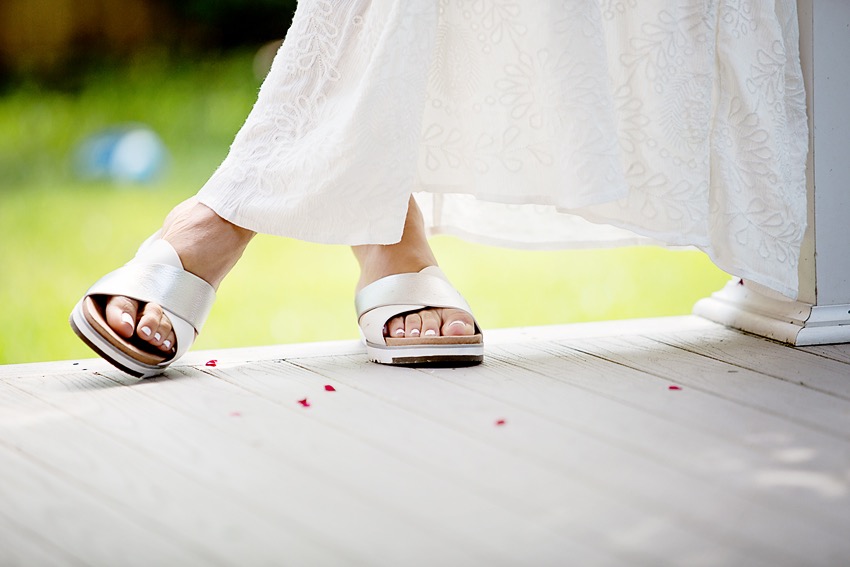 And yep. I'm pretty confident that taking a few minutes in the morning to put on some make up and get dressed makes me like at least 5% a better mom. So they say.
At least he thinks so.
Shop My Beauty Must-Haves:
Wearing:
Photography by Alison Cornell
Thank you to Macys's and ShopStyle for sponsoring this post. All selections and opinions are my own.