There aren't many more comfortable things in life than a pair of drawstring shorts. We all know that denim shorts can be tricky and finding the right fit and length is enough to make us want to throw in the towel and live in tank dresses all summer long. Drawstring shorts, however, are denim's flowier more forgiving distant cousin and are much more versatile than you may think.
When I first tried this pair on I immediately thought "date night". You know when you are down the shore and with your extended family and your parents say, "Why don't you guys take a break and go out to dinner. We will put your kids to bed…." and then without passing GO you bolt out the door and start elbowing your way to the front of the line for the outdoor shower, rattle off a quick list of instructions, toss of over a bottle and a diaper, freak out for a second about what to wear, and then remember that you packed the shorts. Phew (insert wiping sweat)… Just me? I didn't think so. But free babysitter or not, I can always justify a purchase more easily if I can wear it more than one way. And yes, these are great day time shorts as well. Here's my take on the drawstring shorts….
Drawstring Shorts by Day:
Paired with a great basic tee and flat sandals, these shorts can be dressed down for running around during the day. To get the right length, I pulled the shorts up to just under my belly button and knotted my tee for a bit more shape and interest.
Drawstring Shorts by Night: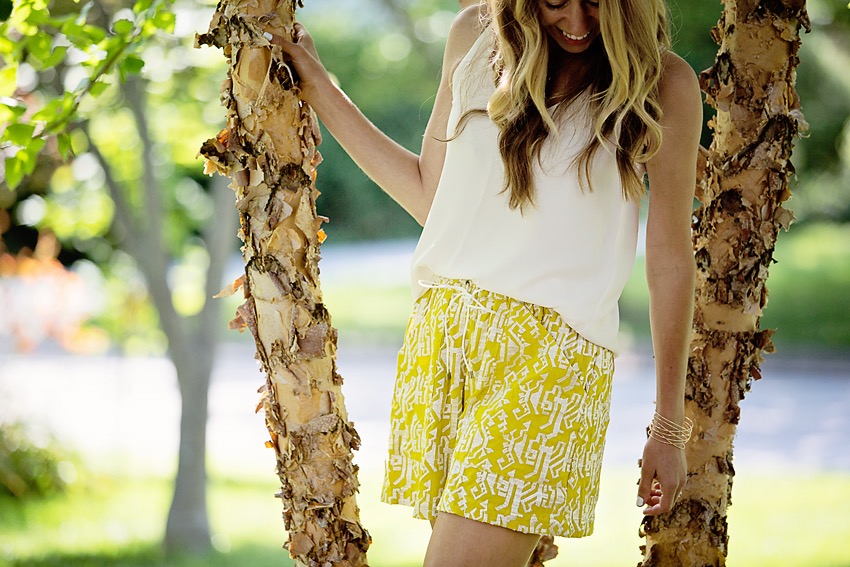 For a night out, swap out the tee with your favorite camisole and a pair of wedges or heels. A pair of statement earrings would finish the look.
Cami (wardrobe staple and on sale!) | Shorts
P.S. I also style it with a chambray here!
Our Favorite Drawstring Shorts: