As if July wasn't sweet enough, it's about to get a whole lot sweeter. The Nordstrom Anniversary Sale (a.k.a. hands down the best sale of the year) is just around the corner. I've been getting messages and comments from readers asking about the sale and how they will be able to see my top picks so I figured now would be a good time to answer with a little #NSALE FAQ. My "team" and I are at your service and will be your go-to resource for all of the must-haves, restock, alerts, and wear-tested reviews…
What is the Nordstrom Anniversary Sale and what is all the hype?
Ok. Good Q. The Nordstrom Anniversary Sale, also known as the #NSALE is unique because it includes brand new arrivals that hit the Nordstrom website/store already marked down. When the sale ends, the prices go back up to their original price.
When does the Nordstrom Anniversary Sale start?
Key dates: If you have a Nordstrom credit card, you can get "early access" to the sale on July 13th. Credit card holders get a full week of access to the sale before it opens to the public and unfortunately things sell out FAST, so yes, you should probably get a card. And no, Nordstrom is not paying me to say that, these are just the facts. You have until July 9th to get approved for a credit card and they will even give you a $20 "note" to spend on any purchase. The sale opens to the public on July 21 and it ends on August 8th prices go back UP on August 9th.
When will your first post go live?
I will have my first (of many) posts go live on July 13th first thing in the morning. This post will likely consist of my top 10 picks and I will continue to post throughout the sale and will cover e.v.e.r.y.t.h.i.n.g. – kids, men, beauty, home etc….
What is your sale strategy?
The reoccurring theme is that things sell out fast. My two best pieces of advice are to shop early and shop online. The store scene can be a little crazy and overwhelming, and well, mail is fun. In terms of what to buy? Last year, this pair of jeans was one of the top selling items, as well as, this tee (shocker, I have both and looooove), and SHOES. Booties, boots, boots and booties – this is your time to capitalize. Raise your hand if you bought these booties during the sale last year and wore them so many times the cost per wear has paid for them 10 times over. Yeah. That's what I thought. Handbags will also be on major markdown as well as jackets, sweaters, you name it. What's that airline phrase? Put on your own mask before assisting others? Yes. That mantra applies. Shop for yourself first, then your kids, then your husband. They aren't as fiesty as the ladies when it comes to the #NSALE 😉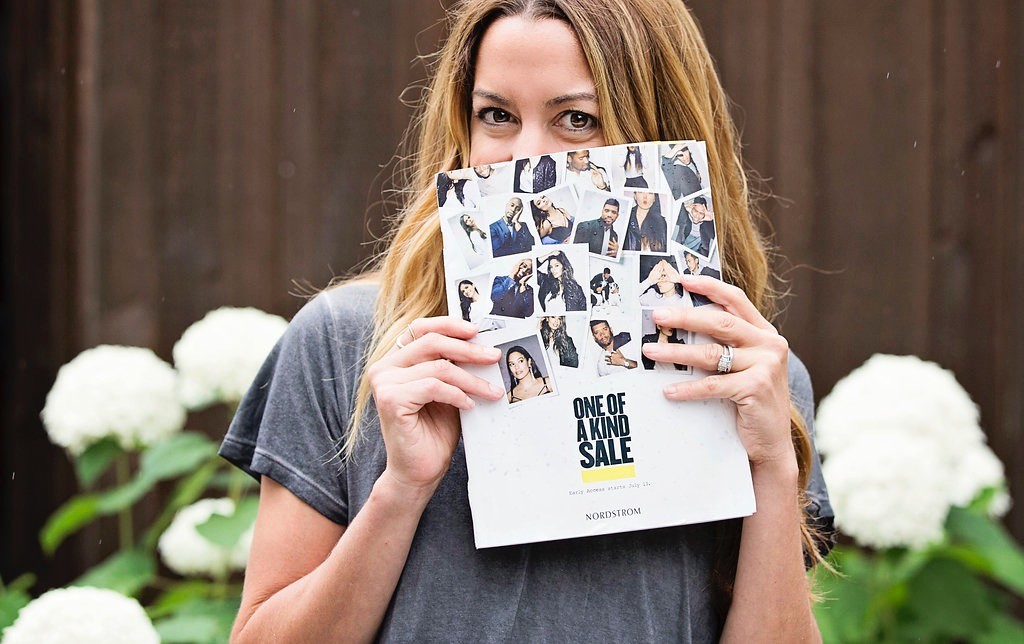 But wait, this is mostly fall/winter stuff?
You are correct. Your October self will thank you. And if you buy something and need to wear it right away (guilty!), challenge me and I'll see what I can do for you. Just don't send me a parka. Booties, however, totally work in summer with shorts.
Where can we find your favorites?
Make sure you are on my email list (head to my right sidebar) so you are the first to know when posts go live. Follow on Instagram to see my realtime feedback in stories, and obviously I'll call out must-have items on Facebook. But when in doubt, just go to the blog and click on the Nordstrom Anniversary Sale tab with a drop down of my picks by category.
What else?
Basically this is Christmas in July. Dump out your piggy bank. Host a lemonade stand. Do what you need to do and I'll do the rest. Me and my guys, we will be working around the clock….
Now is that the face of a baby who just found the "it" bootie of the season or what?
Wearing:

GIVEAWAY TIME!! ** giveaway closed! Winner: Clarissa P."
As a small token of thanks to all of the dedicated people who follow this blog, I am giving away $250 to one email subscriber (which by the way, my emails are in the process of getting a serious revamp!). If you already subscribe to my emails, you don't need to do a thing. If you want a chance to win, enter your email in the subscription box on the right hand sidebar of my page (easier on a computer). Winner will be announced on July 12th!
Prize: $250 e-card to Nordstrom
How to Enter: Subscribe to Motherchic emails (see below for how-to)
*email subscribers must be confirmed email subscribers with confirmed email addresses.