This summer has been all about the shoulders. Off the shoulder, cold shoulder, one shoulder etc…  While these options are fun and good and flirty, sometimes we just want to wear a "normal" top with a normal bra. But is a white tank and jeans a thing of the past? Way too boring? Answer: It depends. Jeans and a plain tank with flip flops? Yeah. I'm not gonna lie – that's a little boring. Perfectly appropriate for bumming around the house, running errands etc… but if you want to elevate this basic look without sacrificing comfort, it can be done, my friends. Your shoulder-less tops might even be a little…. jealous? A few steps to achieving that effortless day to night look with tried and true staples:
Step 1: Find a tank with something "interesting" whether it be the cut, the hemline or another eye catching detail.
Step 2: Cool bag (think bold prints and patterns)
Step 3: A strappy, yet walkable low block heel sandal
This $20 tank is one of my favorites because it's high neck and has the slightest cut out in the shoulders (which is actually super flattering in the arm department). Yes, it is a touch sheer, but that's where this fun bralette actually becomes part of outfit, which warrants its own paragraph….
A word about the bralette….
Bralettes are a fun bra alternative because they are super comfortable and pretty which means, yes, it's okay if they peek out a little. I am pretty sure that is what they were made for. The bralette I am wearing in these photos was made for this tank (no really it might actually have been) because it mirrors the cut of the tank almost exactly. So much so that I had to pull my tank down a bit to show some of the fun cutouts in these photos. But I know some of you are thinking, I love this look BUT A) I need more shape than a bralette provides or B) I need more support. To answer part A, my little secret is to steal the liners from one of my bathing suits and stick them inside the bralette. Boom. Instant shape! I've linked some others in the boutique below that are lined as well. And some options for those needing more support? this one is top rated for more support as well as this one and this one has that high neck cut AND more support – double whammy.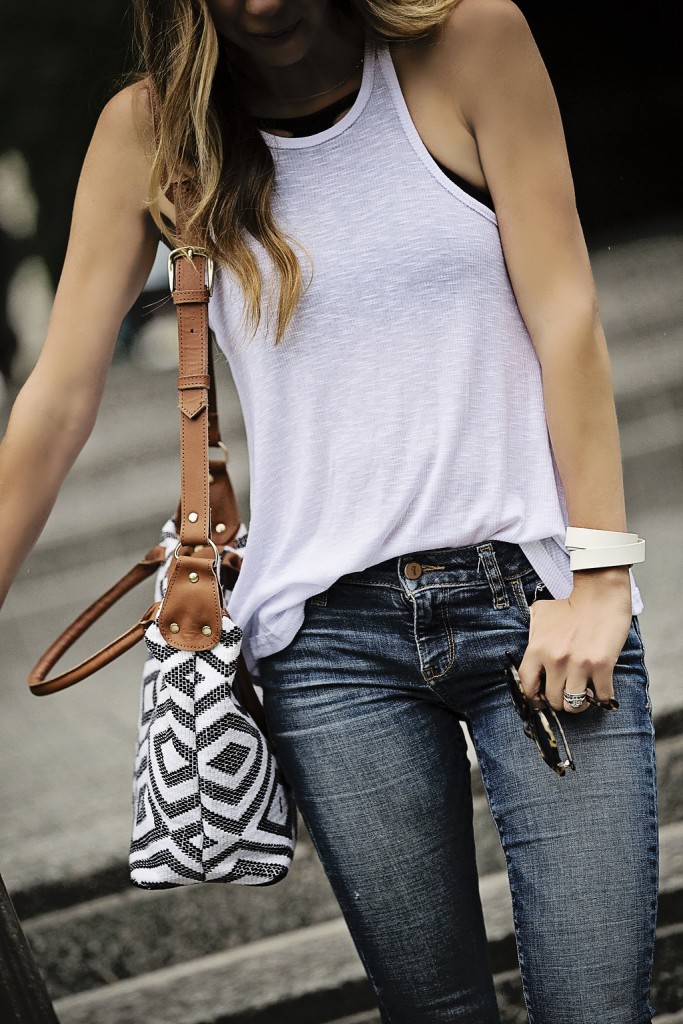 Wearing:
Tank (size down) | Bralette | Jeans (wearing old version of these, size down – my rips were made naturally with years of wear!) | Lace Up Sandals (wearing color "putty) more sizes here | Bag (sold out, but this is the larger version and this is a less expensive similar version) | Sunglasses | Bracelet
Get the Look:
similar options at all price points…