First I just want to say that I'm pretty sure I have the nicest, sweetest group of women who read this blog. Your kind comments, emails, photos of you wearing items you found here – these things are the fuel that keeps me going! I do my best to respond to all of your questions on Facebook and Instagram, but here are a few that pop up again and again so I figured would put a few FAQ's into a post.
How tall are you? 
I am just barely 5'4. If I meet readers in person they are surprised to see that I am shorter than I appear on the blog. And a lot of you ask for my measurements, but I (gasp!!) don't own a tape measure! I just put one in my Amazon cart and I'll update once I have this info.
How do you stay in shape?
I think running is the best workout, but these days I don't have time for much and I am okay with that. We all go through phases when our kids are little when we can't work out as much as we would like. I eat everything in moderation and have a glass of wine (most every) night. I eat slooowly so my mind can catch up with my belly and I snack on string cheese, greek yogurt and Lara bars.
What are the necklaces you are always wearing?
I wear 2 necklaces every day. These were gifts from my husband after I had my first and last baby. My first son was born in April so I have a very small custom emerald cut diamond made by a local jeweler. My next two sons were also diamond boys (lucky me!) so by the time my last son arrived in May (emerald birthstone), my husband bought me another necklace that is very symbolic – an emerald surrounded by diamonds. Pretty sure I'll never take it off.
Clothing staple you can't live without?
Maybe I'll just answer this with the 5 things in my closet that get the most wear…. these jeans, a great pair of athletic leggings, a great chambray (or a button down that is worth the hype once you try it on) layering piece (also love this one), outfit making jacket.
What pieces do you think are worth splurging on?
Honestly I don't have many pieces in my closet over $100. I don't think you need to spend a ton of money to look great. That being said, there are a few things worth splurging on are the "finishers"… shoes, bags, jackets. They probably get the most wear and are worth the investment. Shoes? A great pair of classic stilettos – I got these for my 30th birthday and they make me feel very special. Bags? I can't pull the trigger on anything – I am currently carrying this. Dream world? Maybe I'd carry this? And jackets? Every girl needs a great trench (I have this one in beige – and this one… Santa are you listening?)
How do you do it all?
I don't. Something always has to give. We are all just doing our best, right?
And in the name of something actually NOT being 100% sold out (!!!) in the Nordstrom Anniversary Sale, here is a top that I have in three colors that is sort of amazing……and don't get me started on the shoes. They might be my best find yet.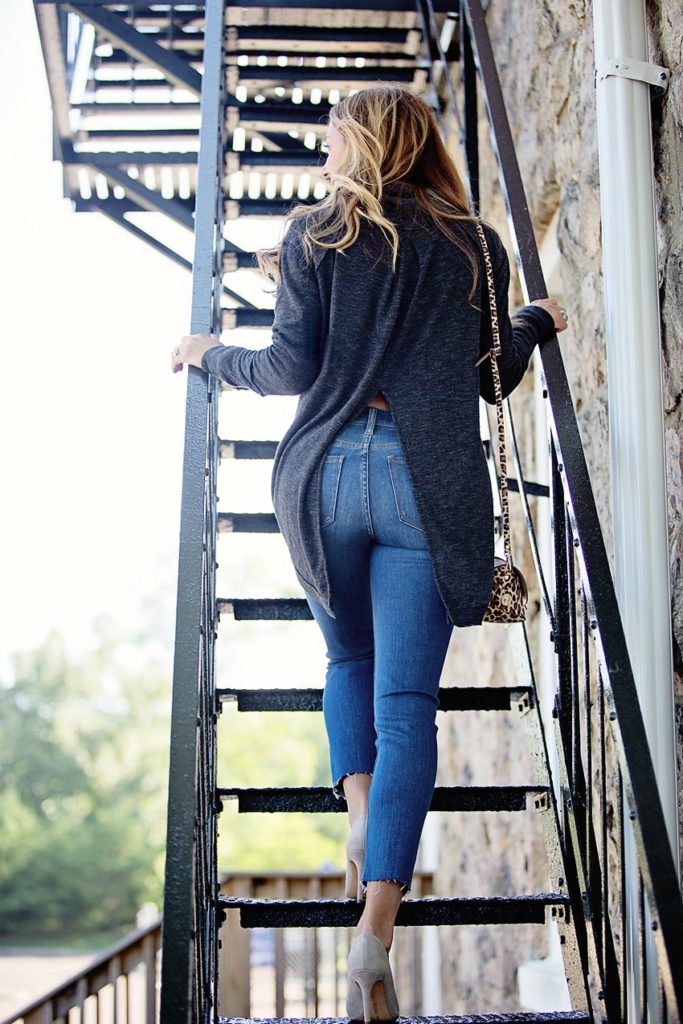 Wearing:
Split back turtleneck | Jeans (if sold out, similar here) | Shoes (amazingly comfortable)
Check back tomorrow for an update on public access picks!
Just restocked list:
1. Best jeans
4. 1.State slip ons…. I have "fog" and "slate"! 
6. Post coming on these jeans soon…