Surprisingly a lot of people give me a pity face when I tell them I have four sons. As if not having a daughter means I am missing out on something? Yes, of course there are certain experiences that I will never have, but here are four reasons why you really don't need to feel bad for me (besides the fact that I LOVE having all boys….)
Yep. I have four sisters. One, two, three, four.
But first, some FAQs: Yes we are all related – don't let the 5 different hair/eye color shades fool you. Yes, we have the same parents. We range in age from 25 to 36 (I'll leave it up to you to figure out the age order). Yes, my "poor dad" dad is bald – he gets that a lot, but just like me, I'm pretty sure he loves having all girls (and now he has 4 son in laws and 8 grandsons). And yes, my mom talks to each of us on the phone before 10am every day (at least twice). We have 11 kids between the oldest four (the baby of our family is still, well, a baby!)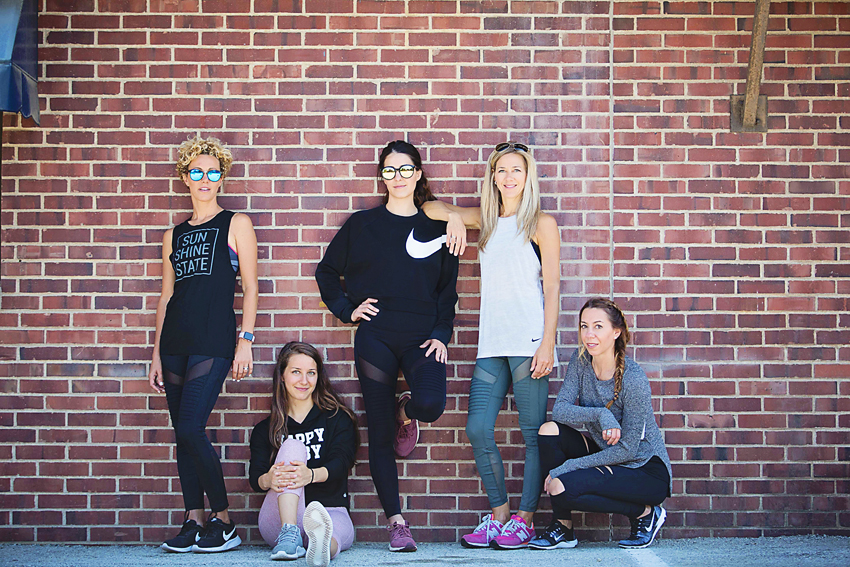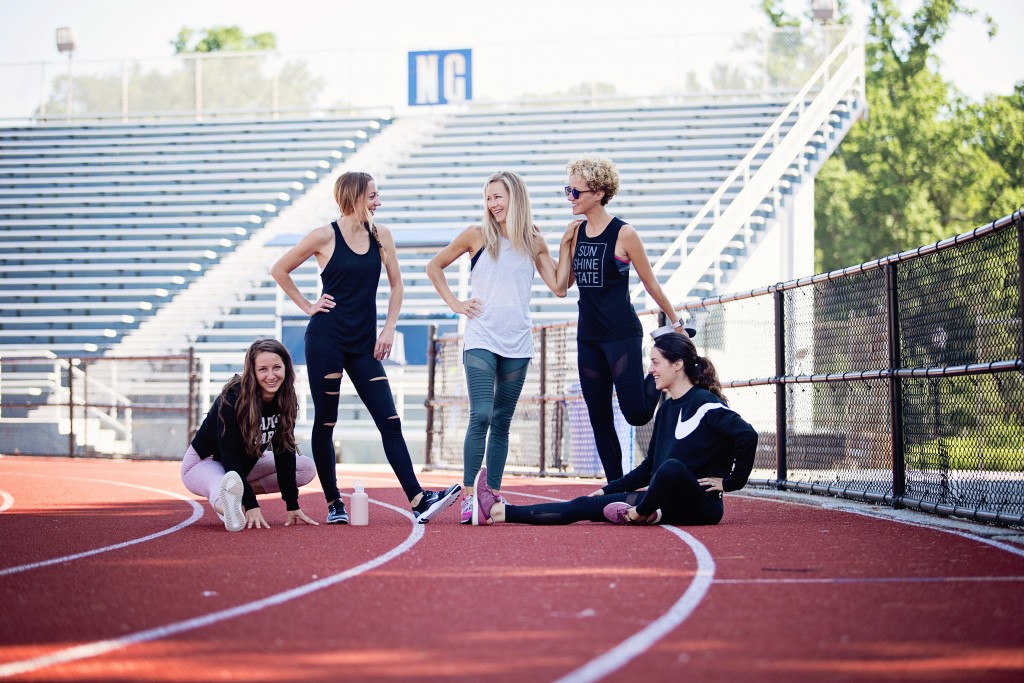 We all happened to be in the same state last weekend so I thought it would be fun if we all got together for a little photo session to feature some of our favorite Nordstrom activewear pieces. We all grew up playing sports and being active is a natural part of our lives. That said, we all do it a little differently, but share the philosophy of "everything in moderation". Each sister is sharing her "health/fitness" mantra and favorite activewear look (most of which happens to be a part of the Nordstrom Anniversary Sale!) In no particular order….here they are!
Meet Rachel….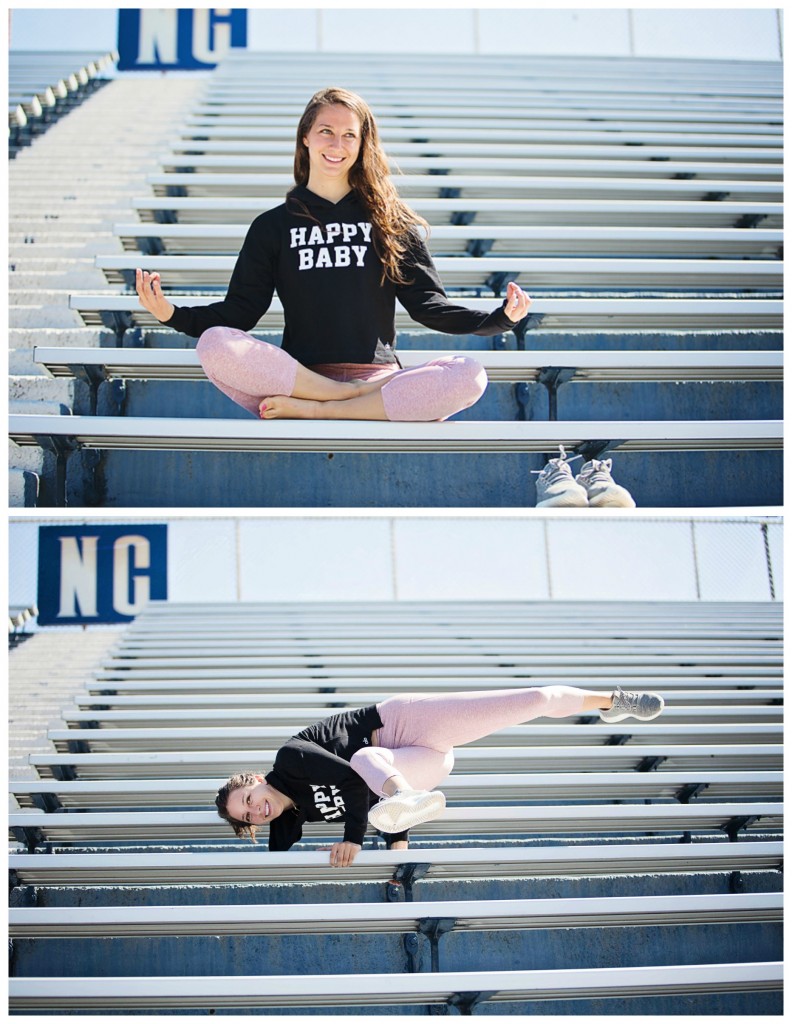 Wearing:
Alo Happy Baby Sweatshirt | High Waist Crop Leggings | Sneakers
Ok fine. You guessed it. Rachel is the baby of the family and our token yogi. She is known for doing headstands in random places, eating the most interesting (weird?) foods… yes, algae we are talking to you, and has a swoon worthy instagram where she documents her whole (some of the time) lifestyle.
Rachel's Health/Fitness Mantra: When I think about health, I think about my lifestyle as whole. I eat real food, use natural products (beauty, bath, cleaning etc…), surround myself with positive people, and spring into a handstand whenever the opportunity arises (because why not). Oh, and I always start my day with a homemade matcha latte.
Meet Liz…
Wearing:
Zella Moto Leggings (green) – similar here and here | Breathe Training Tank | Sports Bra | Sneakers
Small but mighty, you probably don't want to arm wrestle Liz because she will kick your butt. She's a mom of four (3 boys, one girl), amazing cook – always mindblown how she just whips things up (yes, she is that person who makes red pasta on Valentine's Day dyed with homemade beet juice), and fitness trainer extraordinaire.
Liz's Health/Fitness Mantra:
I do X-Force once per week (a high intensity strength training workout) and I love to cook. I believe in homemade over processed and I love making healthy meals that always include a lot of veggies. But yes, I have a huge bowl of ice cream every night, and if you find me on the beach, I'll probably have a shandy in my hand.
Meet Casey….
Zella Moto Leggings (black) – similar here and here | Sunshine State Tank | Shoes (old, similar here)
Casey, mother of two, recently moved down south to the Sunshine State. Casey stays home with her kids, but is quickly learning that two year old boys just might be harder to keep up with than the corporate world. Her home is picture perfect (someday maybe she will let me do a house tour) and when she comes to visit us, she willingly helps us declutter by getting rid of things that don't "spark joy".
Casey's Health/Fitness Mantra: I love the energy and social atmosphere of taking group classes. I go my gym 4 days per week and take cycling, circuit and yoga classes. In terms of eating, don't tell Liz, but I'm totally cool with eating some of my kid's mac and cheese for lunch.
Meet Abby….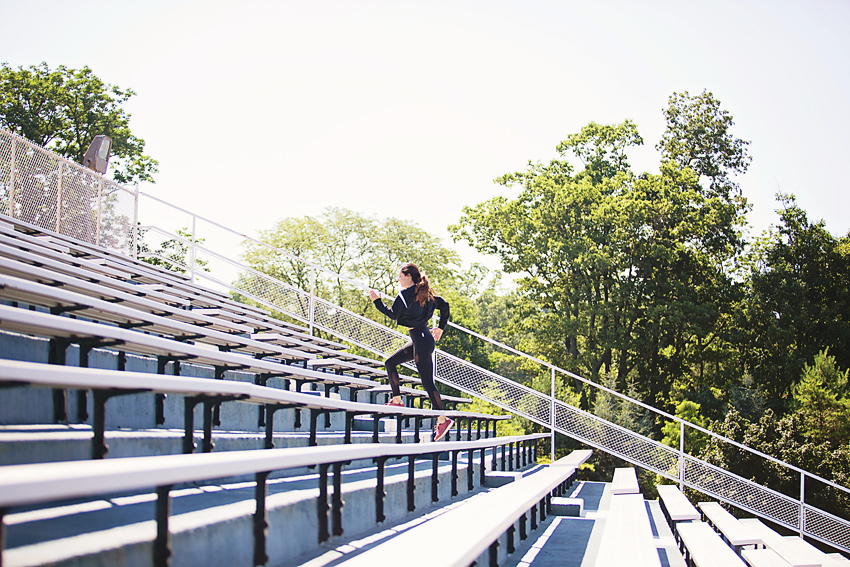 Wearing:
Nike Pullover | Zella Moto Leggings – similar here and here | Sneakers (old, similar here)
Ok so you guys already know Abby. She's our fashion forward sister with a big huge dog and an itty bitty baby. Special talents include (but not limited to): braids, fashion sketches, orchestrating arts and crafts for her 10 plus nieces and nephews, and drinking boxed wine.
Abby's Health/Fitness Mantra: I try to keep moving throughout the day since I don't do any formal working out. I do walk my dog and my baby at the same time which is a feat in and of itself! I try to eat fairly healthy, but everything in moderation for me.
Meet Lindsey….
Wearing: 
Zella Cece Leggings (if sold out, I also love these) | Pace Tank | Sneakers
Not sure what I can say that you don't already know? Hi, my name is Lindsey. I write a blog. I love denim. I live with 5 boys.
Health/Fitness Mantra: As if keeping up with my boys isn't enough (dodging the balls thrown in my house was the workout I never knew I needed until now), I "officially" workout when I can. I eat whatever I want but stop 5 bites before I'm full. I start each day with one cup of coffee, drink water all day and cap the day off with a glass of wine.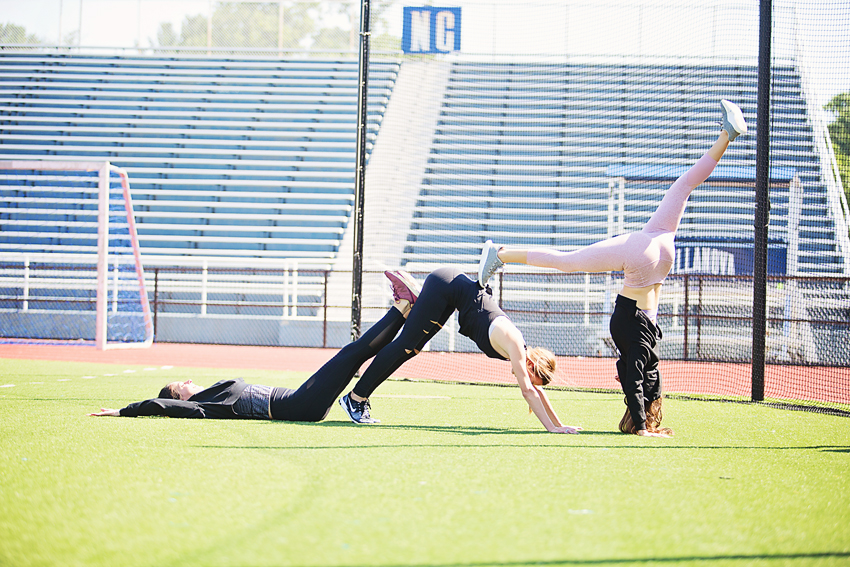 So yeah. If anyone is up for a little yoga pyramid art, you'll know where to find us 😉 (……only took us 87 tries)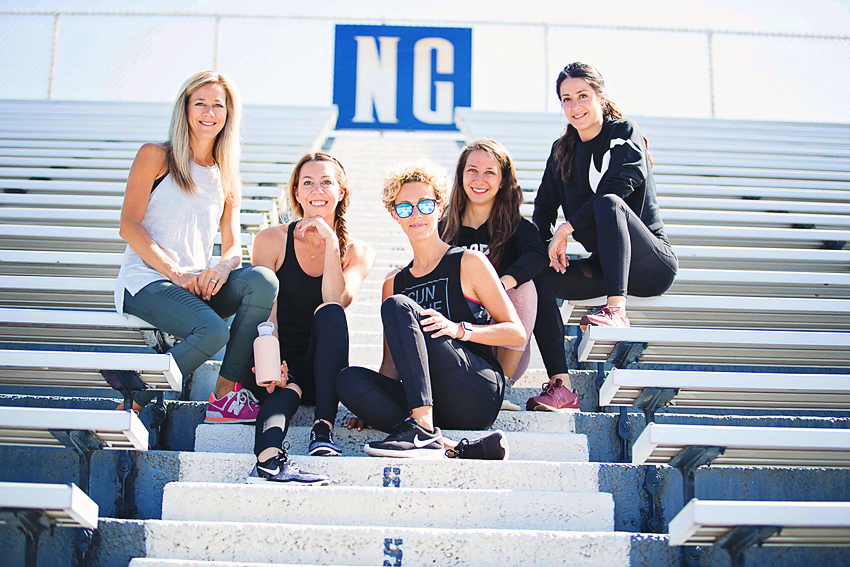 Our Favorite Activewear Pieces: