Well, it only took me until July 28th this summer to step foot on a beach. And it couldn't have come at a better time because all four boys home all summer is…….intense. It's like a lot of feeding, and dodging balls, and replenishing the pantry, and more feeding and, yeah, basically the state of my house is enough to make my laid back self start to twitch. And I'm trying to be that mom who can forgo the disaster and run out the door to the pool and the playground, and sometimes I do that. I really do. And other times I'm crying inside.
Just a little.
Just a little.
And so when the opportunity for 48 hour trip to Miami knocked on my door, it sounded nothing short of lovely. If you read my Miami outfit post, you know that I brought Alison along with me (she too has a slew of boys – 3 to be exact). We checked into the hotel, had lunch alfresco, then immediately put on our suits and headed to the pool. And what is the first thing we said to each other when we saw the amazing pool(s)…
"Man, our kids would love it here."
Why does that always happen? You think you need a break and when you get it, you just want them back.
Motherhood.
Anyway, my family typically saves a little beach getaway for the end of the summer, so I figured before I start posting about fall fashion, there is still plenty of time for some summer fun in the form of a little swimsuit style diary. I packed two of my favorite swimsuits for the trip. Just like a basic tee, if a swim suit has a fun detail, I'm sold. The two suits I packed have just that – the first is a pretty crochet one piece and the other has an eye catching criss cross detail. And I also threw in the tunic/cover up I've only posted about a million times, but just proof that it's a keeper.
The One Piece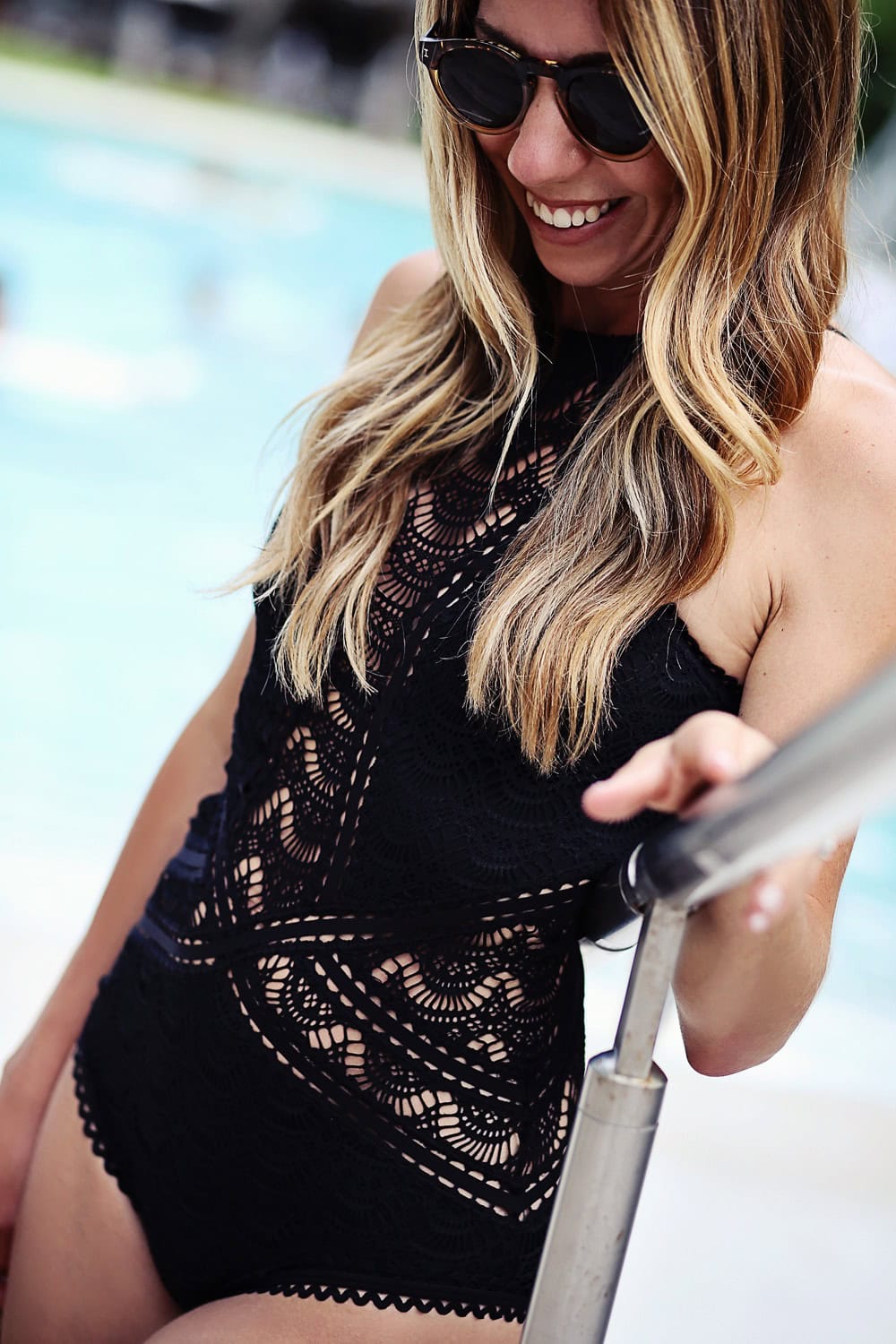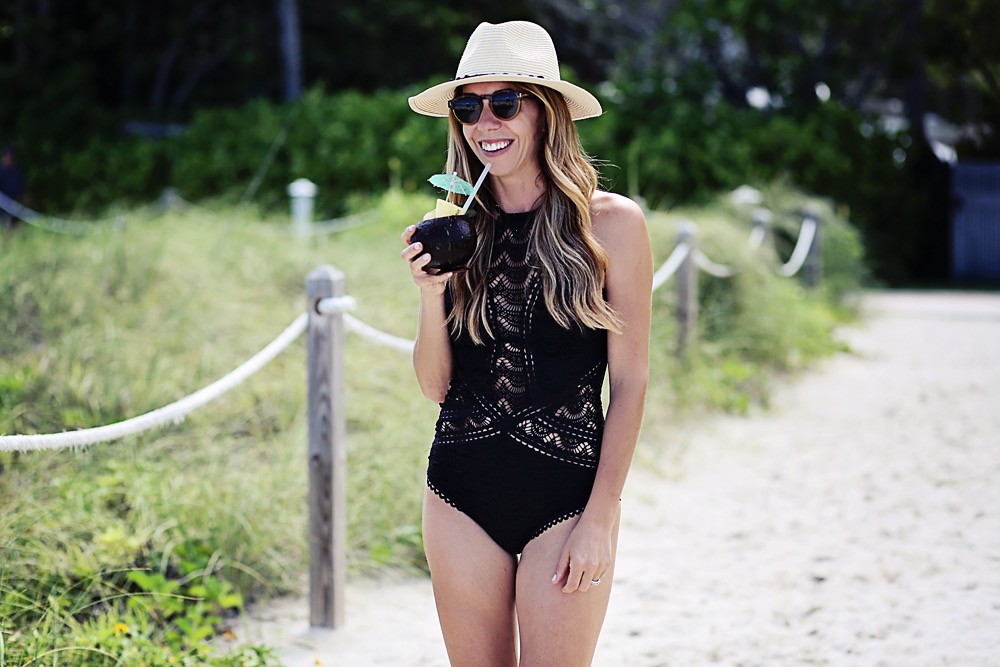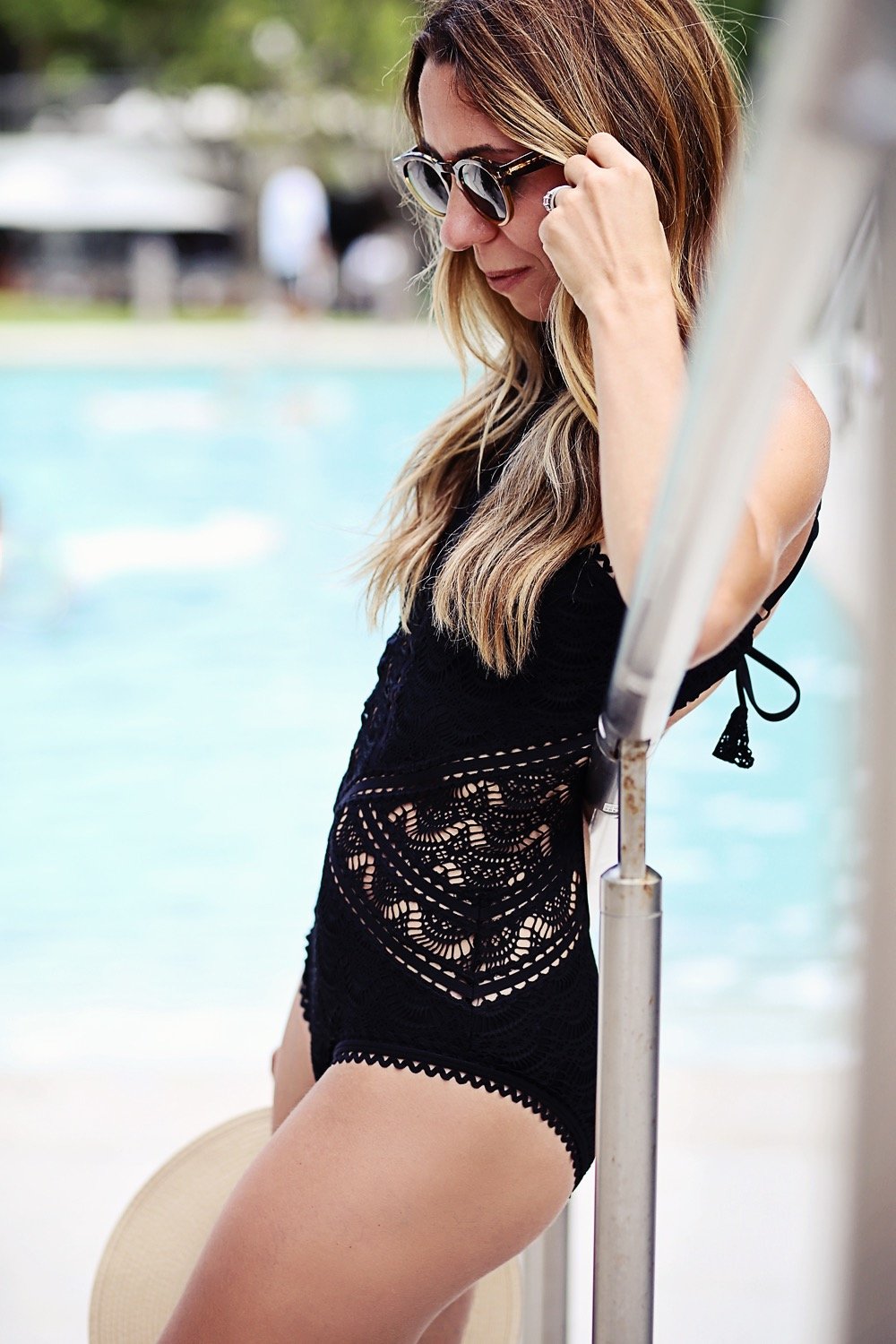 Wearing: 
Crochet One Piece (wearing size small)  | Sunglasses c/o | Hat (part of the Box of Style c/0)
This one piece is just so gorgeous! The crochet pattern shows just the right amount of skin and I love that it also comes in plus size. But the best thing about this suit is it looks amazing on different body types. I posted a photo of this suit on Facebook a while back and you MUST read through the comments and check out the photos that some ladies posted wearing it. Universally it was a GO! It comes in a few colors – I was so tempted by the white, but thought sunscreen might discolor it, and let's be honest, my kids.
The Two Piece: Crisscross
Wearing:
Bikini Top (wearing a small) | Bikini Bottom (wearing a medium) | Hat (part of the Box of Style) | Shades | Bag c/0
And being a mom of all boys, I thought a pink bikini was fitting. If you are busty, the bikini conceals a bit of cleavage with crisscross straps, and if you are not busty (hand raised) the straps distract from that as well and it has a removable liner (clearly mine stayed in). And I'm not sure what is going on with suits these days, but my general rule of thumb, is size UP, especially with the bottoms.
A Versatile Cover Up
And here we have the infamous tunic – apologies if you are tired of seeing me post about it. I bought this maybe 7 years ago and it might be one of the most worn items in my closet. You can wear it with jeans or as a coverup, or layered under a cardigan.. heck, I've even worn a turtleneck underneath. Any who – this piece has more than paid for itself. I packed it in my Miami bag to throw over a suit.
Wearing:
Some more favorites…
Photography by Alison Cornell