The beach and the sun and the sand and the pool and the ocean and the playground….(and the plethora of grapefruit shandy's), summer certainly has it's perks, but it's not the snuggliest of seasons. There is just something about the colder months that lend itself to a cozier more comfortable vibe. Yes, any time of year you can find me on my couch with precisely 163 pounds of children fighting for space on my lap, but in this case, I am referring to the snuggle-factor of my clothing. Nothing gets me more excited for fall than a drapey, neutral knit. In fact, much of my weekday wardrobe consists of this simple combination: cozy sweater + distressed jeans + cool sneakers.
Macy's always has the best selection of Free People sweaters which is my go to brand for a few reasons. The silhouettes have eye catching drapes and the material is super soft (code for….not itchy). They score high on the cozy factor and low on the frump factor (wearing this one – and currently on sale!)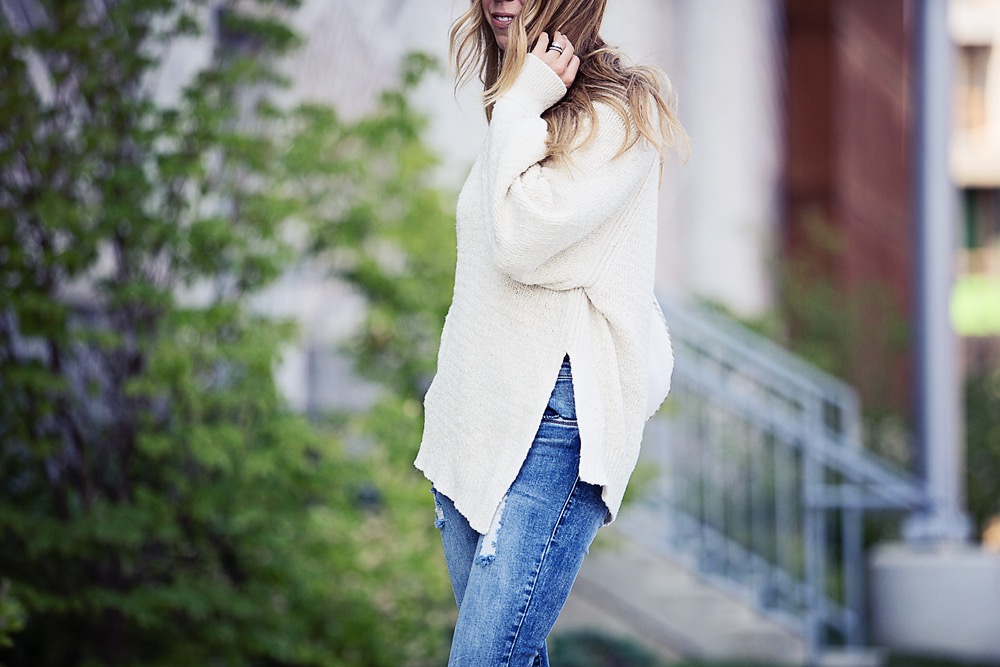 I've recently become a fan of STS Blue Jeans (wearing these) which are a great price point and have been very popular among Motherchic readers! I find this particular brand runs true to size (I do, however, size down in their boyfriend styles).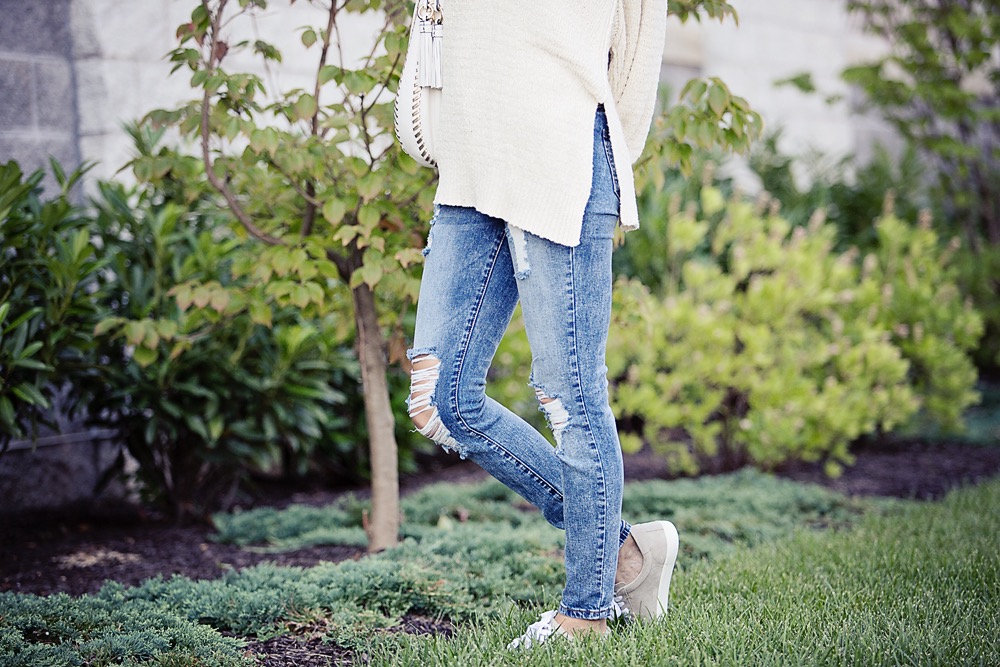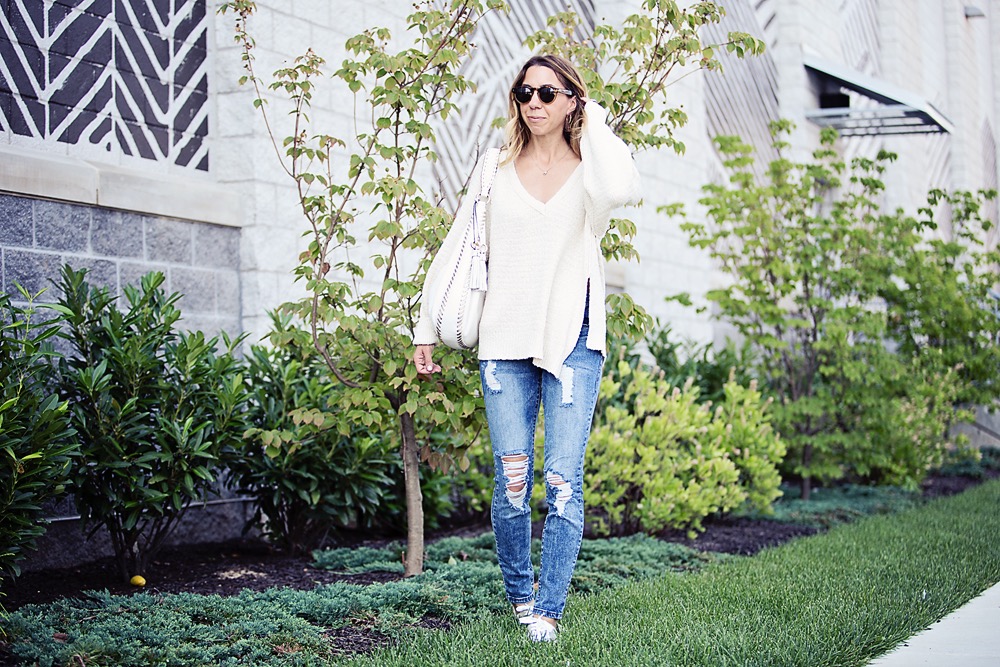 I love swapping out booties for a cute sneaker – especially when trying to keep up with the kids. These were a bit of a splurge, but I fell in love with the neutral tone (can wear with anything) and cost per wear I know I will have no problem running these into the ground. Other options are linked in the boutiques below, but check back because Macy's has been running some great sales so you might get lucky!
Lastly, the bag – can't go wrong with a leather hobo. Apparently the theme of this post is comfort, because that is exactly what this bag is! Maybe it's the thick strap or the soft leather, but this bag molds to your body and it has quickly become my go-to bag this summer. It also comes in tan or black if you are looking for a darker shade.
And sticking to my neutral palette, I don't leave my house without my NudeStix. It's a cream balm stick that I am wearing on my cheeks and my lips. You can also wear it on your eye lids.  It's the perfect warm tone for the season ahead and it comes with a brush for easy, on-the-go application. To finish the look, I threw on a little hoop and now all I need is a pumpkin spice latte. Kidding, I don't actually like those (sorry!), but I know it has the power of spreading all of those cozy fall feels…..
Wearing:
 Free People Sweater | Sneakers | Jeans | All Over Matte Face Color (in Bare Back) | Michael Kors Tote | Hoop Earrings
Get the Look….
 Neutral Knits
Distressed Jeans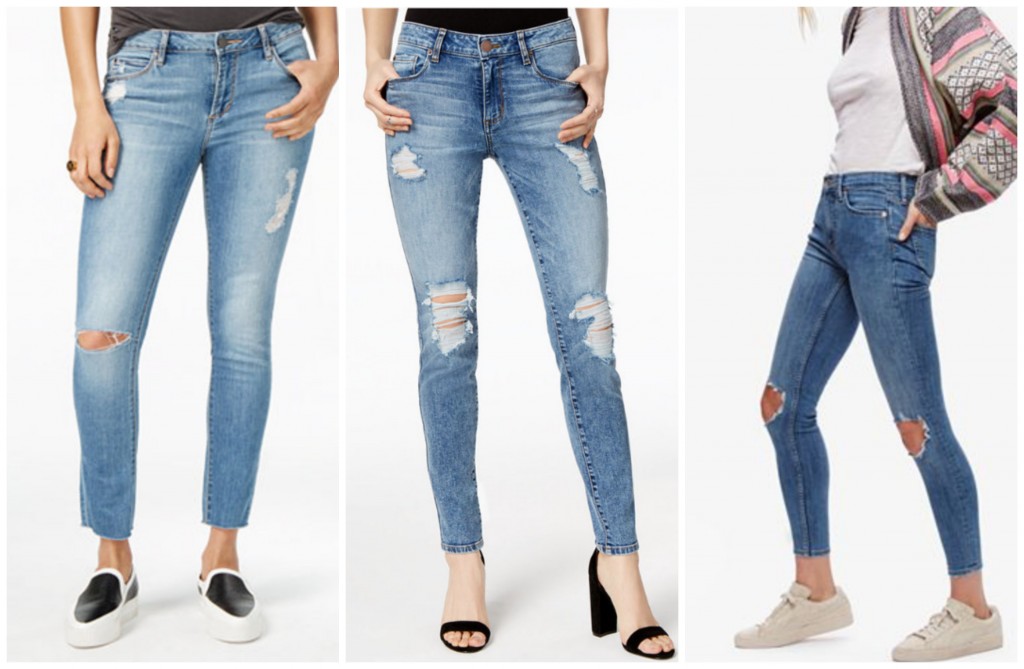 Cool Kicks
Thank you to Macy's and ShopStyle for sponsoring this post. All outfit selections and opinions are my own.