Or maybe I should have titled this post, "How to look cool in 5 seconds or less"? Yes, we can all agree that the days of "being cool" are over. Thank goodness. But for the purposes of this post, being cool and dressing cool are mutually exclusive so let's just cut to the chase. If you want to update your cool factor, the solution is simple – put on a leather jacket. How to wear a leather jacket, you ask? From structured to draped, real to faux, leather jackets come in all forms, but the one defining factor is the finishing touch they bring to any outfit. Most days my outfit is some variation of denim, a t-shirt or sweater and booties or slip-on sneakers. There is no question that layering on a leather jacket completes the look (if for some reason duty calls/a friend wants to meet for lunch, and I need to up my outfit game). And while most people associate leather jackets with black, I fell in love with the deep burgundy shade of this jacket for a softer look. I'll let the photos do the talking – watch how my basic outfit is transformed.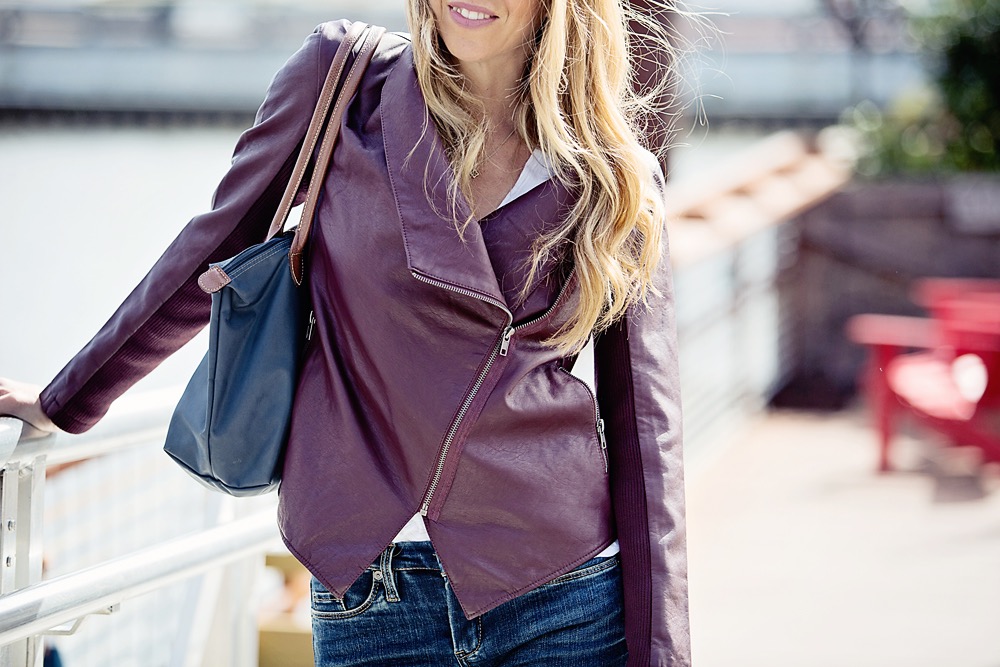 Wearing:
Leather Jacket | Tee (also comes in black) |  Jeans (under $100!) | Booties (save version here or here) | Bag | Sunnies
A leather jacket is an investment piece and and if you can find one under $100 it is likely faux leather (which is great!). For real leather you can expect to pay several hundred into four digits. That said, leather jackets are timeless and can be worn over everything from jeans and a tee to a pretty floral dress. Need ideas? Here you go…
How to Wear a Leather Jacket (four more ways)
Date Night: Silk Cami + Skinny jeans + Statement Shoe + Leather Jacket
Weekend Errands: T-shirt dress + Fun Sneaks + Leather Jacket
Brunch or Shower: Floral Dress + Sandal + Leather Jacket
Casual Friday: Button down + Polished Denim + Mule + Leather Jacket
We've rounded up a few more favorites at all price points….
The Leather Jacket Boutique
*In Collaboration with Everlane and ShopStyle