Family photos. Ugh. Why do they have to be so stressful? Not only do we stress about what to wear for a family photo, but we also have to worry other things like, why can't my family all look at the photographer at the same time (myself included)? Why does my kid insist on smiling with his eyes closed? Why does my husband think saying inappropriate words to make my kids laugh is going to make this any better? Ok so that actually sort of works, but I digress.
We get it. Family photos are tough. You want the world to see the beautiful shining faces of your children just the way you see them every day. But it can be difficult to capture those candid moments in a click of a button… or even multiple clicks. Heck I hope just one picture turns out!
Hopefully this year we can make your photo session a bit easier by rounding up five inspiration boards to get your family looking their best, and locals, you know my photographer of choice 🙂
Look 1:
Let personalities soar by letting your kids wear something that they love.. camo and stars. But don't let the fun stop there add a multi color stripe sweater to bring joy and fun to the photo.
Get the Look:
Look 2:
Create an effortless look with a floral midi dress. Use the colors from the print to inspire your family members looks. Balance out a floral with a wide stripe tee or sweater.
Get the look:
Look 3:
Blue and white will create a serene and fresh color palette. Add texture with stitchy sweaters and hints of gingham. This classic color combination is casual yet sophisticated.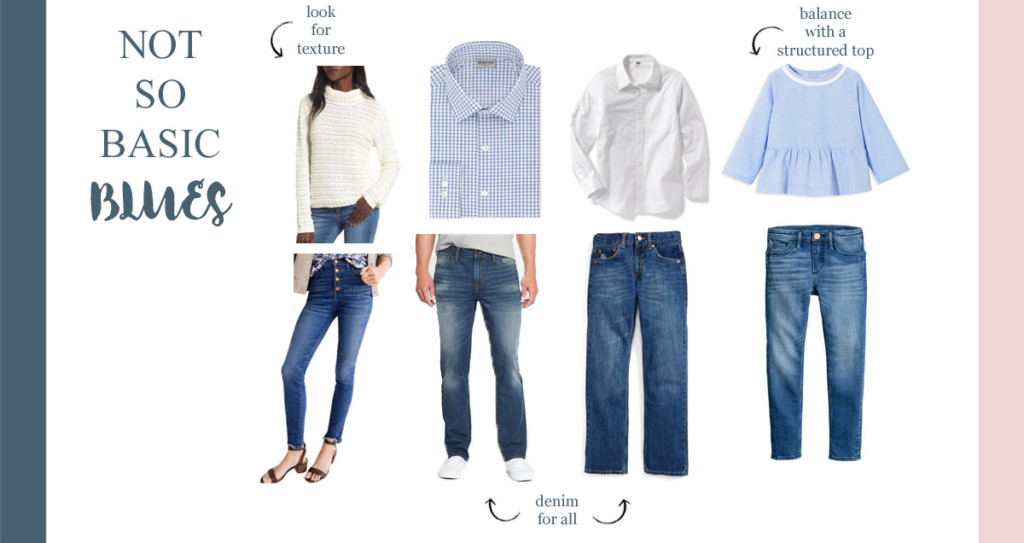 Get the Look:
Look 4:
Take black and white plaid to the next level by adding a pop of color. Hunter green is a fun fall color that will add depth to any photo. Swap out denim for a skinny cargo to create a polished look.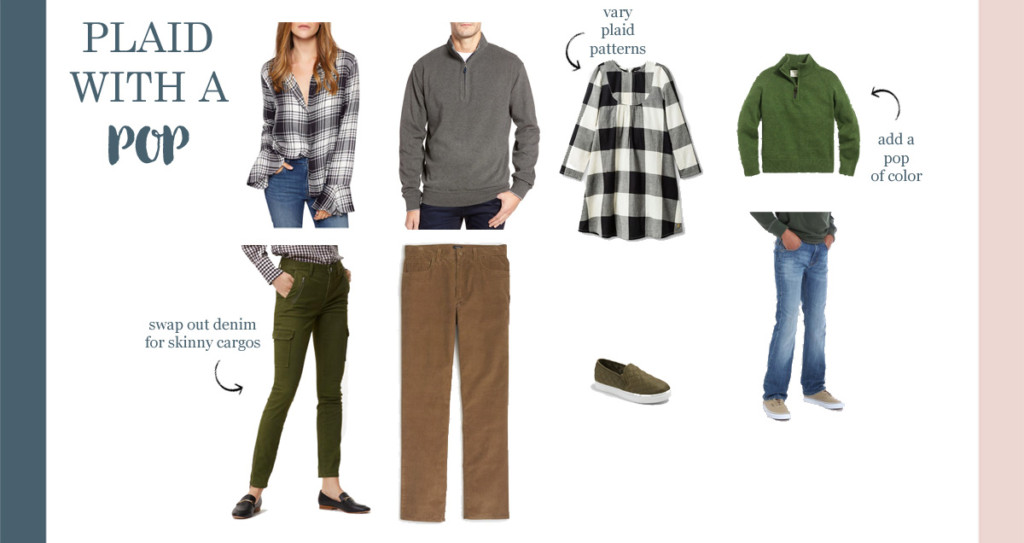 Get the Look:
Look 5:
While velvet dresses will be everywhere this holiday a velvet skirt will add just enough spice to your family photo. Keep the colors in the jewel tone family to create a rich fall look.
Get the Look:
And lastly, a few friendly do's and don'ts…..