Well, it's true. My mother is always right. Red has always been her favorite color and would you look at that? It has now officially been deemed (by the fashion gods), the color of the season. But how to wear red, right? All of you neutral loving gals (myself include), have a seat. We can do this. You would be surprised at how liberating it can be to step out of your comfort zone in the name of the color of love. There's no way around it, red is bold. We started with what might possibly be the cutest ruffle skirt (that happens to be 40% off!) in this gorgeous shade, and balanced the look with a few of our favorite neutral closet staples.
Look 1 //
Balance the bold hue with a neutral top and shoe. We love this look for work or tuck this idea away for an easy holiday party outfit.
Wearing:
Pom Pom Sweater (40% off today!) | Red Ruffle Skirt (40% off today!)| Heels | Bag
Look 2 //
Book the sitter and take this next look out for date night. Black and red is a classic combo finished off with gold accents.
Wearing:
Turtleneck | Red Ruffle Skirt | Boots | Necklace
Look 3 //
Revitalize an old chambray with a flash of red. Take this casual, yet head turning look with you for any fall adventure. Apple picking in a red wool skirt? Why not?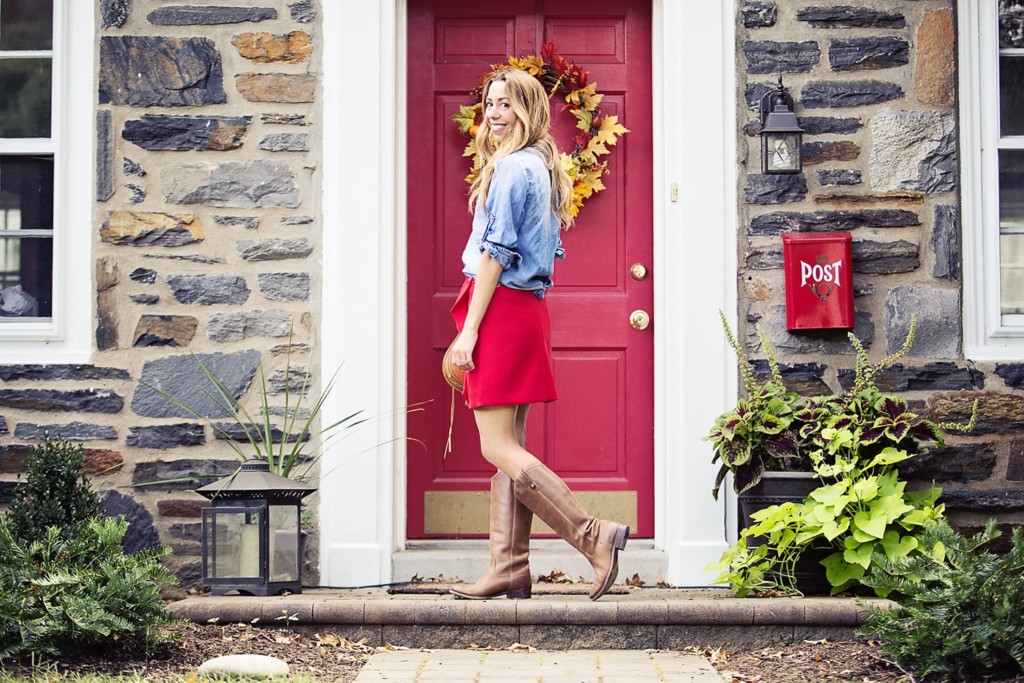 Wearing: 
Chambray | Red Ruffle Skirt | Boots | Bag
Look 4 //
Bruch ready, girls night out approved. Make it playful with a graphic tee, and layer on your favorite denim jacket to finish the look.
Wearing:
Graphic Tee | Red Ruffle Skirt | Denim Jacket | Booties
Tips for Wearing Red
Start small (think accessories, lips, nails…. beret's are having a moment??? So yeah. There's that.)
Sweaters, definitely! Skirts, obviously. Pants? Yes, but look for a darker red hue.
Let the red be the pop. Keep the rest of your look neutral.
However you wear red, wear it with confidence and let the compliments flow in….
A few of our favorite red things…
Follow @themotherchic on instagram and click here to shop my feed