I was trying to remember how many years I've been married the other day? I'm pretty sure it has already been 10 years because I specifically remember the conversation about wanting to go away on a big trip and then remembering that I had an infant. Noted. Last year was our steel anniversary so that must mean it's been 11 years. The big trip is still on hold because asking someone to watch our crazy crew of boys is nothing short of a serious undertaking. We've decided that from now on, we should focus on gifts for the home for our anniversaries. Cotton (bedding), steel (appliances), aluminum (pans), pottery (dishes) – you can tackle a new area of your house every year! Over the years things have broken (kids!) or just need to be replaced. The wine glasses from our wedding registry? Long gone. Ok so that might be my fault.
And although the wear and tear on all things home is inevitable, I think there is something to be said for investing in some quality pieces that I probably should have purchased the first time around. Confession, I actually never had a toaster until a few weeks ago – life changing!
And in the mix of the craziness of motherhood, I can't say how much I appreciate something that is just for me – a French press that I can prepare on a Saturday morning is a beautiful thing. Clearly I am a fan of Le Creuset – and I promise it has nothing to do with the bright happy colors ;).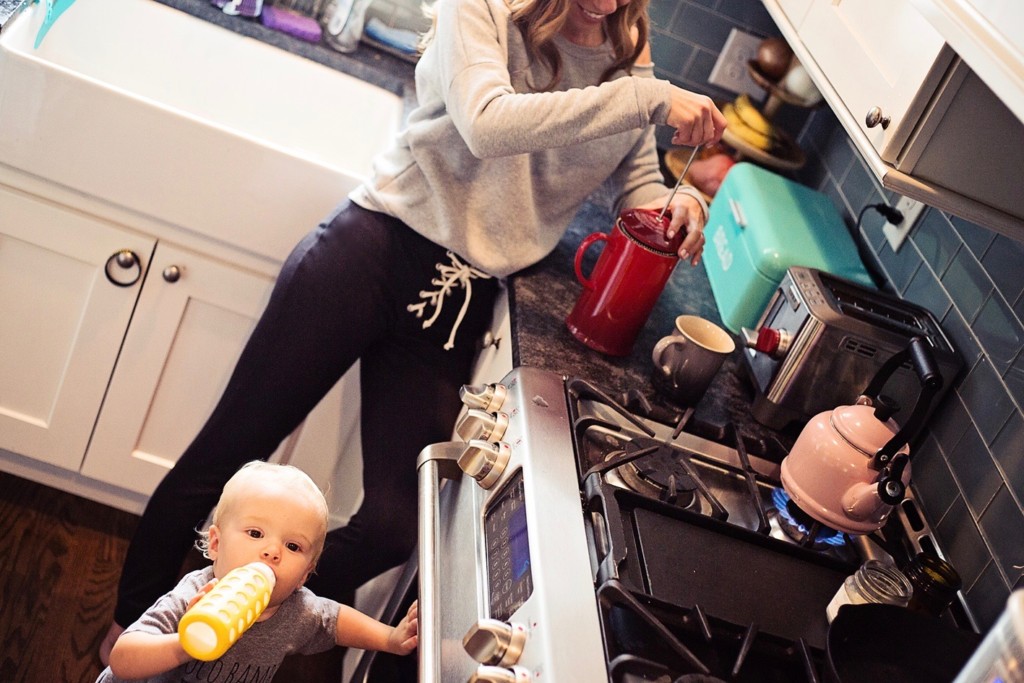 I've been known to sneak upstairs to "fold laundry" while the kids watch their morning cartoons. If we don't have sports it's the one day per week that we don't have to rush out of our house in the morning. And whether I'm actually putting laundry away (or just checking instagram) it's nice to be able to have a moment of quiet.
I've been trying to make my bedroom more of a calming sanctuary over the years – lots of whites, grays, and blues help. And if there is one thing I think worth splurging on, it's great bedding. These days sleep is sacred, and I fully believe that all moms of young kids deserve the most luxurious sleep we can get!
Ok clearly these moments last about 32 seconds before they find me…
And I wouldn't have it any other way, but sometimes those few moments alone surrounded by things that aren't plastic and make squeaky noises (a.k.a. the contents of the rest of my house) is all we need to get through the day.
A Few of My Favorites from Bloomingdales Home
Le Crueset  | French Press | Kettle | Matouk Duvet | Matouk Shams | Toaster
And a few more Anniversary Gift Ideas…
This post was written in partnership with Bloomingdales and ShopStyle