Ok before we get to the foolproof #OOTD (mom, dad, grandmom, that's code for: Outfit of the Day ;)), we need to talk for a minute about this tank. This post has been a long time in the works because we have yet to find the perfect under layer. A pretty camisole or silk tank is a wardrobe staple – we love them layered or even alone with a pretty necklace, front tucked into dark wash denim and pumps. However, finding the perfect cami/tank was challenging for two reasons: 1) the see-through issue and 2) the bra issue. Yes, most tops made from a silk or a silk blend are see through and yes, most of them require a strapless bra which explains my initial disbelieve when I came across this one that has a similar look, but isn't either of those things. Meet the double lined v-neck tank: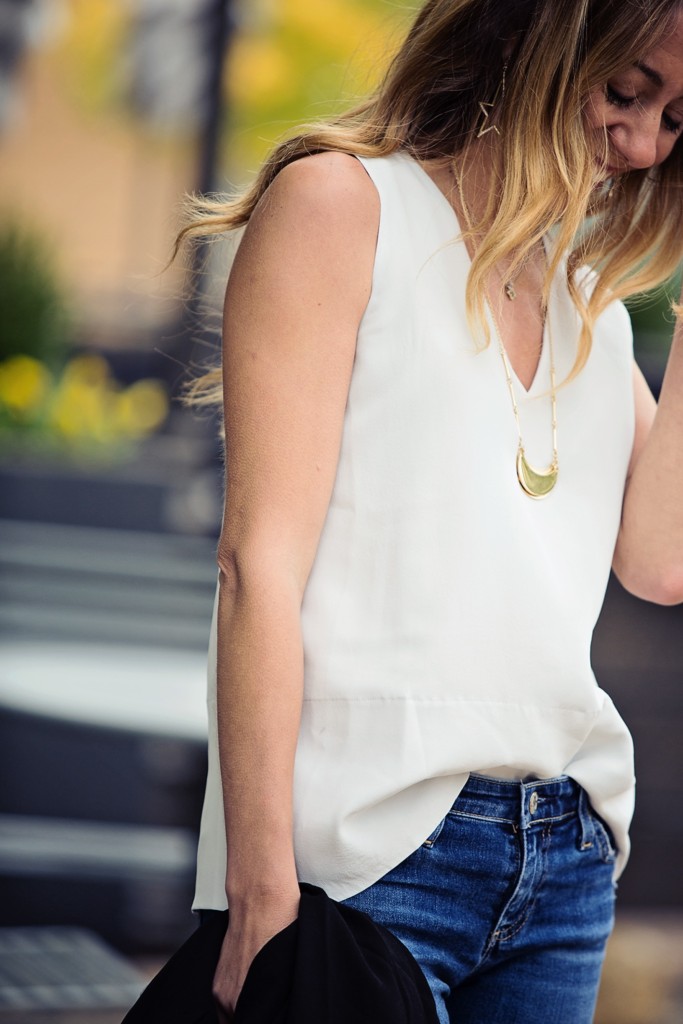 The wide straps allow for a REGULAR bra (woo!) and just like Everlane's traditional silk cami, it is double lined so there are no see through mishaps. And while this top looks pretty and polished alone, the addition of a blazer (which we have been seeing everywhere this season), makes for a foolproof #OOTD. Casual Friday, lunch with the girls, any random day when you want to look like you have your life together – THIS!
Easy, classic, sort of reminds me of Julia Robert's last outfit in Pretty Woman when Edward climbs the fire escape to profess his love, but I digress….
Wearing:
Silk Tank | Blazer | Jeans | Booties | Bag | Earrings
Here are a few blazers and cami's we love….
In Collaboration with Everlane and ShopStyle