Welcome to the Fall/Winter edition of the Reader Style Series. Kicking off the series is, Lauren Priori, the graduate gemologist behind L. Priori Jewelry. After several years working for famed jewelry houses and on Philadelphia's Jewelers' Row, Lauren opened her by-appointment-only showroom to provide a better way to buy fine jewelry. A recent Best of Philly winner, Lauren specializes in redesigning old jewelry and curating her collection of estate and recycled gold jewelry. You can check out her entire collection here, and make sure to follow her swoon-worthy instagram account! Let's meet Lauren…
Describe your style in less than 5 words: Classics, updated
How many days per week do you put on "real" clothes and/or what is your work style? I'm meeting with clients 6-7 days a week, so I put on real clothes pretty much every day. My work style is not too stuffy – I like mixing jeans and flowy dresses with more structured pieces!
Look 1 // The blazer look is something I would wear every day to meet clients. If I'm wearing jeans, I like to dress it up with a jacket or dressier top and heels. I'm also obsessed with these booties – they're so comfortable and look great with skirts too. I tend to be pretty hard on shoes since I live in the city and walk everywhere, so I try to keep my shoes affordable.
What is the most worn item in your closet: Black Leather Jacket
Drink of choice? Pamplemousse La Croix. I probably drink a case a day.
All time favorite pair of jeans?: Banana Republic jeans are the comfiest and fit my body type well.
Wearing:
Blazer | Sweater | X Ring | Stack Rings (this one and this one) | Booties
Look 2 // The second look is another fave – I love a fun pair of pants! The blush trousers are more unexpected than a dress but still special. I would wear a look like this if I had an event after work. It's polished enough for meeting with clients, but the heels elevate the look – literally.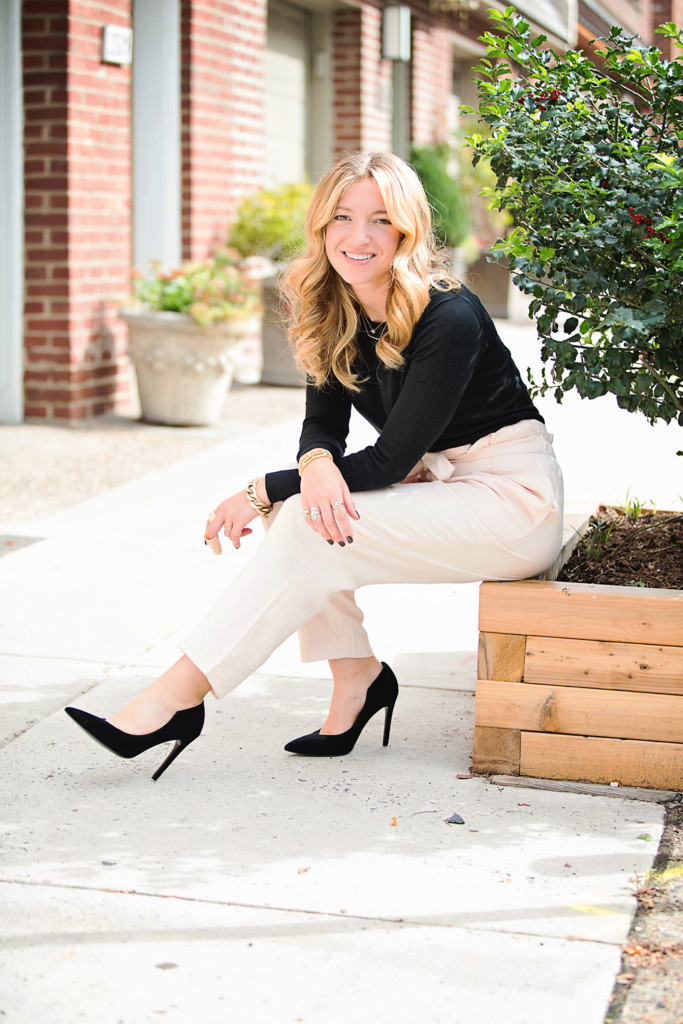 What beauty secret do you swear by? Sleep.
Go to week night dinner that everyone loves? Roasted Brussel sprouts, chicken and sweet potatoes. Just a little salt, pepper and olive oil!
Wearing:
Pants | Sweater | Shoes
Which decade has been your favorite? I loved my 20s because of the (sometimes painful) personal growth, but I'm so excited for the rest of my 30s. I've become confident enough to know what I want out of life and I'm not afraid to make it happen.
What splurge item is on your want list? A pair of white and yellow diamond eternity bands.
Thank you so, much for sharing a bit about your life and style with us! Be sure to check out her website and we give full permission to start dropping the hints to your husband! This page is my personal favorite….