If I close my eyes hard enough I can almost smell the pumpkin pie and the cranberry sauce and the mashed potatoes…. I can feel the warm embraces from family and friends. I can hear the cheers for the epic catch some guy just made to win the game…. I can taste the mashed potatoes…..oh wait, did I already mention mashed potatoes? Yes Thanksgiving is almost here and the last thing that you should be worried about is what to wear. We've put together three outfit ideas for Thanksgiving that cover the spectrum of what your turkey day may entail. Because there are more important things to worry about…..like mashed potatoes.
Look 1 // A Playful Day
Since our beloved Eagles, who are 8-1 (I only know this because my 7 year old keeps me updated) are not playing on Thanksgiving that most likely means we will be be outside enjoying a game of our own. And because I am always cold this look is all about layering! This textural sweater is just the right amount of warmth for northeastern November days, but to add a touch of festivity this plaid vest is the perfect topper. I paired this look with easy denim and my coziest, yet stylish sneakers. You can be sure my boys will be in full football mode wearing this…
Drink Pairing: Funkwerks Saison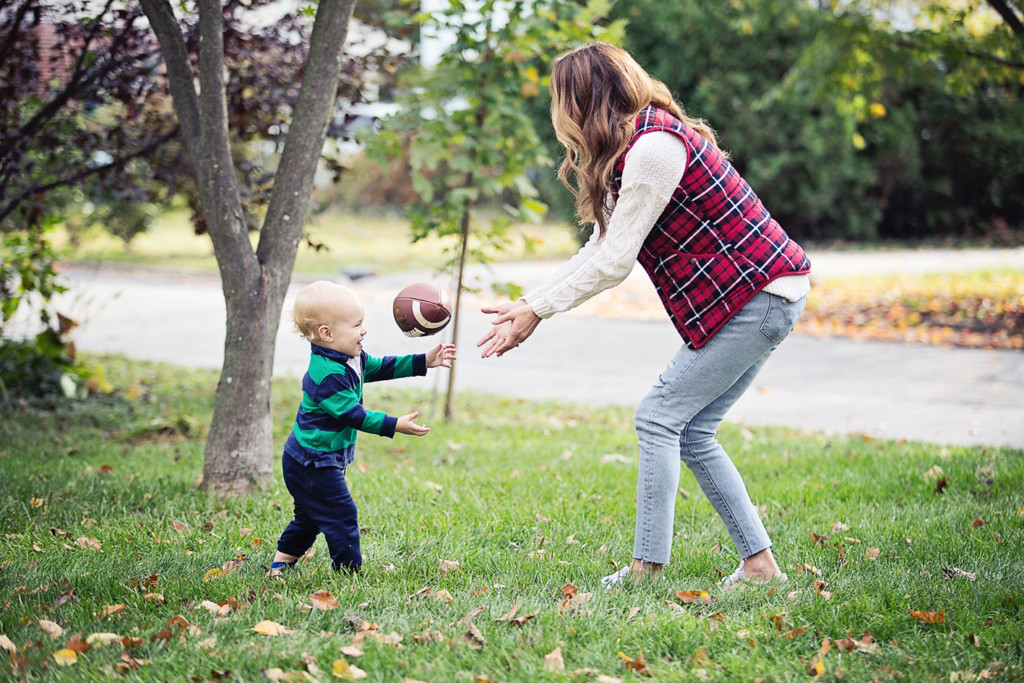 Wearing:
Sweater | Plaid Vest | Jeans (wearing "stereo sound" – and I cut the hems to shorten!) | Sneakers
Look 2 // All Dressed up with Somewhere to Go
But if your Thanksgiving doesn't call for grass stains and touch down dances, the outfit would most likely be different. For those who are trying to impress the in-laws or maybe a more romantic version of thanksgiving like dinner for two by a fire.. hey a girl can dream… this dressier outfit should do the trick. A tunic sweater that can be worn as a cowl or … yes you guessed it.. off the shoulder pairs perfectly with coated denim. Finish the look with some pop accessories be it a statement bag or shoe. Don't forget your hostess gift and if you need some options check out our round up here.
Drink Pairing: Riesling
Wearing:
Convertible Tunic | Black Coated Jeans (order one size up) | Pumps | Bag
Look 3 // All the Cozy Feels
And lastly an in between super casual and super cool (ok.. me trying to be cool). I call this the Friendsgiving oufit. A fun mix of dressy but comfortable. Pair a simple stripe tee with your favorite ripped skinnies. Then finish the look with an amazing plaid wrap and low heel bootie. Don't forget a touch of tortoise makes this outfit perfectly preppy. You'll find me wine in hand most likely playing this game…
Drink Pairing: Pinot Noir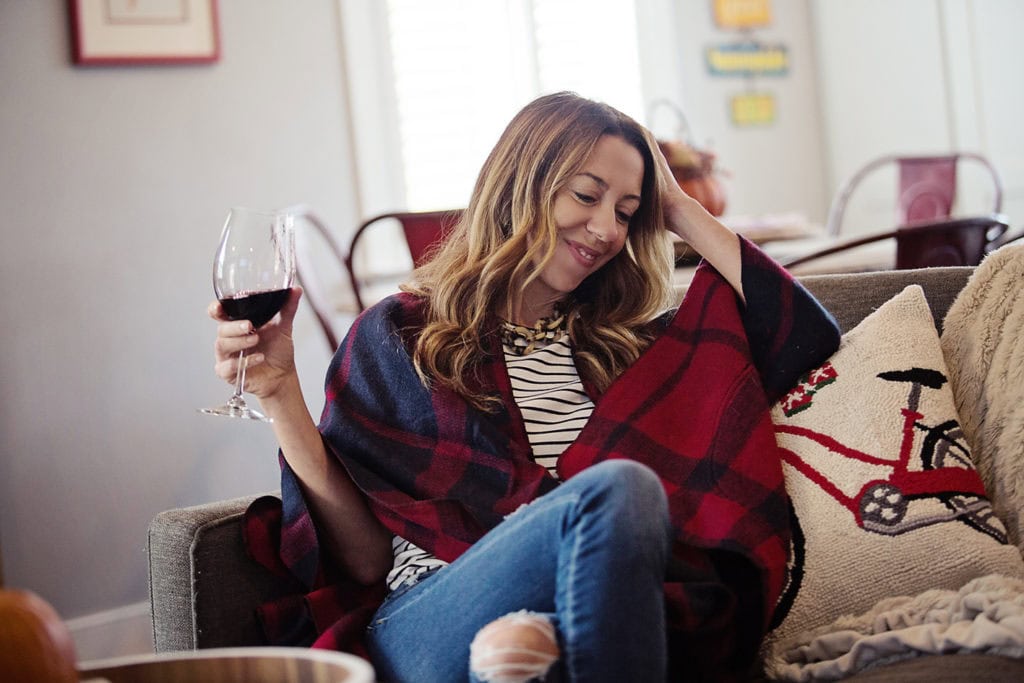 Wearing:
Plaid Cape | Striped Tee | Jeans | Necklace | Booties | (cute pillow!)
Shop the Looks Here: