This week I put myself on a little "no jeans" challenge by posting at least one look per day where I wasn't wearing jeans. This is no easy task for the denim loving girl that I am, but I was pleasantly surprised how much I liked not wearing jeans AND I was even more excited to be able to share some inspiration to the ladies who can't wear jeans to work. I didn't exactly pass this no-denim challenge, but I will make the case for casual Friday. Everyone can wear jeans on Friday….right? Just like every Friday there are work happy hours? These are the thoughts I have around 5pm every Friday….. wondering what glamorous cocktail my working friends are drinking at their happy hour while I throw back a beer and hover over the counter eating pizza begging my kids not to spill their milk.
The grass is always greener…. and while I wouldn't trade my situation for anything, this post is dedicated to the best of BOTH worlds. Whether you are a stay at home mom, a working mom or a work at home mom, hopefully there is something in this post that resonates with you and your weekday style. Here you have TEN head to toe looks…….(oh, and MOST of these pieces are on sale so if you see something you like click through and you may be pleasantly surprised!)
Casual Weekday Wardrobe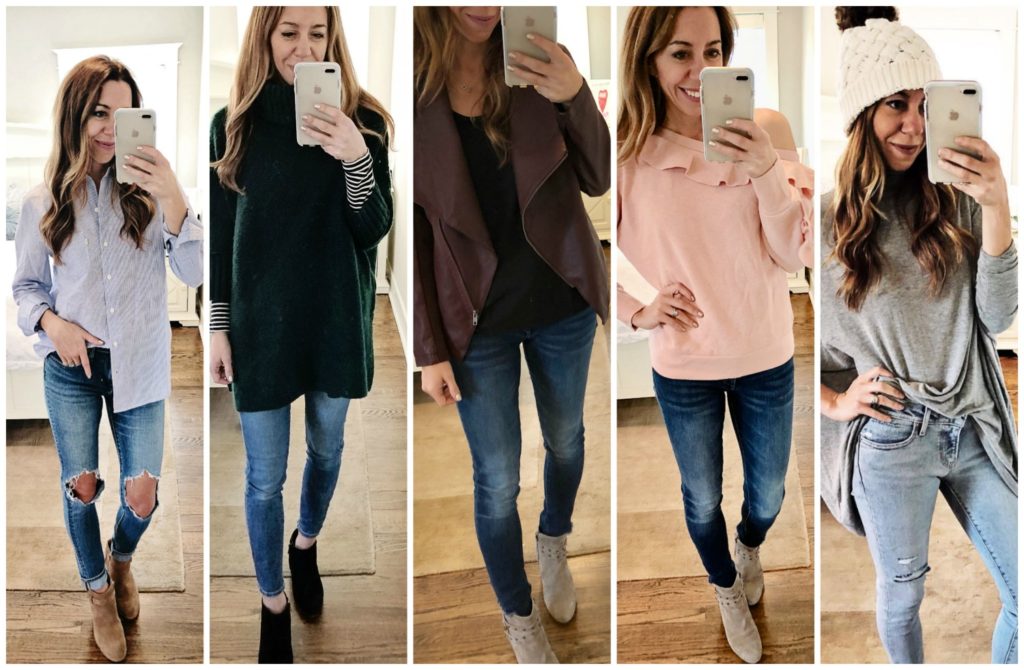 left to right
(all items true to size unless noted)
look 1 //  shirt | jeans | booties
look 2 // poncho sweater | turtleneck | jeans | booties
look 3 // jacket | shell | jeans | booties
look 4 // ruffle sweatshirt | jeans | booties
look 5 // top | jeans in "stereo sound" | hat
Workwear Wardrobe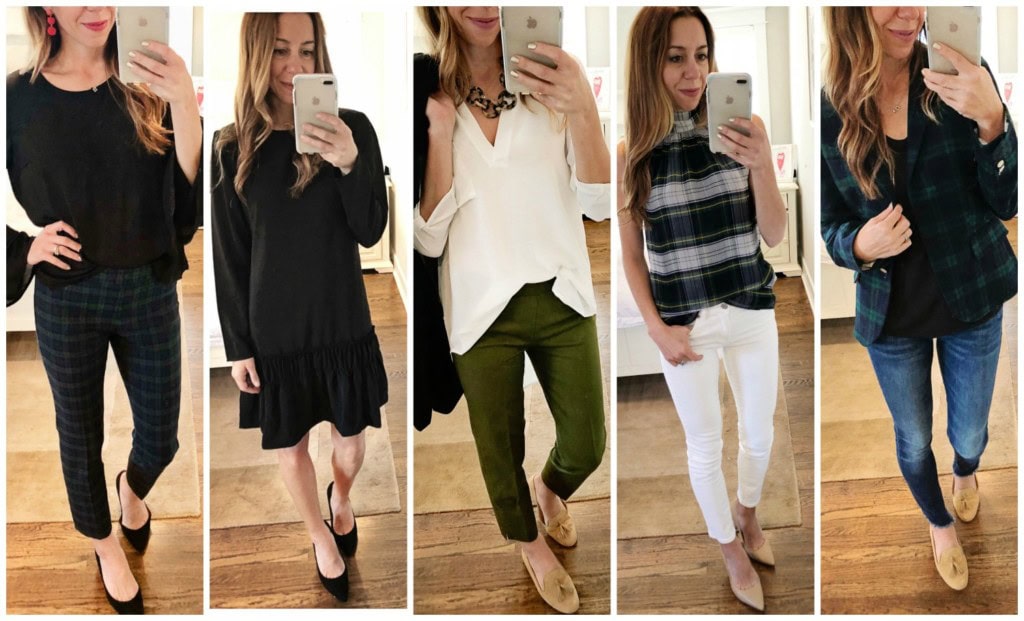 look 1 // blouse (old, similar here) | plaid pants | shoes | earrings
look 3 // blouse (size down) | pants | loafers
look 4 // plaid top | white pants | pumps
look 5 // plaid blazer | shell | jeans | loafers
And that's a wrap! Thoughts on this type of post? Was the workwear helpful? Clearly I was having plaid moment this week 😉
Happy weekend.
Lindsey