Next up in our reader style crush series is Lauren Anrig Addis. I've known Lauren for years and she is one of those people who radiates that effortlessly styled vibe. Every time I run into her around town I think to myself, "Yep, I want that whole outfit." Besides having impeccable taste in clothing, Lauren's love for the arts runs deep – she is the founder of LAA Art Collective, an art advisory and virtual gallery featuring emerging to early established Philadelphia region artists. She believes strongly in the importance of buying original art and supporting regional artists. Lauren advises both individuals with their homes, and businesses in corporate settings with art acquisitions.  If you are anything like me and completely lost when it comes to investing in artwork for your home, LAA Art Collective is a trusted resource to find personal, unique & accessible art and maintains relationships with 100's of regional artists. Let's meet Lauren….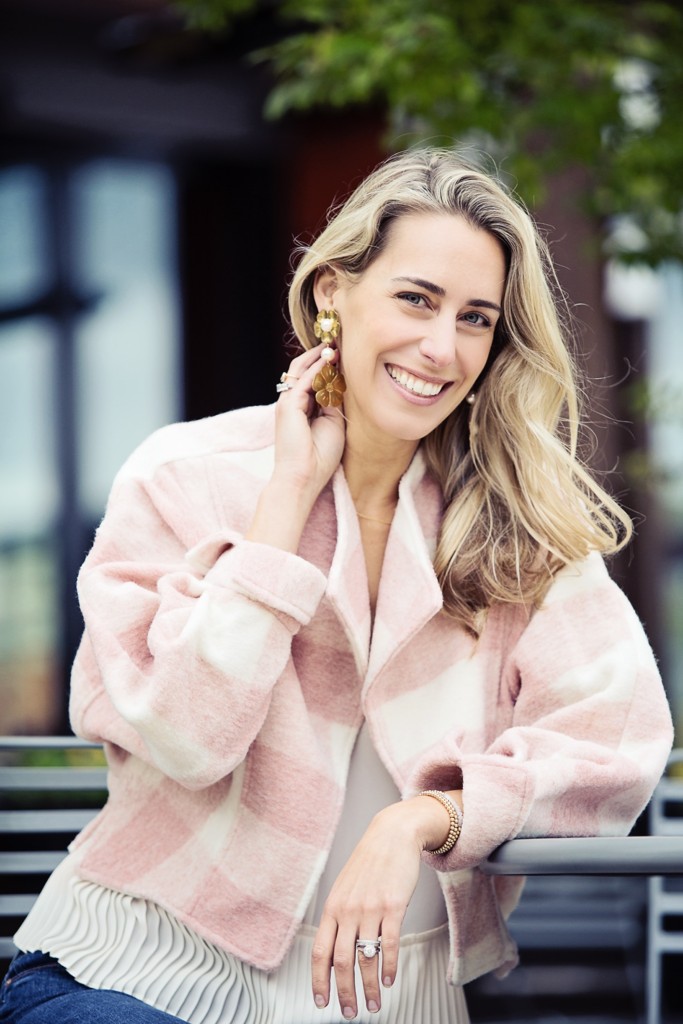 How would you describe your style in 5 words or less? Whimsical
Tell us about the look you wore. Where would you wear it? Why do you love it? I think fall jackets are meant to be cozy. The mix of the buffalo check jacket & soft palette won me over.  I dressed it up with a sleeveless blouse but, often wear with a T-shirt too. I love a statement earring and I have worn the pictured ones so many times this season. They were a gift from my sister and are by a new jewelry designer in NYC, Aurelia Demark (Email: [email protected] / price is $130 / website is about to launch). The jeans & booties are in my regular closet rotation and easily take me from school drop-off to meetings.
How many days per week do you put on "real" clothes and/or what is your work style? 5 well maybe 4…I work from home several days a week and these days it is a juggling act between running my own business & children's (daughter is 5 & son is 3) schedules! I call it my days-on-the-run… Dress down attire is usually jeans and a t-shirt/tunic or workout clothes.
What is your favorite pair of jeans?   Mother / High waisted!!! Any & All – high-waisted pants/jeans are a must for me. When I first discovered the brand Mother at Anthropologie a couple years ago it knew it was meant to be. My first Mother pair was a white distressed jean and now I have several different washes and styles.
Go to week night dinner that everyone loves? Making Meatballs with the kids – we rotate between organic turkey, chicken or beef. The kids love to help prep & clean in the kitchen. We add left over roasted veggies chopped up really small (broccoli / peppers / onions…), sautéed shallots and season with Borsari salts. The meatballs are a perfect protein over pasta & roasted veggies.
What are your secrets for balancing work, family, and friends? – Hmmm, still trying to figure this out. But, I really have been trying to enjoy the small moments and have fun with the kids. Seeing them light-up when trying something new or visiting a special place is pure magic.
If you could only wear one handbag for the rest of your life, which one would it be? I use a tote  everyday – this season I have been stuck on my Waltzing Matilda black leather tote.  The bags are locally made and leather quality is wonderful.  I get so many compliments on this simple and unstructured tote.
Lauren, buffalo plaid has never looked better. Thank you so much for sharing some of your life and style with us! You can follow Lauren here….. @LAAartcollective and visit  her website LAAartcollective.com
Shop Lauren's Look