And last but not least in our fall winter style series, I am so excited to introduce you all to Jen Risk! Jen is an interior decorator living in the Philly suburbs with her two girls, husband, and two dogs. She's the owner of Hathaway Hutton, a custom bag painting company where you can have almost anything painted: from a well-loved handbag you've had for years, or choose a new one from her wide selection of French baskets. Let's meet Jen….
Tell me about the look(s) you wore: Where would you wear it? Why do you love it?
I love this look because it's so comfortable. I live in these jeans. And the hat – well, bad hair day solved.
Wearing: 
Sweater | Jeans | Heels (old, J.Crew) | Hat | Earrings | Hathaway Hutton Clutch
How would you describe your style in 5 words or less? Cool mom, not a regular mom.
What's your favorite pair of jeans? The jeans I'm wearing. I feel like my best self in ripped jeans. They are by GRLFRND and have no stretch, which is a little frightening at first but if you wear them enough they fit like a glove.
How did you keep in shape when you were pregnant? Chick fil-a and Bravo TV. I also lifted weights at the gym twice a week, but nothing crazy. I did not enjoy being pregnant, but I did enjoy my Chick fil-a.
What is your go to gift for new babies? New moms? I've delivered this hand painted basket to almost every shower I've been to filled to the brim with size 1 and 2 diapers. It's always a hit, and moms love it for themselves.
Most worn item in your closet? The Alo high waisted moto leggings you posted here on your blog. I wear them at least once a week.
What beauty secret do you swear by? I drink a gallon of water a day. I swear by it for my skin, my digestion, my mental health, all of the above.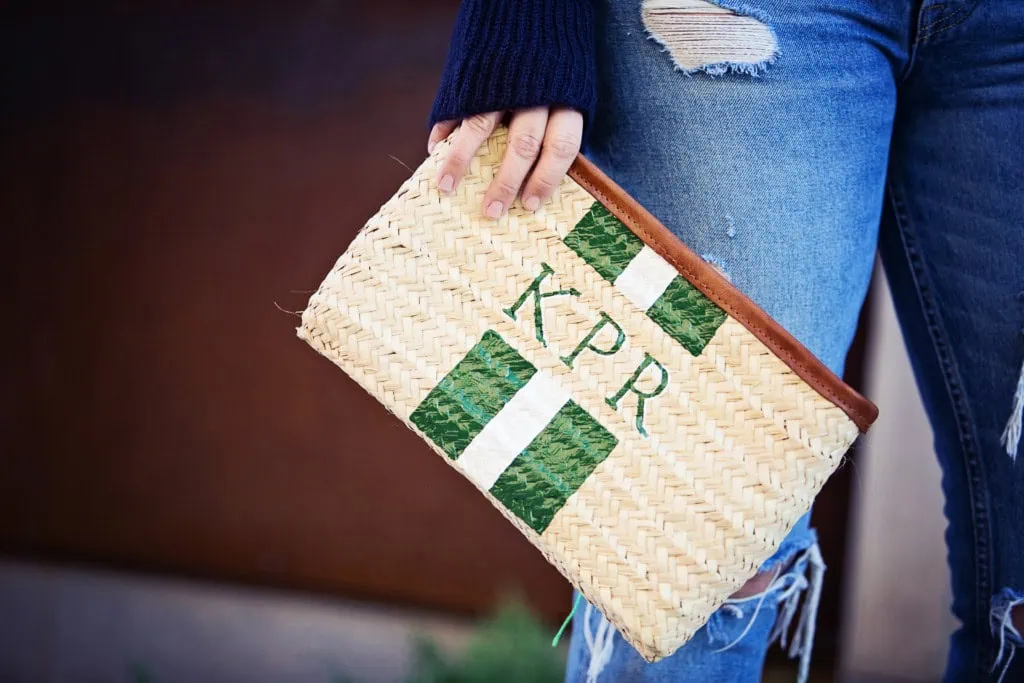 I never leave the house without _____________. This Honest lip gloss miracle balm stuff I found at Target. It's lip balm, but put it on your cheekbones and all of a sudden you look all dewy and fresh.
If you could only wear one handbag for the rest of your life, which one would it be? My Hathaway Hutton painted speedy. Easy, uniquely personalized, and goes with everything! Plus, it has my beloved Moose's face on it, and what's more ridiculous and special than having your dog's portrait painted on your bag?
Jen, thank you so much for letting us feature you! Your sense of humor shines through and now I need to go out and buy GRLFRND jeans and your bags have me swooning! For anyone interested in a Hathaway Hutton bag, last day to order for the holidays is December 15th – such great gift idea!
Get Jen's Look