With the holiday season in full swing (17 days left in case your kids haven't been keeping you up to speed) the best gifts are not the material things. The memories shared with family and friends are really what makes this time of year so special. Each year my husband and I try to plan outings with our kids to explore a new place, eat some yummy food, and get in the holiday spirit. Growing up my parents would take my sisters and I to Manayunk (not just around the holidays but year round as a special treat). If you are not familiar with the area, Manayunk is a commercial district (think gorgeously renovated Victorian storefronts) nestled right along the Skuykill River. This year I decided to take my kids down memory lane and partake in some of my favorite Manayunk spots. When you can combine a memorable day with great food, a Santa spotting, (and a little shopping), it's a win all around.
The dining scene in Manayunk really offers something for everyone. There are a variety of cozy bars for cocktails and delicious meals with friends (Jake & Coopers – the crab cake is a must!) and family friendly dinner spots (The Goat's Beard). Full list of restaurants here.
And of course we can't forget dessert, Tubby Robot is the spot where you can enjoy a smores sundae made from only the finest local ingredients. Need I say more? Ok if I must, there are also video games! And it's sort of one of those you-have-to-see-it-to-believe-it type of things. The video screen is actually outside on the neighboring building's window. Mind blown.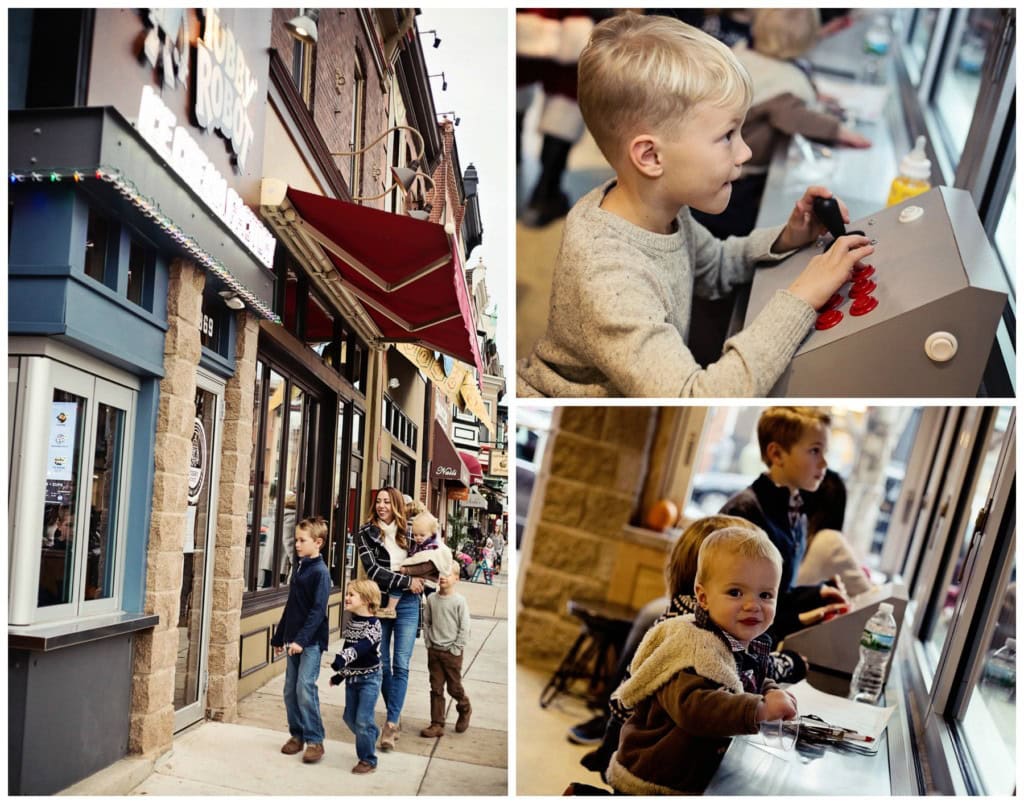 And while my kids were in their ice cream coma and enjoying the holiday lights, I snuck into a few of my favorite shops (yes toy stores included!). Manayunk's shopping scene is amazing these days. I promise I didn't take my family there just for the shopping, but if you are local and haven't been in a while, you need to revisit Main Street. The boutiques are filled with local artisan pieces to international unique finds.
Lila Fashion International is the perfect spot for that wow-factor gift. These shoes came home with me and they have a beautiful collection of pieces from all over the world that make a perfectly unique gift for the impossible to shop for person on your list. How gorgeous is this coat?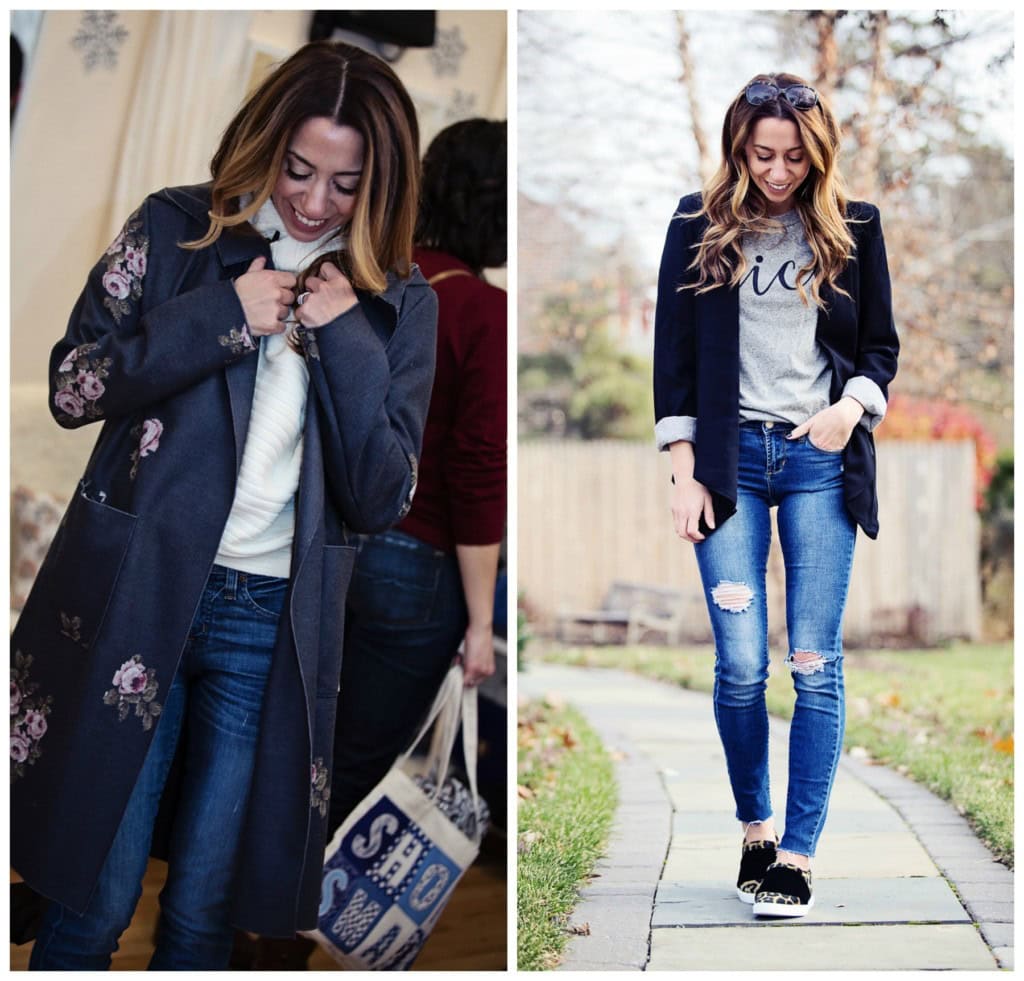 The Little Apple is another favorite – it's one of those stores you could spend hours in (the funny sayings on some of the items had me and Abby cracking up and lot's of "OMG this would be perfect for _____"). There is literally something for everyone from cheeky BBF gifts to adorable baby clothing.
Another great store with creative gifts and beautiful toys is Latitudes and Longitudes. Owner, Meredith, has the best selection of onesies I've ever seen for a baby and the entire back of her store is all for the kids – the perfect place to pick up a last minute gift.  Personally I loved her travel wine glasses, but that's what's great about this one stop shop.
And then there's the jewelry… There's no harm in just taking a look (and then dropping all of the major hints). The owner of Bendi Jewelers made me the most beautiful necklace with my kids's initials hand engraved on a circular disk pendant.
And there stands Nicole Miller in the iconic spot right on the corner. Besides their gorgeous dresses and tops, they have a collection of Nicole Miller accessories that make great gifts (sunglasses, scarves, jewelry etc…)
Over the years Manayunk has become a nostalgic place for me and my family. It is the place of my mom's favorite eye glass store and the place where I got my first pair of big red glasses when I was 7 (Eye Glass Works), where my sister found her wedding dress (Nicole Miller), and a family favorite beauty store and salon (Beans) which is owned by my mom's cousin.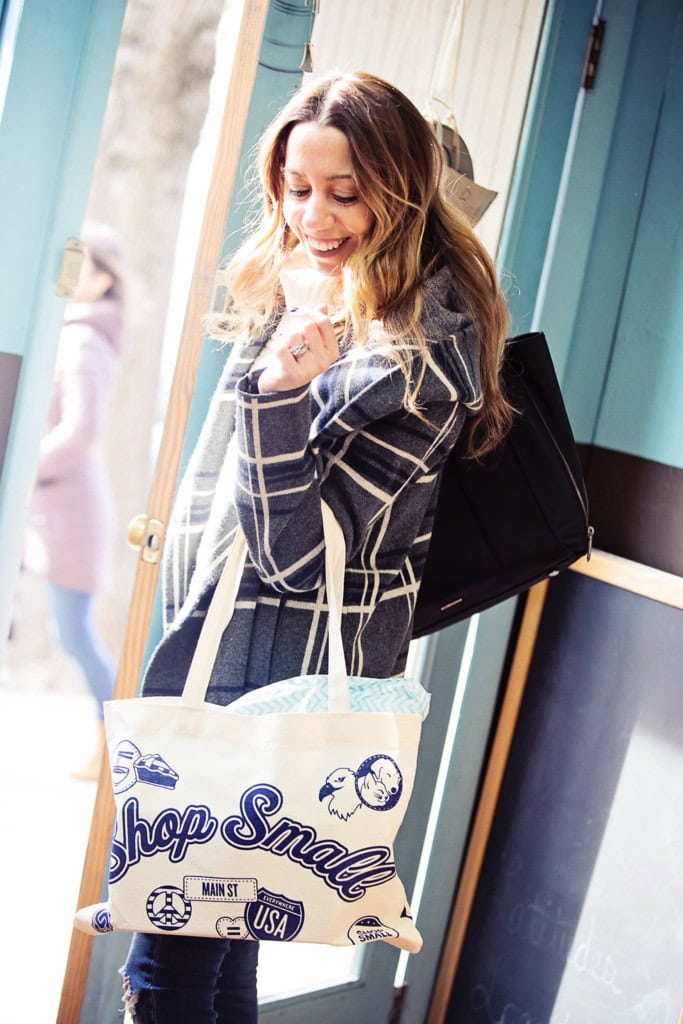 I'll be heading back to Manayunk this weekend to check out their first ever Style Me Manayunk holiday pop up event taking place on Sunday from 10am-6pm. The event will feature fashion and gift vendors and there will be live music and food! It will be a fun even to support local business and #SHOPSMALL.
Wearing:
Kids:
Husband:
Thank you to Manayunk for partnering on this post.