After I had my first child (and the other three after that), New Year's Eve became more of a "stay in" night rather than a get a decked out and head to a fancy party (ok maybe I only really did that once…). But if I have learned anything about motherhood it's that it's all a balancing act. It's okay if we want to book a sitter (good luck with that) and head to a fancy party. It's also okay if we forgo the party and spend New Years Eve playing Pie Face and sipping sparking cider with our kids. Pro Tip: Don't bet your kids that they won't be able to stay up until midnight. They can. I can too (with one eye open). No matter what your plans are, here are two New Year's Eve Outfit ideas for either the "going out" or "staying in" scenario. Both of these looks are from Lord & Taylor (the best priced secret) and you can get 20% off regular priced, sale and clearance items with code: COUNTDOWN and $20 off orders of $160 with code: BONUS.  If you haven't tried this before, Lord & Taylor also offers a "buy online pick up in store" option for those situations where you need an outfit in a pinch!
New Year's Eve Outfit – Going OUT //
For all you ladies out there who are always cold, I hear you. Gone are the slinky dresses and tube tops from my closet and enter the grown up going out outfit. Black denim pants and oh so festive sequin tank paired with a tuxedo blazer and fringe lined heel is my new perfect NYE combo. Of course if you happen to live in an area where freezing wind isn't an issue swap the out the blazer for a tuxedo pant to get a similar look.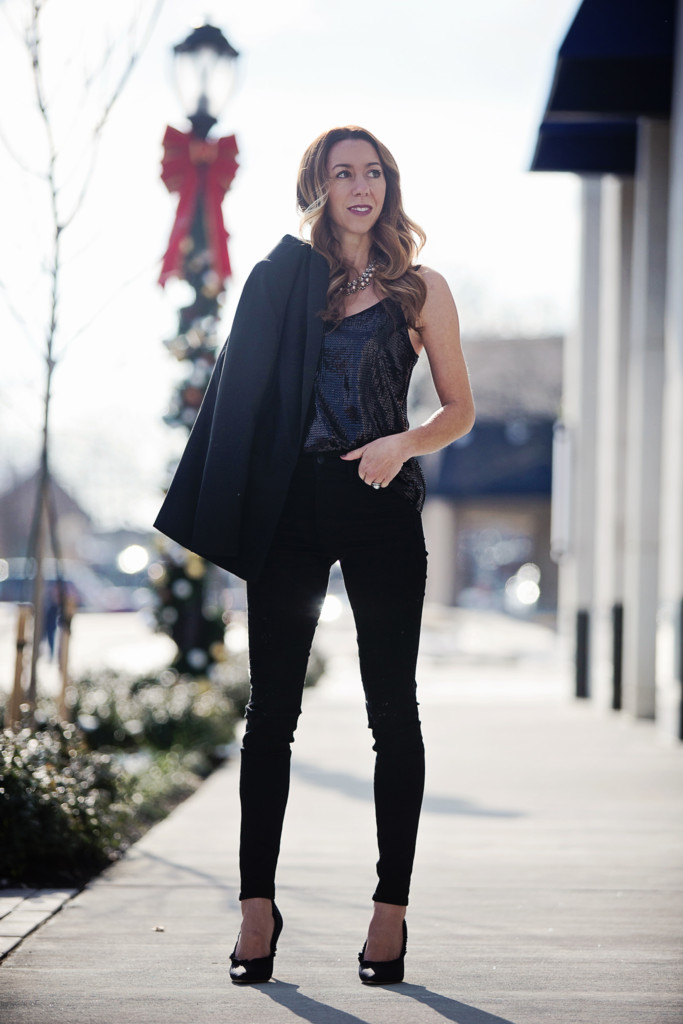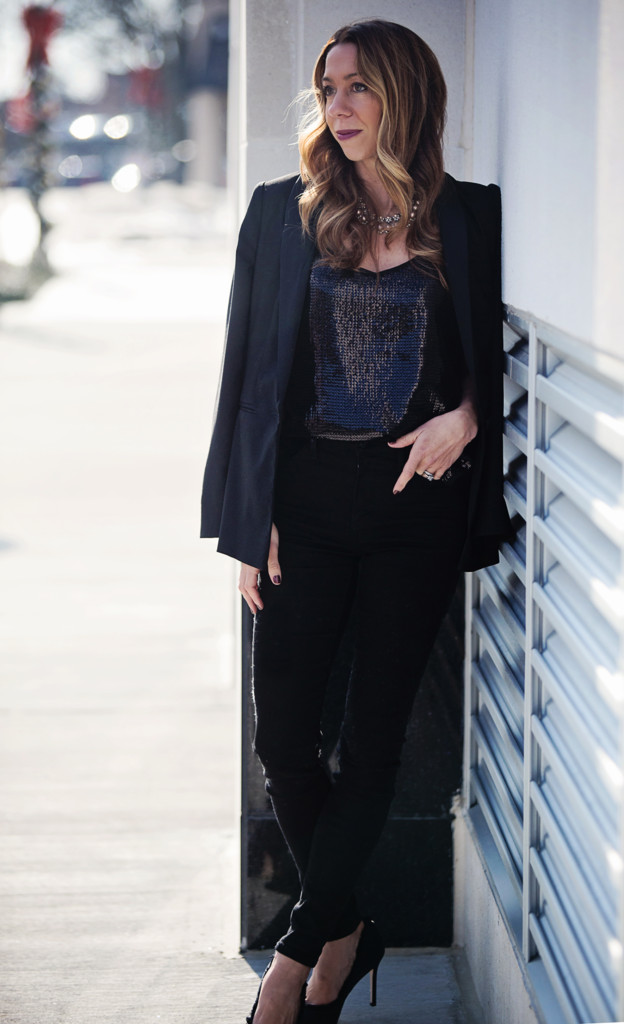 Wearing: 
Sequin Camisole | Tuxedo Blazer | Pumps | Necklace | Pants
New Year's Eve Outfit – Stay IN //
Whether you choose to stay in or maybe nurse a headache on New Year's day this cozy set and robe will keep you comfortable. Lately I have been a sucker for matching PJ sets. I mean you do spend a good amount of your life sleeping so you might as well look cute doing it! How is that for justification 🙂 And this robe. is. so. soft.
Wearing: 
Splendid Pajama Set | Ugg Robe
What are your New Year's plans this year? or maybe what are your new year's resolutions? Mine. Clean out my inbox… going on 11,000 unread emails. Cringe.
Shop the New Year's Eve Outfit Edit
GO OUT!!
STAY IN!!
Thank you to Lord & Taylor and Shopstyle for partnering on this post.