Those of you who follow my stories on Instagram know that my daily life is far less glamorous than it appears on my blog. My mornings are a mad rush of getting kids dressed, washing faces, finding missing socks, making beds (sort of), slapping together PB&J and bribing my kids to get their own snacks, throwing a load of laundry in, sneaking in sips of coffee, putting mascara on while helping put spelling words in ABC order because someone "forgot" to finish the night before, making breakfast, stuffing little feet into shoes, realizing we are already two minutes late, chugging whatever is left in my mug and running (literally) out the door.
But on Saturdays and Sundays, we like to sloooow it down and have pancakes. Chocolate chip of course.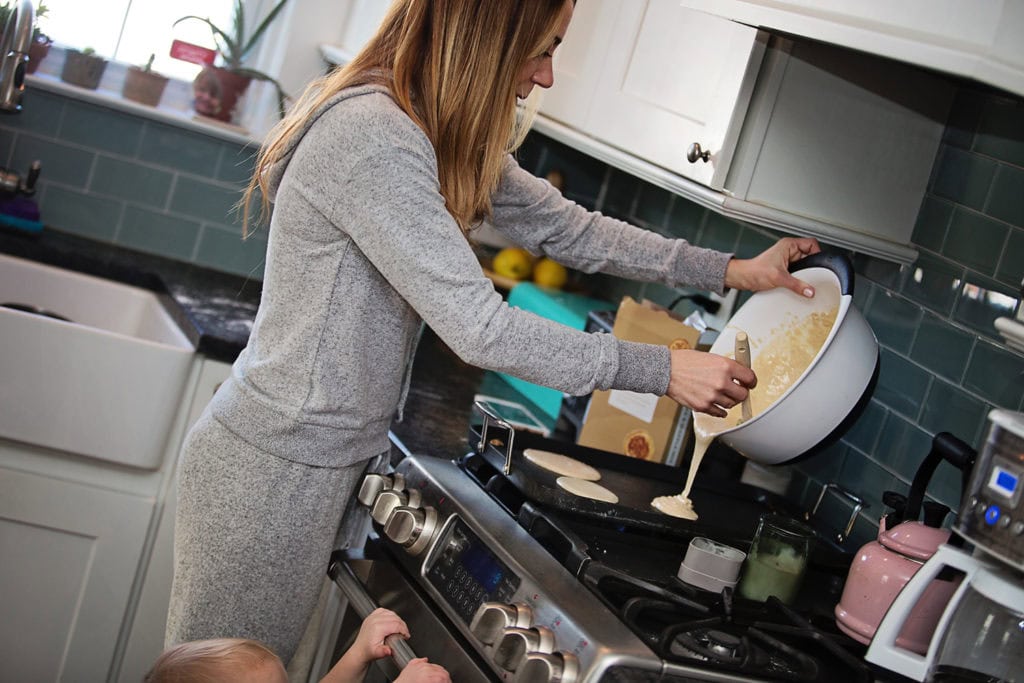 A few weeks ago I got an email from a company called Brandless where everything on their site (EVERYTHING) is three dollars. They have food, household items, beauty products and more. It's such a cool concept because things like organic maple syrup which I usually pay upwards of $12 is such a steal. When you cut out the brand, you also cut out hidden BrandTax, which makes these great products less expensive without compromising quality (you can read more about their standards of quality here). And in a world full of brands everywhere you turn, it's sort of refreshing to see something that is brand-less!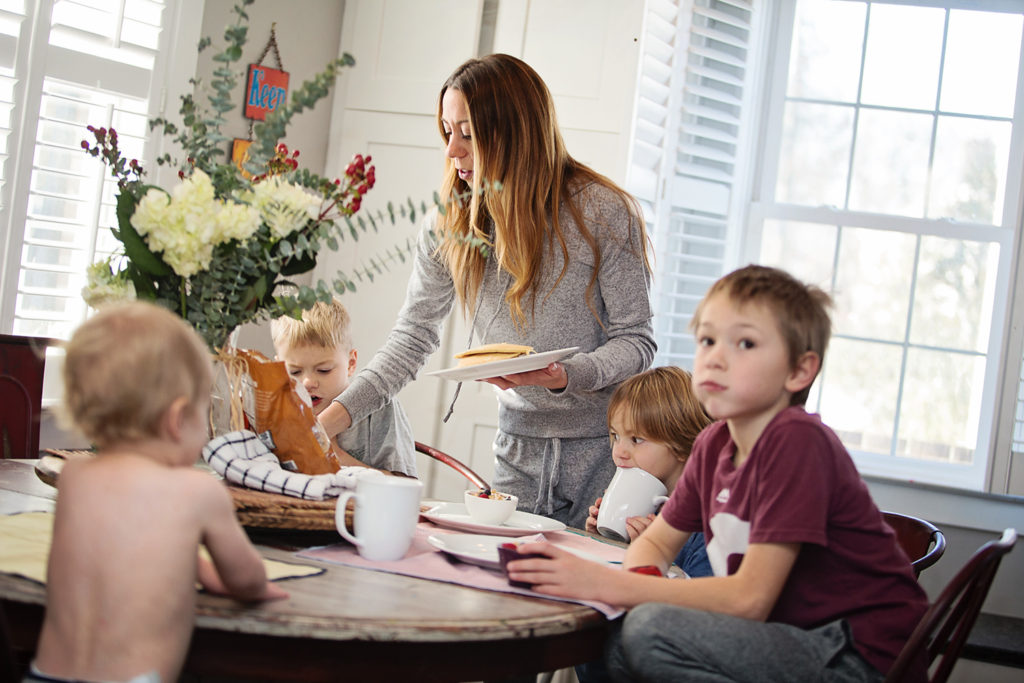 So we took their organic pancake mix for a spin and my son who never gives out unsolicited compliments said, "Mom, this is so delicious".
I also served the boys little yogurt and granola cups with fruit, but they ate them so fast we couldn't get a photo. So yeah, the maple pecan granola passes the kid test. And because I couldn't help but want something from every category to test it out, I also ordered some new plates and mugs because with 4 boys, we go through them so fast. That and cleaning supplies – you can only imagine.
The mission of Brandless is to get better products at fairer prices into the hands of everyone. On top of that, they donate a meal to Feeding America for every order placed. You can also join their membership program for $36 per year to gain free shipping on all orders.
Needless to say I am very impressed with this company and my kids were super excited to learn that besides Jessica Seinfeld, Steph Curry is also an investor.
And now with an entire breakfast (with much more to spare), new dishes and cleaning supplies for under $40, I can't wait to place my next order. You can bet I'll be hitting up the beauty section – how good does that citrus body scrub look? Try Brandless out and let me know what you think!
Thank you to Brandless for partnering on this post.