The theme of my life these days is that there just isn't enough time in the day. I know as a mom of young kids, there are many of you that share this feeling. Many times when you choose to do something, it is at the sacrifice of something else. Go to yoga or get caught up on laundry, meet friends for a drink or indulge in a few extra hours of sleep, play with your kids or go for a run etc…. In a time where it seems like there is never enough time, I've made it one of my goals to put that theory to rest. Case in point, my girlfriends and I wanted to go out for dinner after being snowed in for two days, but due to exhaustion from being snowed in for two days we realized (hello!) we can go out at 6, be home by 8 and in bed by 9. It was a beautiful, beautiful thing. And on the weekends after being away from my kids all week between school and work, I often feel guilty about leaving in the morning to go workout – so I don't. The solution? Family workouts.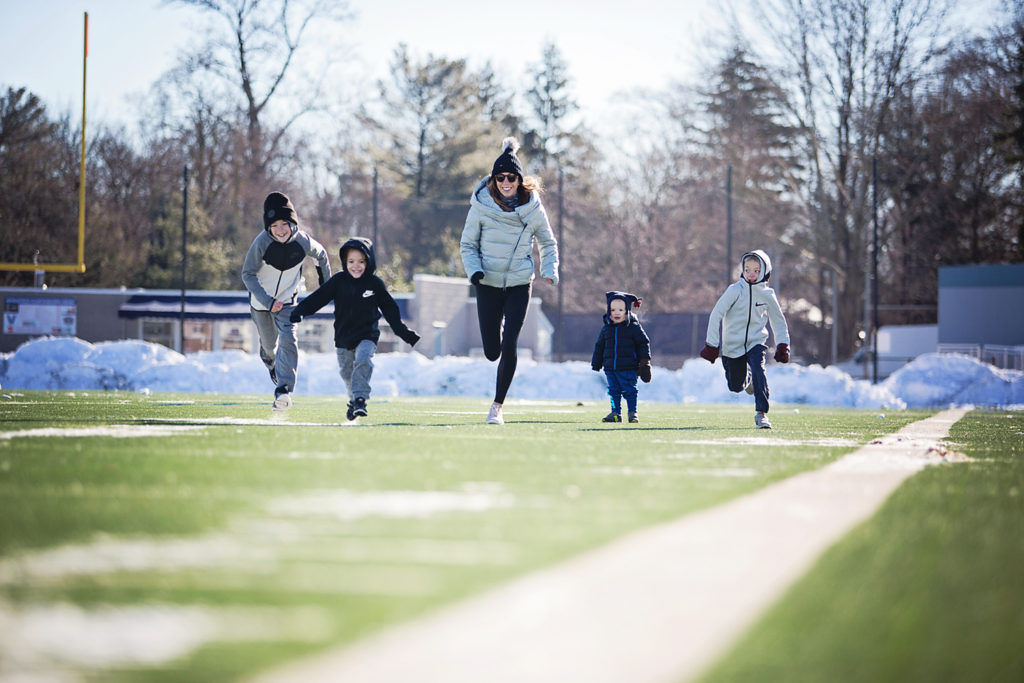 We have actually been doing this for years – my husband and I push the jogger (ok him, not me!) and run, while the older boys ride their bikes. Or we just go out on a field and throw a ball around, have races etc… Most times it doesn't feel like a workout – there is always lots of laughing (and a little whining) involved, but the bottom line is that we MOVED and got some fresh air while we were at it. Yes, there is something to be said for going on a long run alone to clear your head and I am not discounting those. Definitely go on those, but on the days where you feel torn, getting up and getting out with your kids can actually be really fun. And as a mom of four boys, I feel it is my job to model an active lifestyle and show them how fit and strong women can be.
This time of year (if you live in an area like we do) the weather is either freezing or…..freezing. Having the best gear is essential. My boys' love for all things Nike has clearly rubbed off on me! I can't stop wearing this down puffer jacket. It is insanely warm and unlike some puffers where you just feel stuffed, it moves with you and breathes should I happen to break a sweat.
I've also spoken before about Nike's Pro Warm line – this top is essential for working out outside this time of year.
And besides the mesh panels, my favorite thing about these leggings is the invisible pockets on either side – perfect for phone or keys while I am running around chasing my kids.
I like for my workout clothes to be double duty should I choose to wear them for an athleisure look – the violet Metcon sneakers were a must in giving a nod to the Pantone color of the year. And when you love your workout outfit so much that it motivates you to get out and move, then you know you are winning. Whatever it takes!
Wearing:
Down Puffer Jacket | Top | Leggings | Sneakers
Boys Wearing: 
More Favorites…