What can I say but, "I got it from my grandma!" Throughout the decades, my grandmother at 89 years young is still my fashion icon. Whether she is sipping coffee in her robe and rollers or holding her signature cocktail dressed for dinner – usually wide leg pants, neutral sweater, accessorized with a statement necklace and, always, a red lip she always looks……polished, classic, incredible. My grandmother, known to me as "Mommom" and to everyone else as "Flossie", calls me every week – she tells me how handsome she thinks my boys are (especially the oldest) and then always ends with, "Oh and that blog of yours!! Linny, it's just beautiful." For the record she is a really good raver, but I will take the compliment any day – especially from her.
For a while now I've been trying to figure out a way to make this come full circle. How could I show everyone where my love for fashion comes from and also pay a fun tribute to my grandmother? And there it was: Grand-Motherchic, anyone? A photoshoot and a fun interview over wine and a homecooked meal. And dancing. There is always dancing. Friends, meet the aways stunning Flossie…..(and I give you a full permission to drool over her perfectly decorated condo… that trait she passed on to one of my sisters!)
To no surprise, she was a natural in front of the camera and when we sat down for the interview, she was girlishly giggly, but each answer came quick and confident. Basically she knows what she likes and what she doesn't like – perhaps that's a privilege of being 89. Before we get to the interview, a quick look back at her style over the decades….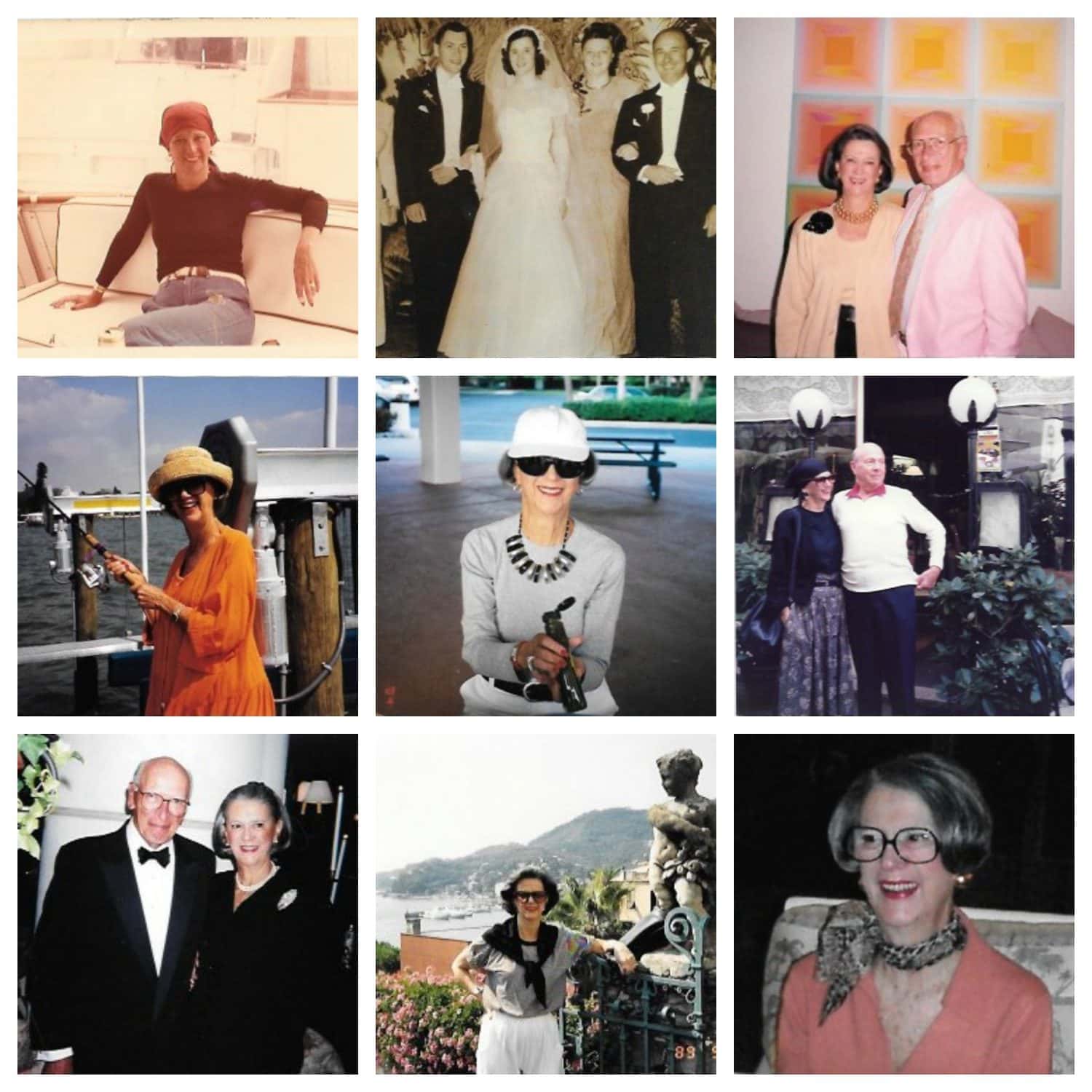 Lindsey: What outfit do you look back on and wish you hadn't worn?
Flossie: I had on a long skirt and a straw hat in the airport. I was coming to Florida and I looked ridiculous.
Lindsey: What kind of shirt did you have on?
Flossie: Some ugly nothing.
Lindsey: Why do you like stripes?
Flossie: I think they look good with solid pants and I think they are fun. And if I wear solids I don't like colors. I'm not a red person or a pink person. I really like black and olive green. And maybe beige. But always a red lip and red nails.
Lindsey: What do you think of women's fashion today?
Flossie:  I think it's great because everybody does what they want.
Lindsey: What do you think is the biggest fashion faux pas?
Flossie: Women that wear clothes that are too young for them.
Lindsey: What would you never wear?
Flossie: Shorts!!!
Lindsey: High Heels or Flats?
Flossie: I love both. I love ballet shoes and I love young people in heels.
Lindsey: What was your favorite decade?
Flossie: 70s and 80s. 70s. I love wide leg pants.
Lindsey: What is a staple item every woman should have in their closet?
Flossie: A nice black dress.
Lindsey: Who was your fashion icon growing up?
Mommom: Audrey Hepburn
Lindsey: What celebrity do you think has great style now?
Flossie: Nicole Kidman
Favorite Lip Color: Revlon Red
Favorite Perfume: Calèche Hermes
Flossie: Is that it? Do I get paid for this?
Lindsey: Um, no but we can dance?
Get The Grand Motherchic Look
Perfume | Pants | Stripe Top | Hair Rollers | Black Dress | Nail Polish
Bakelite Bangle | Black Pump | Revlon Lipstick | Ballet Flat