What is it about a kitchen that makes everybody want to hang out in it? Maybe it's the association with food (likely), or the association with the lovely people making the food (let's go with that theory) that makes a kitchen the magnet in every home? If you have been following me on instagram, you've seen glimpses of the house I have been renovating. I will do a full post on the story behind the house and a deep dive into all of my selections from cabinets, to hardware, to appliances, to tile to countertops and the 87 million other things you need to decide on when renovating a space! Call me impatient, but before we put any furniture in the house (no really, there is just one table and a bench right now), I couldn't wait to add some happy yet functional accents to the kitchen. I did a huge haul at Macy's because I love so many of their home brands – Thirstystone and Kate Spade to name a few. The look I was hoping to achieve for the entire house was "industrial chic" – neutral colors in the form of black and white, exposed ceilings, natural materials, all softened with a feminine touch. From galvanized metal, to copper to, the pinkest of pinks, the accents I chose for the kitchen are just that – a blend of hard/raw meets soft/happy. Here is a peek of the kitchen prior to any decor…
and after I gave it a little love….
We still have a few things to finish up – including but not limited to toe kicks, outlet covers, the cabinet over the fridge needs to be resized, "things" need to go on the walls etc…  but here is a closer look at some of the fun kitchen accents that brighten the space and give the industrial vibe a little warmth.
Rooster Serving Board | Copper Party Cup
All in Good Taste Towel | Eat Cake for Breakfast Towel
Camo Leggings | Socks | Sweater
Sugar Bowl | Milk Creamer | Taste Plate (similar here)
Polka Dot Latte Mugs | Hammered Copper Canister | Wooden Utensil Trio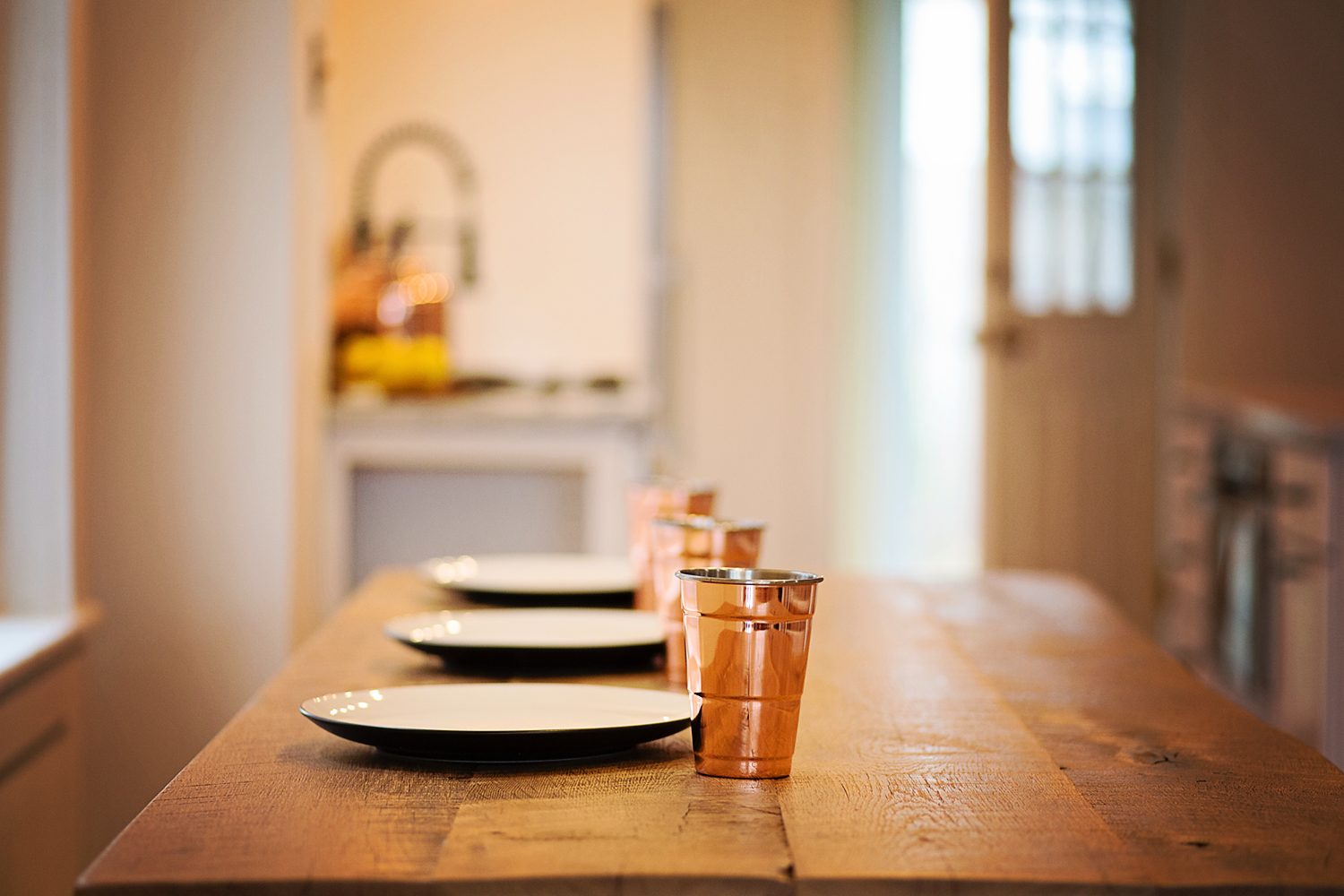 Black + White Dinner Plates (comes in lots of colors) | Copper Party Cups
And now despite the fact that I don't have barstools or chairs or rugs or any of those other things that one would deem essential for a home, my kitchen has a little love… and seeing that gives me the second wind I need to decorate the rest! Stay tuned for more….
Shop More Kitchen Accents I Love….
Thank you to Macy's and ShopStyle for partnering on this post.