February – the shortest/longest month that ever existed, right? If you have a getaway on the brain you are most certainly not alone! I've put together a little getaway guide which includes the packing must-haves for any upcoming trip that you will also wear all warm season long. When I think back to any warm weather trip, I basically live in a bathing suit and cover up during the day, and then switch into "real clothes" for dinner out. Rinse, repeat. When sitting oceanside all day becomes too much (#vacationproblems), perhaps a lunch out or some local exploring wearing something effortless and casual. Nordstrom is always the first place I stop when shopping for a trip – their drool-worthy Vacation Destination shop makes shopping for any trip super easy. And because, let's be honest, we pack for everyone, there is also a vacation shop for men and kids.
I've organized this post into three sections (swim, "by day", and "by night") and will leave the pjs + gym clothes (at your own discretion, ha!) up to you! When in doubt, throw in your favorite pair of cut offs, a comfy tee and cute sandals and you can be ready for anything. Shop the entire vacation section here.
The Getaway Guide: Oceanside
Bikini Top | Bikini Bottom | Cover up (similar here) | Hat (similar here and here) | Shades
Gone are the days of string bikinis (for me) although truthfully I've never really been a fan. I love a bikini with a sportier fit that will stay put while lounging poolside (translation: chasing my kids). The little knot is really what sold me on this suit – such a fun detail. With swim I always size up at least one or two sizes (especially for the bottoms). I also love the ease of a button down cover up – it goes with any suit (one pieces included) and give a little more coverage for all of those long walks on the beach that I might actually be able to take in, oh say, like 5 years?
Shop my Swim Favorites Here:
The Getaway Guide: By Day
Side Ruched Dress | Necklace (similar here) | Bag | Sandals
The recipe for a perfect midday stroll through the town (besides lunch with a cocktail) – an effortless, comfortable dress (accessories optional!) and walkable sandals. This dress is so easy to pack which is why it was a must for the Getaway Guide – you can also dress it up with a pair of wedges and statement earrings for a dinner out. The side ruching makes this fit super flattering, but if you are looking for a shorter dress, you know my thoughts on this one, and a sleeveless midi version here.
Shop my Favorite Day Dresses Here:
The Getaway Guide: By Night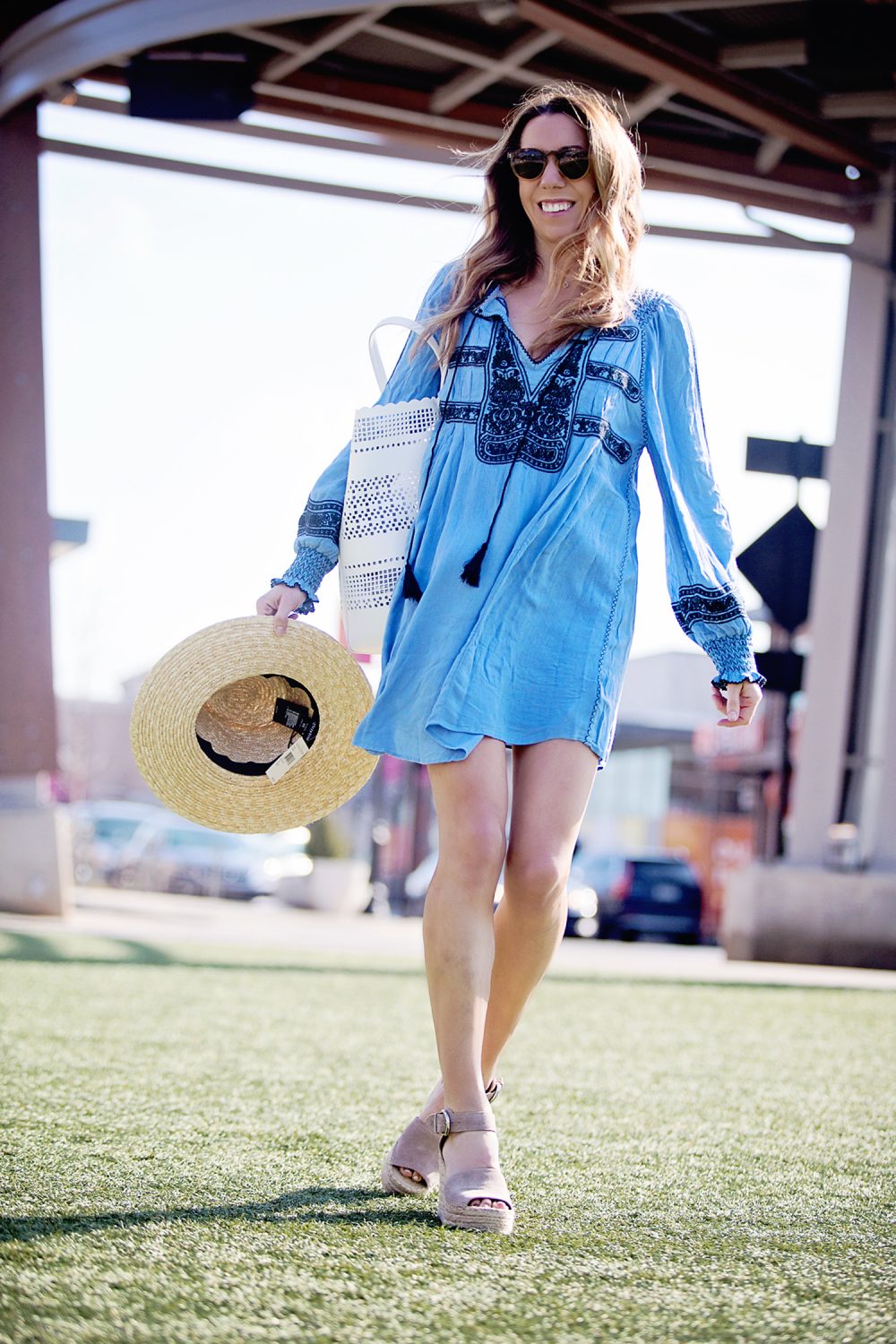 Embroidered Dress | Sandals (wearing taupe suede) | Hat | Bag
A flowy beachy dress is most definitely a getaway essential. There is something super unappealing about putting tight jeans on after a day at the beach, just me? Dresses it is! And when the time between pre-shower happy hour and your dinner reservation runs thin, having a go-to dress that doesn't need much else is always much appreciated. The embroidered detail on this dress steals the show, so I just paired it with the world's most comfortable wedge espadrilles (serious height, but so easy to walk in!) and out the door you go. Grab that sun hat for effect (or in the event you are lucky enough to catch that sunset).
Shop My Favorite Vacation Dresses Here
Thank you to Nordstrom and ShopStyle for partnering on this post