Amongst the list of FAQs in the last few weeks, questions about my favorite white denim has been asked on repeat! Before we move on, YES you can wear white denim all year long. Throw the rule book out the window because fashion is supposed to be fun and white denim adds a fresh/chic vibe to any look despite the season. With that said, finding a pair of white jeans that fit great, aren't see through, and having magic kid repellent features are not fun to find.
Instead of trying on a million pairs of jeans, I am showcasing 4 pairs that I love for different reasons. When it comes to white denim the higher the price point the better the overall quality. That said we did include a budget friendly pair that I also happen to love, but maybe just got lucky? It all comes down to personal preference and we have rounded up a few favorite pairs at all price points at the bottom of the post.
**I am wearing a size 25 in all of these jeans. They run true to size unless noted. I am 5'4 and typically wear a size XS, 0-2 , 25 for reference.
Look 1 // Favorite Classic White Denim
No surprises here. Madewell KNOWS denim. These jeans are a medium weight and classic skinny jean fit. I have slim calves so they did feel a touch loose in that area, but when I look at the photos I like that they aren't super tight.
Madewell White Jeans | Pink Button up Top | Hat | Sandals | Bandana
Look 2 // Favorite On-Trend White Denim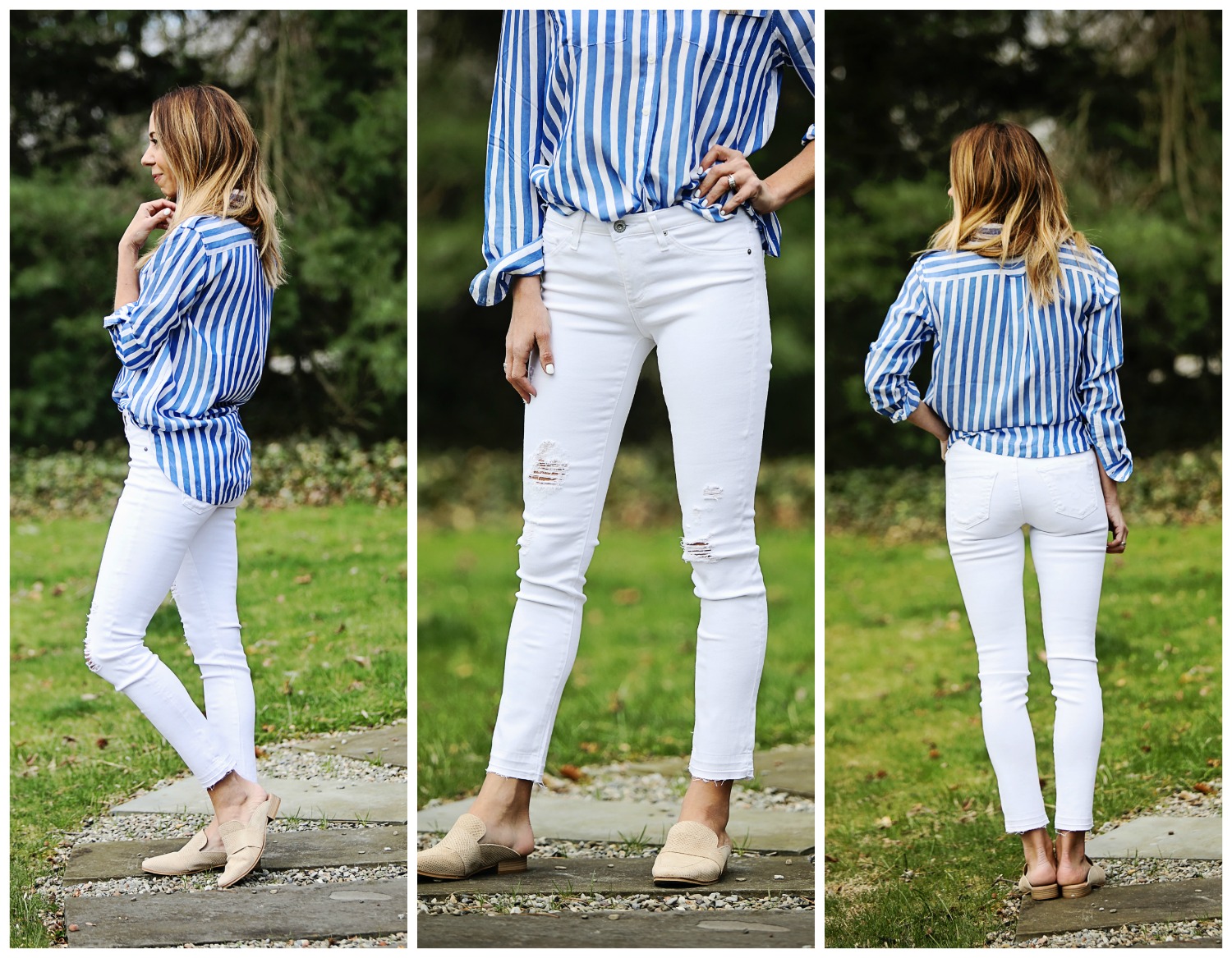 The raw/released hem trend is on point with this pair of AGs. AG is one of my favorite brands of designer jeans because the fit and quality is top notch. These have a bit of stretch and enough distressing for "cool mom factor", but too much for country clubbing.
AG Distressed Jeans (20% off today!!) | Blue Stripe Top | Loafer
Look 3 // Favorite Dressed Up White Denim
AG Sateen Jeans (20% off today!!) | Knotted Sweater (not available online yet) | Espadrilles | Bag (on sale!)
If you are looking for that perfect pair of dressed up white denim, look no further. These are AGs "sateen" pair and they feel just like that – satin! They are much thinner material which makes them look a bit more polished and smooth. They are also much more breathable than the other pairs because the material is lightweight.
Look 4 // Favorite Kick-Around White Denim
I call these my favorite kick around pair because they are budget friendly and super durable. You guessed it – tried and true Levi's!
Levi's Distressed Jeans | Graphic Tee | Sandals
 White denim picks over $100

White denim picks under $100