Sometimes I think someone is playing a game with me: How little sleep can she survive on? A few weeks ago we took our family on a vacation and while it was warm and beautiful and WARM, it's always hard to get a baby to sleep in a new location. And coming home, it's always hard to readjust, because let's be honest, the easy way out on vacation is just to let the baby sleep with you, right? Just as we broke that habit and finally got reprieve….the past three nights my other sons who NEVER (okay, rarely) get up in the middle of the night decided to each take their turns – stomach ache (check!), thirsty (check!), croup cough so bad I had to lay next to him the entire night to make sure he was breathing (check!).
Yes this is all part of motherhood….. and so are dark circles. Which is why it should not come as a surprise that me and  concealer are basically BFFs.
Longtime readers know that I am a HUGE fan of bareMinerals and have mild panic attacks when my Complexion Rescue is running low. Somedays my skin needs even more help which is where the BarePro 16 Hour Full Coverage Concealer comes into play. This little wonder stays put all day and it doesn't take a degree in makeup artistry to apply either. Here is a quick tutorial on how to use it and fun video at the end of the post! But first… who doesn't love a good before/after?
Before // Completely bare faced.
After // Wearing BarePro 16 Hour Full Coverage Concealer in Medium-Warm 07 + BarePro Performance Wear Liquid Foundation in Sandalwood 15 + Gen Nude Blush in Call My Blush
**Use this helpful guide to find your perfect match!
Step One // After using moisturizer to hydrate your face, gently dot your under eye area with the BarePro 16 Hour Full Coverage Concealer. This product has a satin matte finish and goes on smoothly and blends like a dream. It is crease-proof and stays put all day (hence the name!).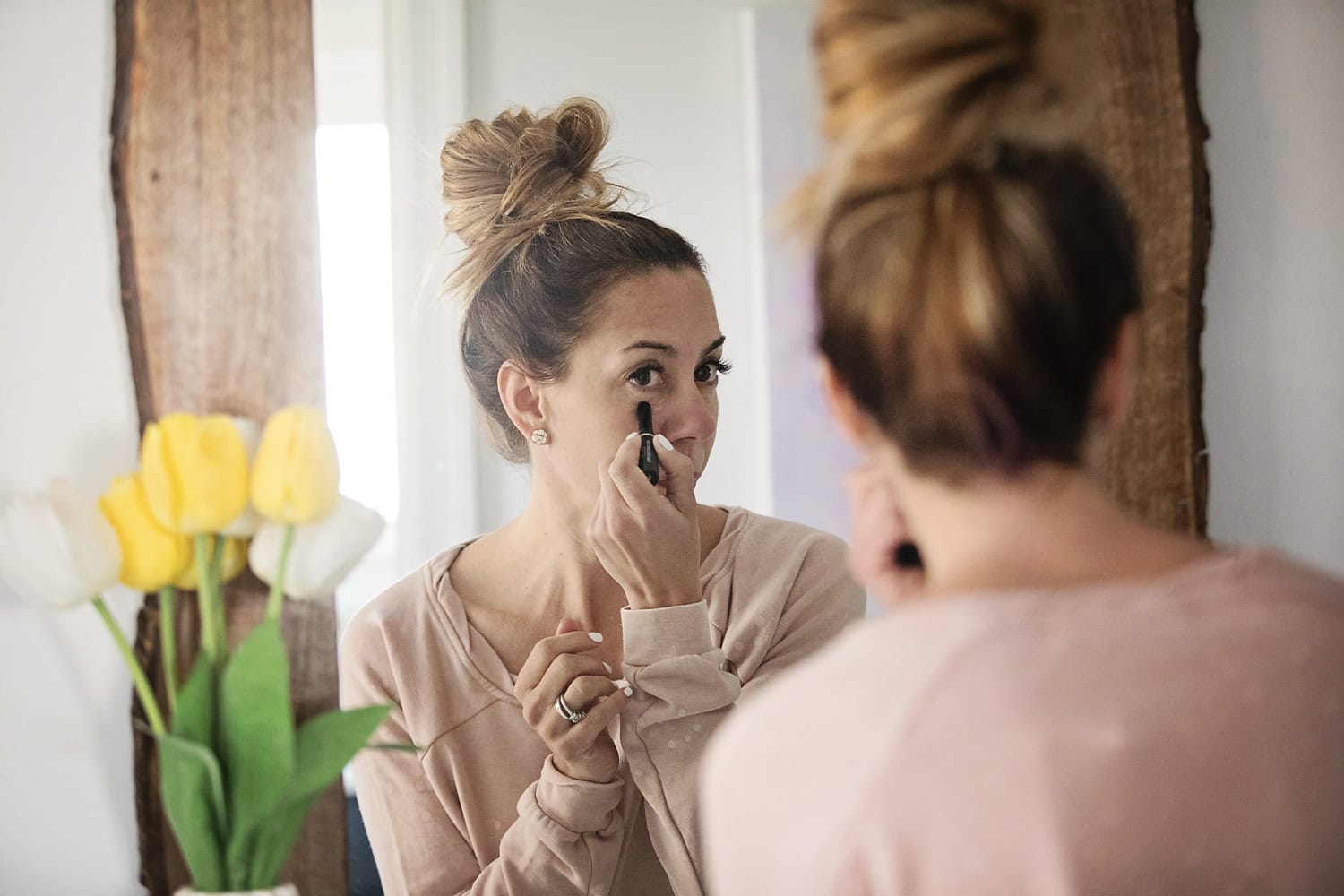 Step 2 // Using either your ring finger or a beauty sponge/brush, blend the concealer from the inner part of your eye outward. This product is formulated with Bamboo Stem Extract which has line blurring properties – also great for concealing those fine lines!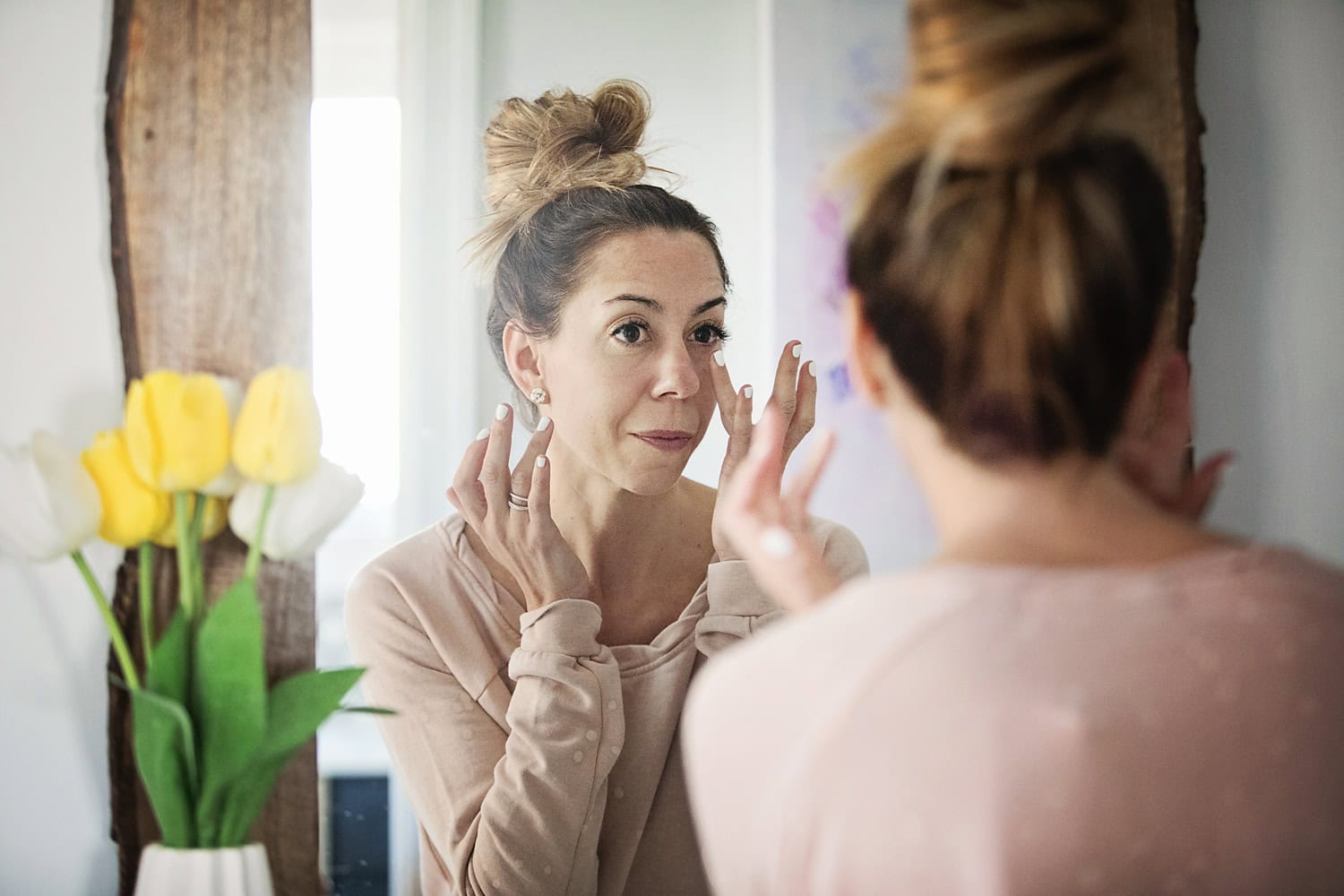 Step 3 // To even out the skin tone of the rest of your face apply foundation. Depending on the amount of coverage I need, I use either the Complexion Rescue or BarePro Performance Wear Liquid Foundation for a little more coverage. For this tutorial I am using one 1 pump of the BarePro Performance Wear Liquid Foundation and I dot it  evenly around my face. Use a your fingers or beauty sponge brush to blend into your skin evenly. Make sure to blend below your jawline into your neck. This product is buildable, so if you need more coverage you can add a second layer.
Step 4 // Once your foundation is set, I like to warm up my face with a little bronzer and blush, then I'm on my way!
On my way…….back to the couch for more hacking away at my computer! But at least I am feeling 33% more rested now that my under eye situation is taken care of!
Shop My Favorite Bare Minerals Make Up Here…..
Thank you to bareMinerals and ShopStyle for partnering on this post.