As a kid I grew up spending time at the Jersey shore every summer. I have fond memories of running barefoot back and forth to the beach, making sand pancakes on top of boogie boards, going into "town" sans parents (my first real taste of freedom) in what I deemed "cute outfits" which were actually hot pink umbros and graphic tees (you know the ones with 5 inches of fringed hem). I'm pretty sure I also shaved my legs for the first time on one of our shore vacations. Yep, I learned the hard way not to shave when you are cold and have the goosebumps, hence the outdoor shower not the best place for a novice, but I digress…
As a parent, we have continued our tradition of spending time at the shore each summer, and while my kids create their own memories, I am enjoying being on the flip side when the only thing I have to worry about is who's turn it is to make dinner at night, if I have enough snacks/sunscreen at the beach, and, well, what to wear… because word on the street is that the fringed tops are no longer hip, but MAN did I think they were awesome at the time.
When we go to the beach it's a family affair meaning each family gets one bedroom. Yes that would mean all six of us in ONE room. Packing light is a must which means it's all about versatility. This is where Nordstrom comes into play big time. Not only can I buy vacation essentials for my entire family at Nordstrom, but they have so many amazing options for women that can be mixed and matched for whatever adventures vacation will bring. For this post I am sharing some vacation style inspiration: how to wear white shorts. I've styled them two ways, for day and for night.
How to Style White Shorts by Day //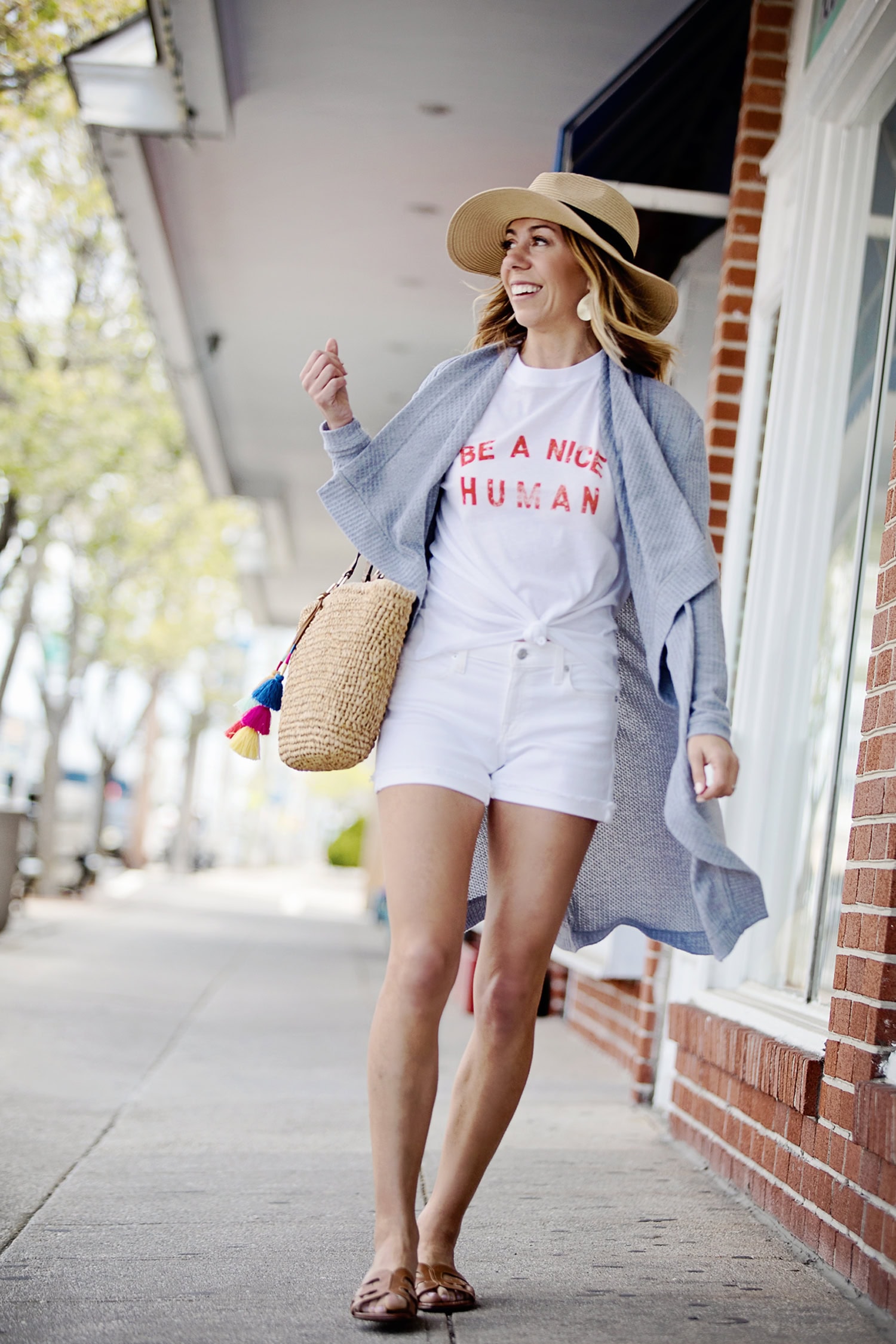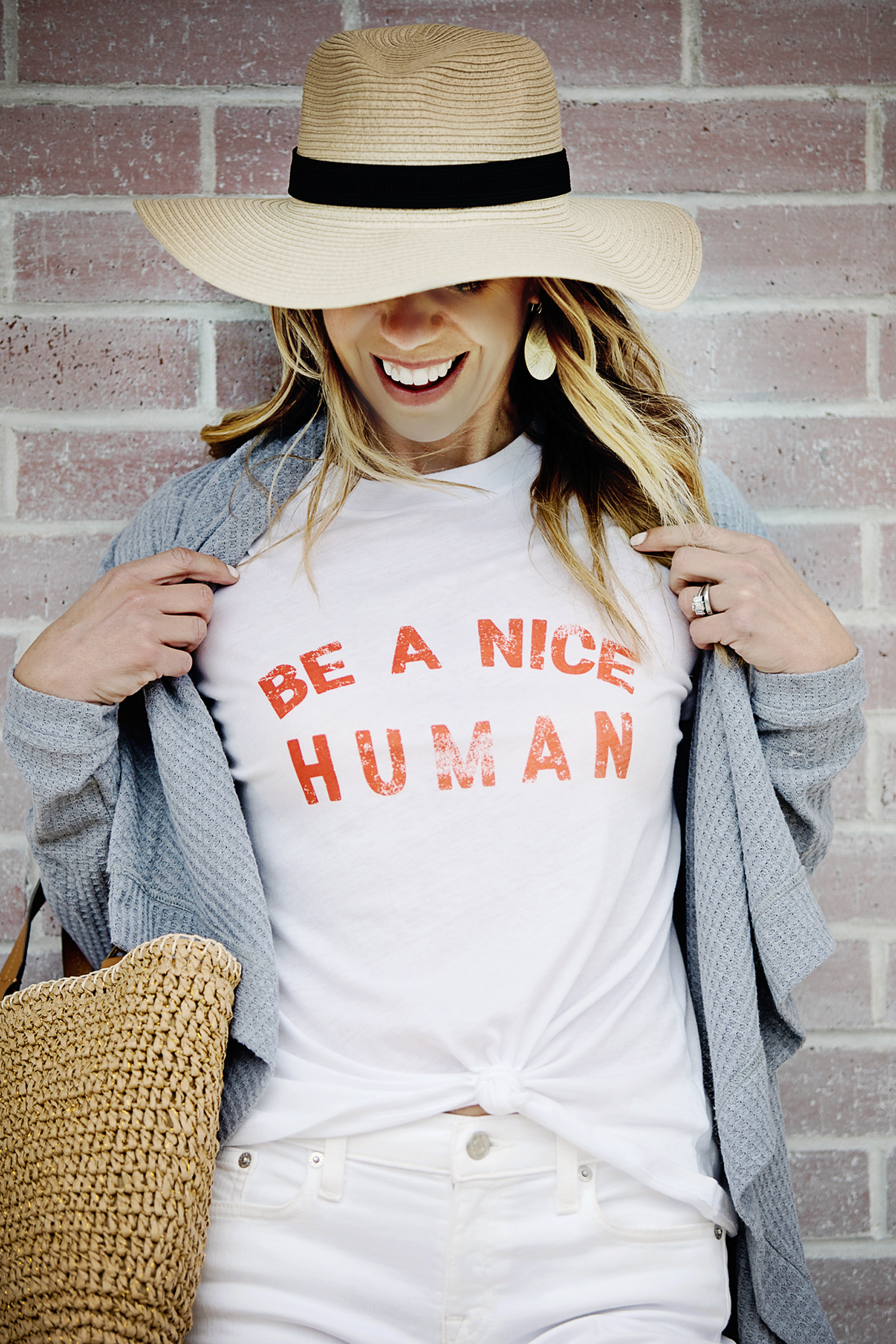 If you don't start your day at the shore with a donut run, then clearly you aren't starting it the right way. Here I styled white shorts with a happy graphic tee (with a message the world needs to see) and draped cardigan that works just as well on cool morning coffee runs as it does for cocktail time on the second floor deck after the sun goes down (the quintessential vacation layering piece). Add in a straw hat, your favorite goes-with-everything slip on sandals, and a fun beach bag… and whatever you do, don't come home without the donuts!
Wearing:
Graphic Tee (also love this one and this one) | Shorts (see bottom of post for more options) | Cardigan | Bag | Hat (similar here) | Sandals
How to Style White Shorts By Night //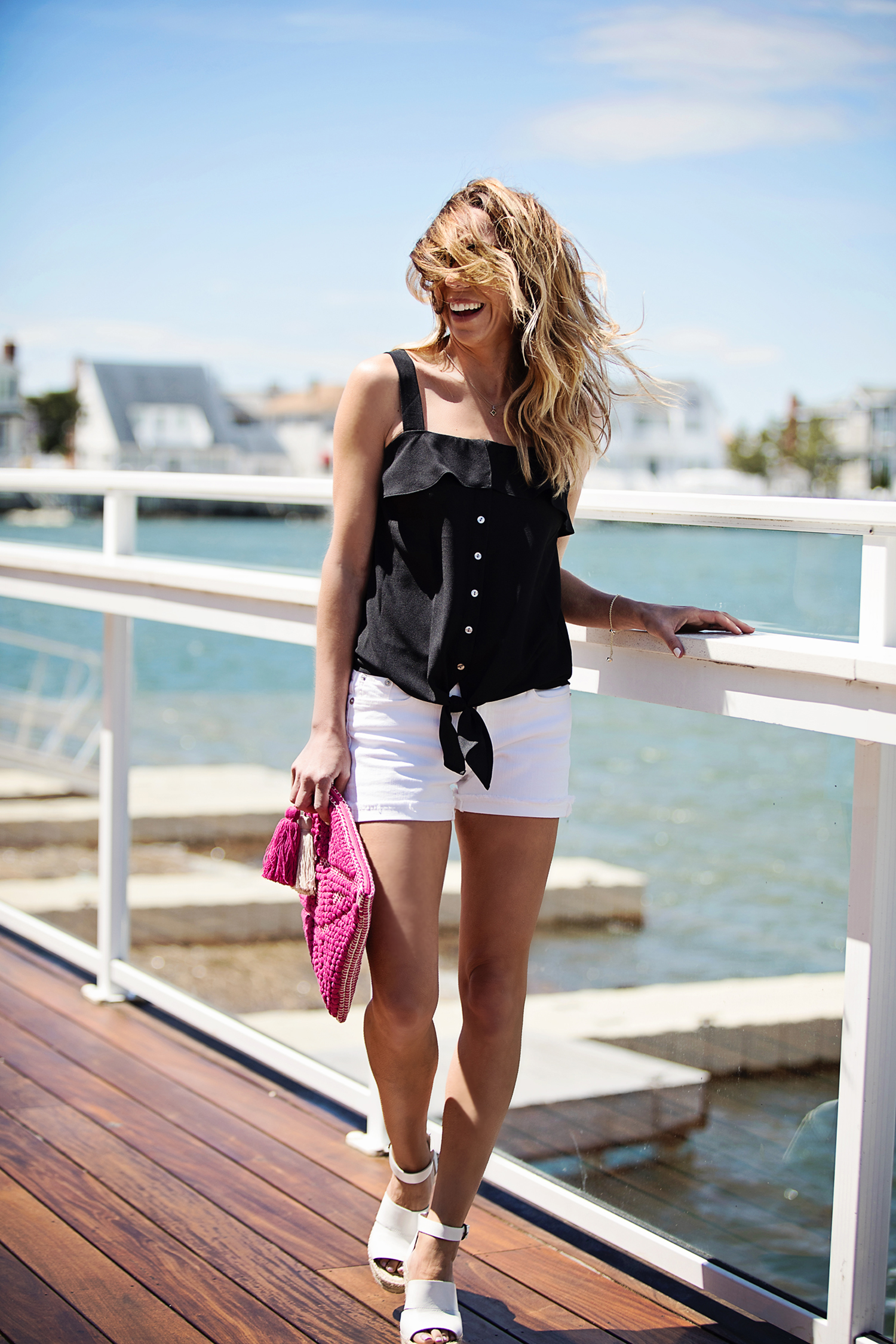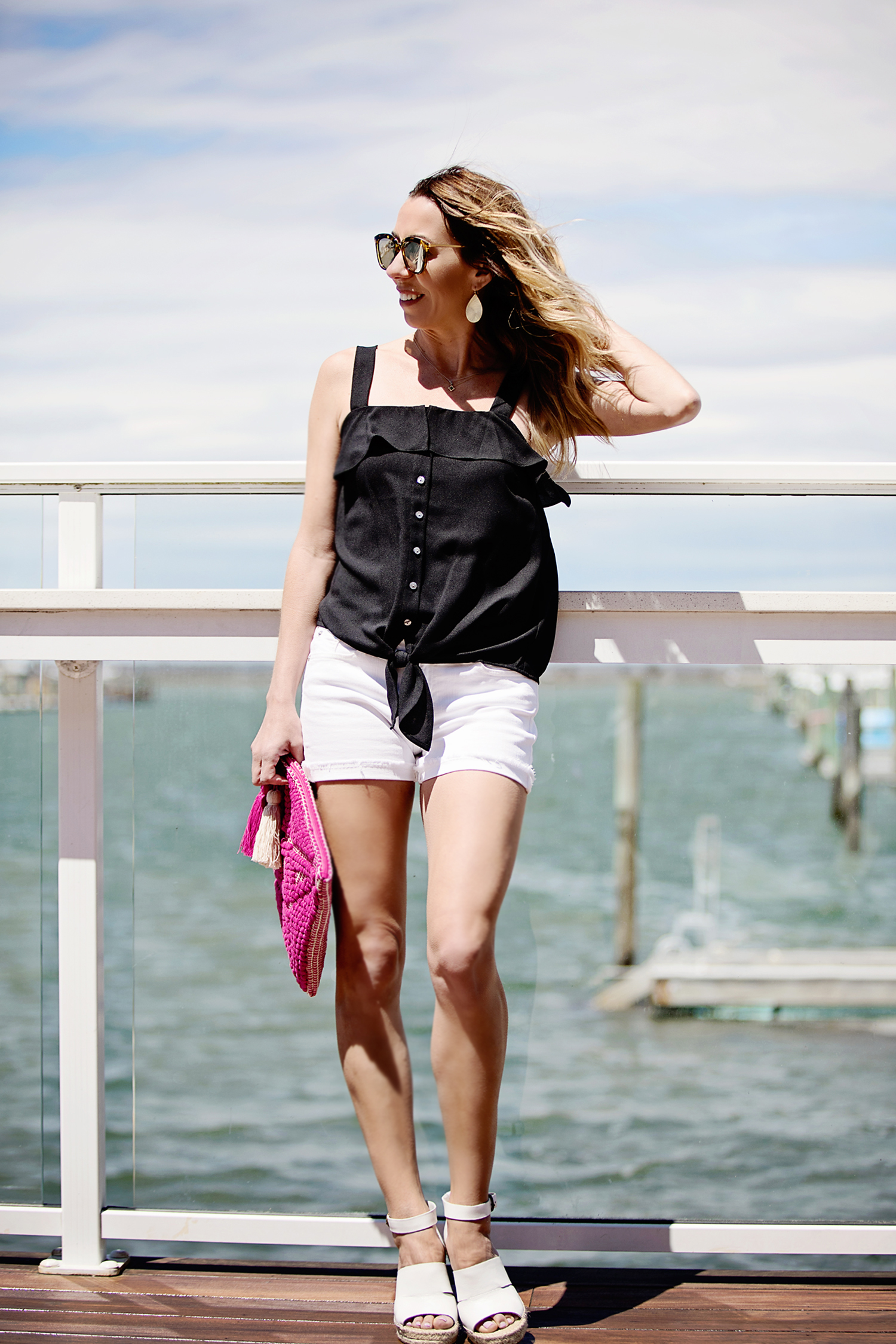 There's always that one night on vacation at the shore where you rally the troops and go out (or better yet, find a sitter and have a cocktail at one of three bars where you are bound to run into at least 6 people you know from home). Take those same white shorts and swap out the tee for a dressed up tank. The addition of some gold jewelry makes it feel a little fancier while still being "beach town appropriate". Add pops of color in your bag and I kept the shoe on trend with a white espadrille.
Wearing:
Tank | Shorts | Sandals | Clutch | Bracelet | Earrings | Sunglasses
More White Denim Shorts I Love…
Thanks to Nordstrom and ShopStyle for partnering on this post.