Those of you who follow me on Instagram have seen snippets of the space I renovated for the new "Motherchic Headquarters"…. which is just a fancy name for our office! A full reveal of the space is coming soon, but I want it to be in it's most final state (is that even really a thing?) before sharing it with you all. But because a little sneak peek is always fun, I thought I would do a post on some of the fun finishing touches that have really helped to bring this space to life. Etsy is always my go-to online destination when I need something special and unique for the home. I wanted to share some of my favorite Etsy shops for the home that have the coolest accents for any space.
The concept for the first floor of this space was "industrial chic". I wanted raw exposed materials, with both rustic and modern touches. Yes I realize how all over the place that sounds, but sometimes visions are difficult to articulate. In terms of color, I stuck with black and white with pops of green – which means plants were a must. I turned to Etsy to find both ceramic planters and hanging planters.
The Macrame Plant Hanger is handmade in Ontario Canada – which is another cool thing about Etsy. Each piece has a story and I love that you can purchase items from all over the world. This fills the corner perfectly and adds a whimsical balance to the industrial feel of this space.
In keeping with my black and white theme, I accessorized the macrame piece with this pretty paint drop stripe planter. This piece is handmade in Oregon and in looking at the entire shop, there isn't much that I don't want! It's all fresh, modern, and fun.
After using this space for a few months I realized that in exposing the staircase we lost a closet and therefore I have no place to hang my jacket or bag. How fun are these wall hooks? If functional decor wasn't ever a thing before, it is now!
And in an attempt to add a little personality, the famous Letterfolk board was a no-brainer. The only hard part is coming up with funny or inspiring sayings to set the tone for our week! Anyone have a good one?
One of the best parts about Etsy is the ability to talk directly to shop owners to make a custom piece. My vision for floating shelves in this bar area quickly became a reality via a custom order with Pacifico Reclaimed…. and yes, these shelves are always a topic of conversation for anyone who comes to visit! "OMG where did you get those cool shelves…." Every. Single. Time.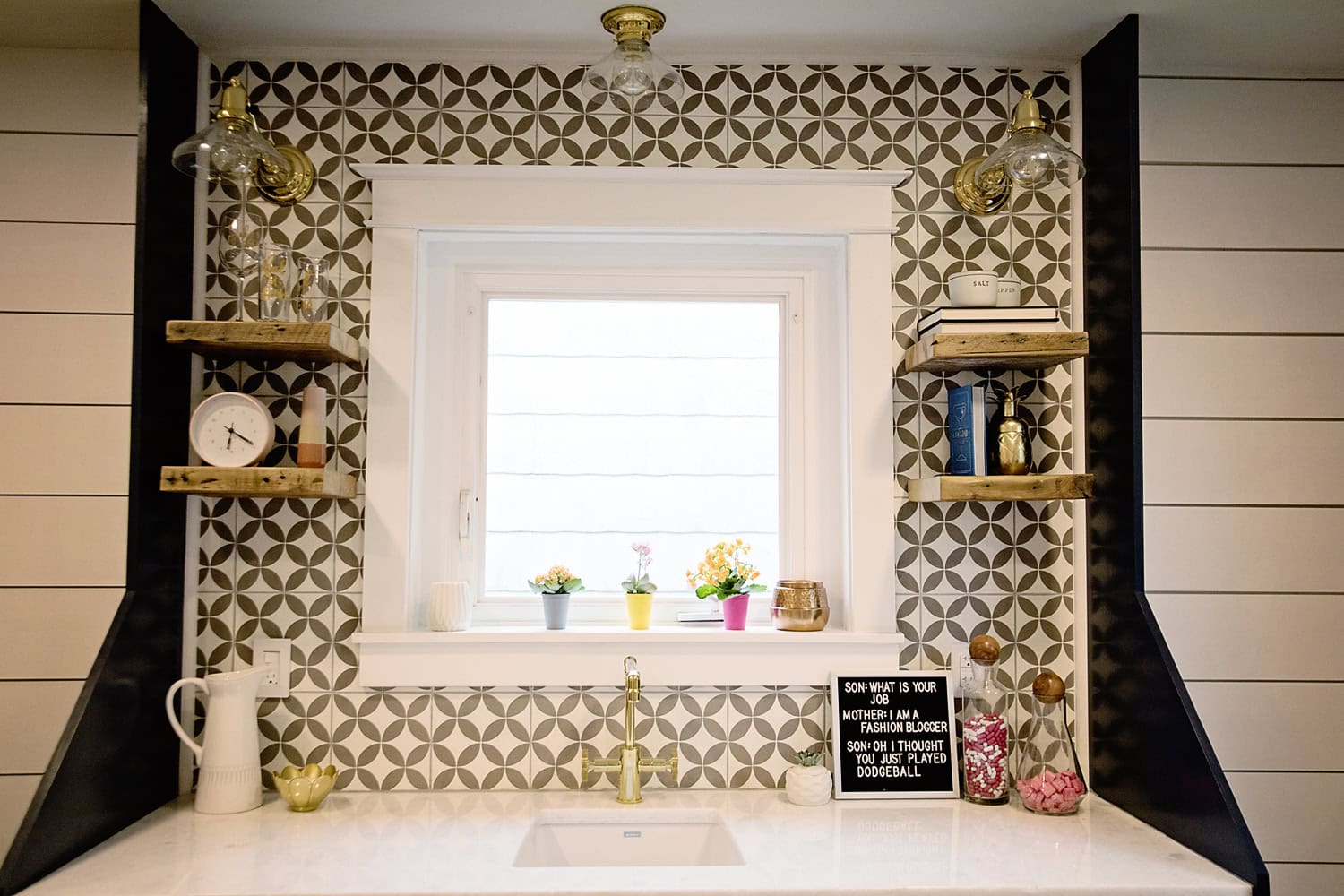 And because this fashion blogger can't NOT look at the other shops Etsy has to offer, I'm wearing a graphic tee from one of my favorite Esty clothing shops, The Bee and The Fox and a cute printed bandana from Batik Studio.
As we continue to finish decorating this space I would LOVE to hear what other Etsy shops you all love or maybe even have?! Please leave a comment to let me know.
Thank you to Etsy and Shopstyle for partnering on this post.