This post is dedicated to a little ephinany I had during a "reserve online try on in store" session at Nordstrom a few months back. I tried on this knotted top and visions of merlot began swirling through my head: Oh, yes – the perfect date night top! Then with my next little half twisty twirl to see all of the angles (don't judge, you know you do it too), I thought it would be so cute with denim cutoffs for a more casual look. I love the juxtaposition of an elegant blouse with a more relaxed piece. And THEN I twisted again (ok now I give full permission to judge) and pictured a workwear look…. slacks, pumps, oh yes. SO good.
Lucky for you my blogger mind is meticulously trained to jump on these situations. One top, many ways, work to weekend, more bang, less buck, shopping math… THE GIRLS NEED TO KNOW!! And yes, that's you.
Knotted Blouse for Work
To style this top for work I played on rose tones with these easy cropped slacks and blush knotted mules. I paired it with a neutral tote to tie the look together. The back of this top is open, so for work you can either wear a cami underneath, add a little stitch in the back (or hook), or wear a wrap or blazer over top.
Wearing:
Knotted Top | Cropped Slacks | Knotted Mules (similar here) | Bag | Bracelet
Knotted Blouse for Weekend
To take this look from work to weekend, I swapped out the slacks for a denim skirt. Even keeping the shoes the same, the vibe is totally transformed. I added in a playful pop with the striped tambourine bag, and let the back remain open (bra linked below).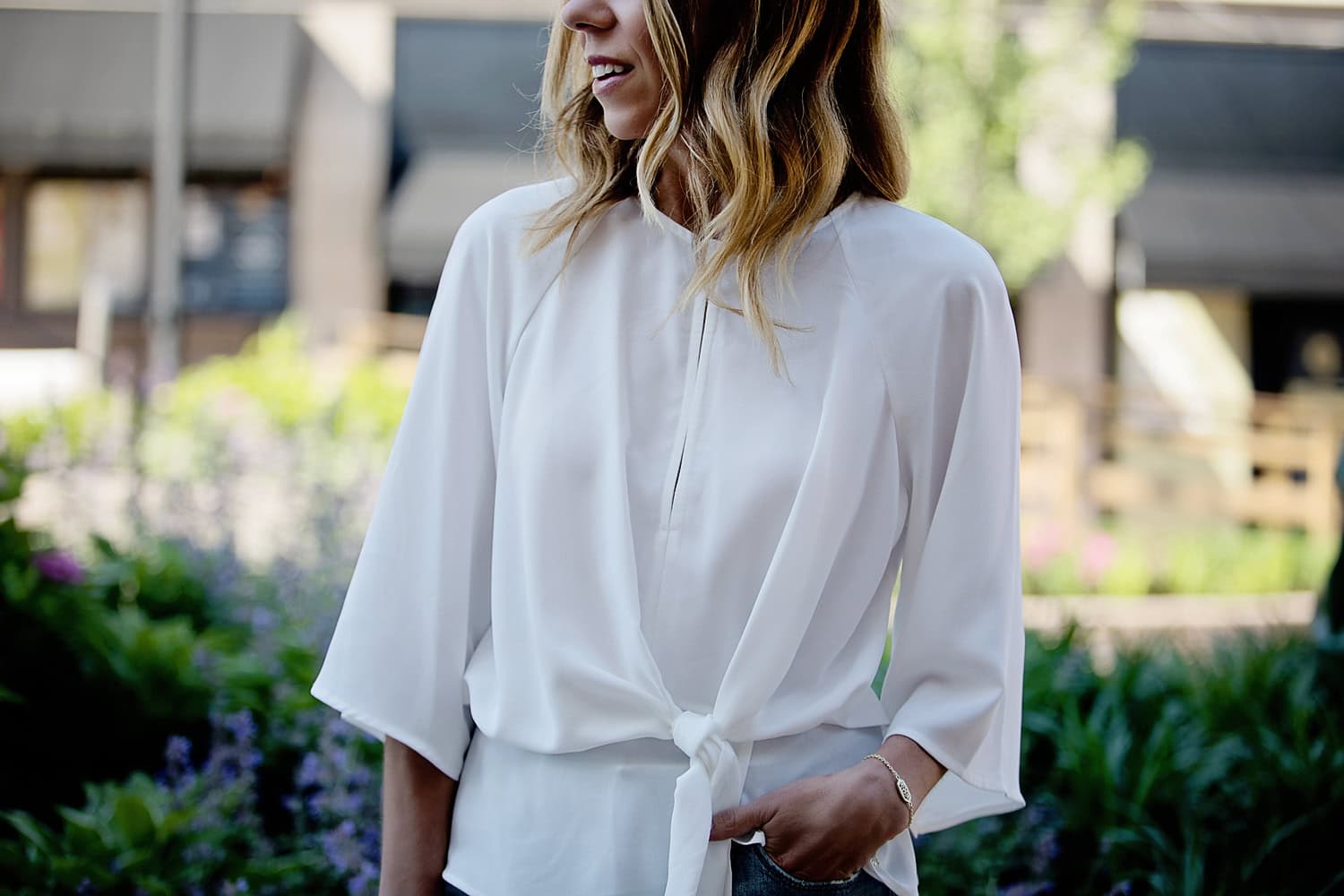 Wearing:
Knotted Top | Denim Skirt | Knotted Mules (similar here) | Bag | Sticky Bra | Bracelet
Get the Look:
Shop More Work to Weekend Tops Here:
Thank you to Nordstrom and ShopStyle for partnering on this post.