About two years ago I admitted to myself that my "hobby" of writing this blog, The Motherchic, was actually more than a hobby but instead the unconventional career path I never could have dreamed in my wildest dreams. When I decided not to go back to teaching after having my second son, I vividly remember thinking that if I ever wanted to work again, it would have to be teaching because without a degree in business or marketing or medicine – what else did I have the skills to do?
Turns out writing about being a mom and sharing what I wear throughout this journey is a skill (#whoknew). Not sure it is a college major (yet), but the fact that I can connect with thousands of women everyday is equal parts mind-blowing and humbling.
And in true mom brain form, the evolution of this blog is a complete blur. What started as a nap time escape (which is when I used to write all of my posts), began creeping into all portions of my day. It was not working within my "I'm-a-stay-at-home-mom-with-a-side-gig" mentality. I either had to scale back for the sake of my kids or admit that I loved it and treat it like a real job. I hired a babysitter. Went for it…. and probably got a little lucky to have so many women who need the little "mind vacation" that I hope this blog provides.
Almost exactly a year ago, I decided I needed to move beyond stealing all the wifi in all the coffee shops and get my own office space. I wanted to be able to hire team members if needed and delve into other verticals like home and food and beauty. My brother in law (also my favorite realtor) brought me to see a space. Just like the current house that he found for us, it needed a lot of vision. So much vision that I told myself I would never go through a renovation again (or look at Pinterest for that matter). But sort of like giving birth, you block out the painful parts and focus on the beautiful masterpiece. When the location, the size, and the price is right – all you need is vision.
When the offer was accepted and (gulp) the "okay we are actually doing this" mentality sets in, I immediately sought out to find the best of the best people to help my vision become a reality.
After the demolition and rebuilding completed by The Golden Hand was finished, Larina Kase Interior Design stepped in for the fun part. Larina worked countless hours making sense of my jumbled ideas for an "industrial chic" space. She helped with spacing, lighting, layout, decor and may quite possibly be the most organized and efficient person on the planet! Working with Larina meant I was also privy to her rolodex of the the best in the biz. She introduced me to Claudia of Urban Loft who helped me with all of the gorgeous window treatments that are truly the finishing touches of any space, Hunter Kitchen & Bath who designed the beautiful kitchen, and Salvage Works Furniture Co. who built the dining room table.
I am also so fortunate to be able to work with the LAA Art Collective who is rotating art throughout this space. So yes, anything you may see that you like is, in fact, for sale! Be sure to follow along on Instagram for notice when new art makes an appearance here.
Ok, let's do this! I am so excited to finally give you all a before/after view of this space!
The Entry Way
Before:
After: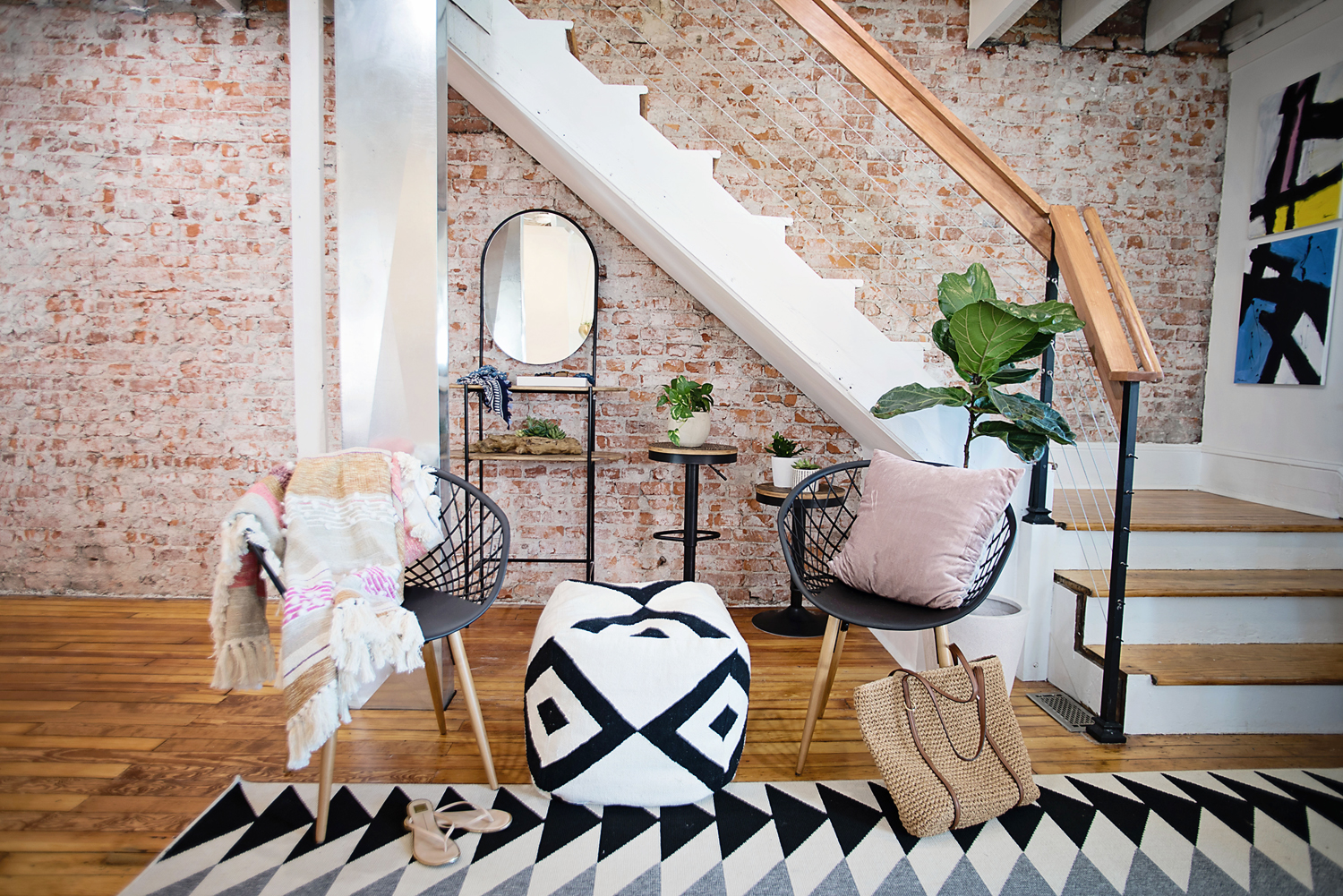 Chairs | Rug | Pouf | Art (Sal Panasci) | Stools | Mirror Unit
Pillows | Bench | Metal Hanging Planter| Macrame Hanging Planter | Wall Hooks | Roman Shades by Urban Loft
The Kitchen
Before: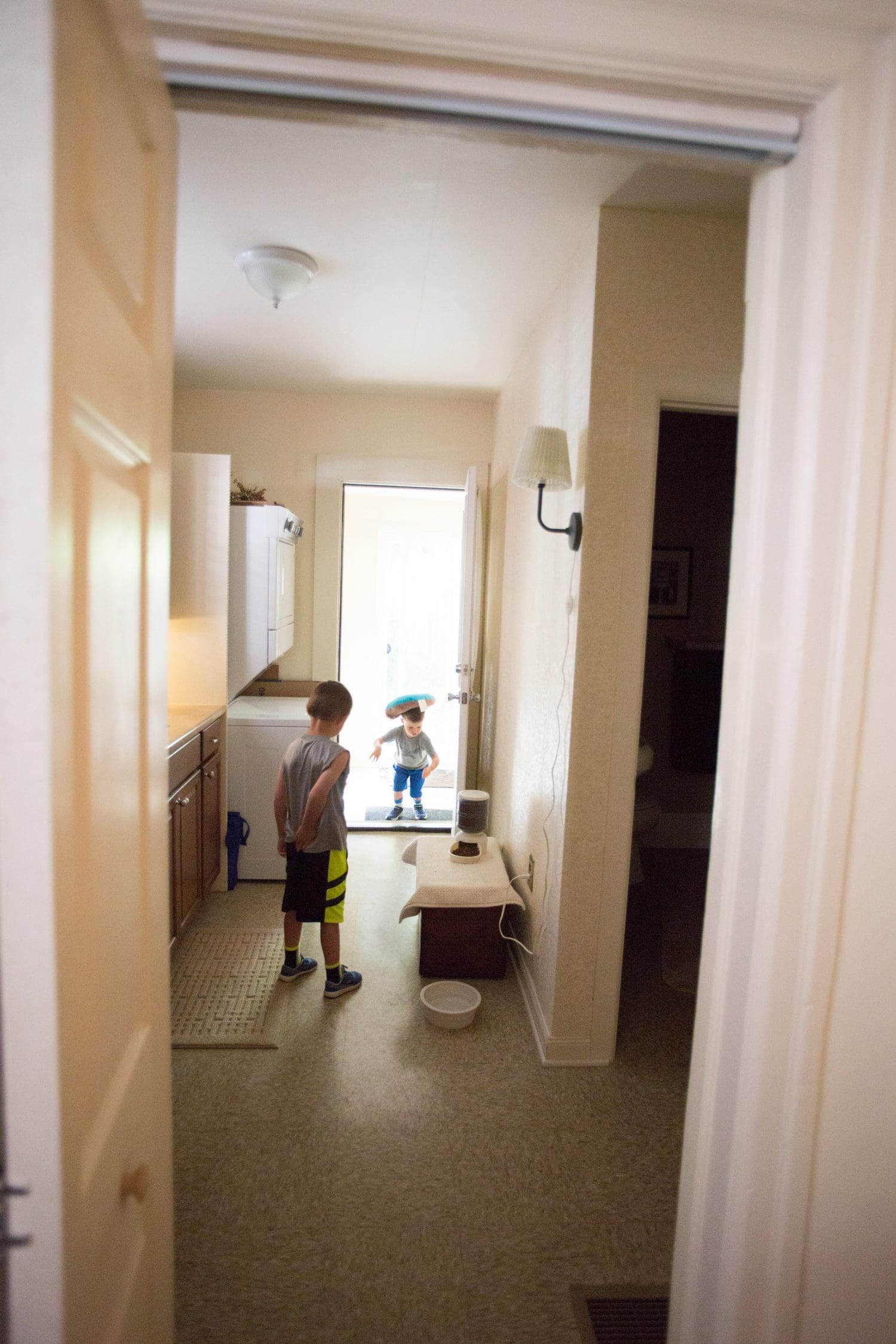 After: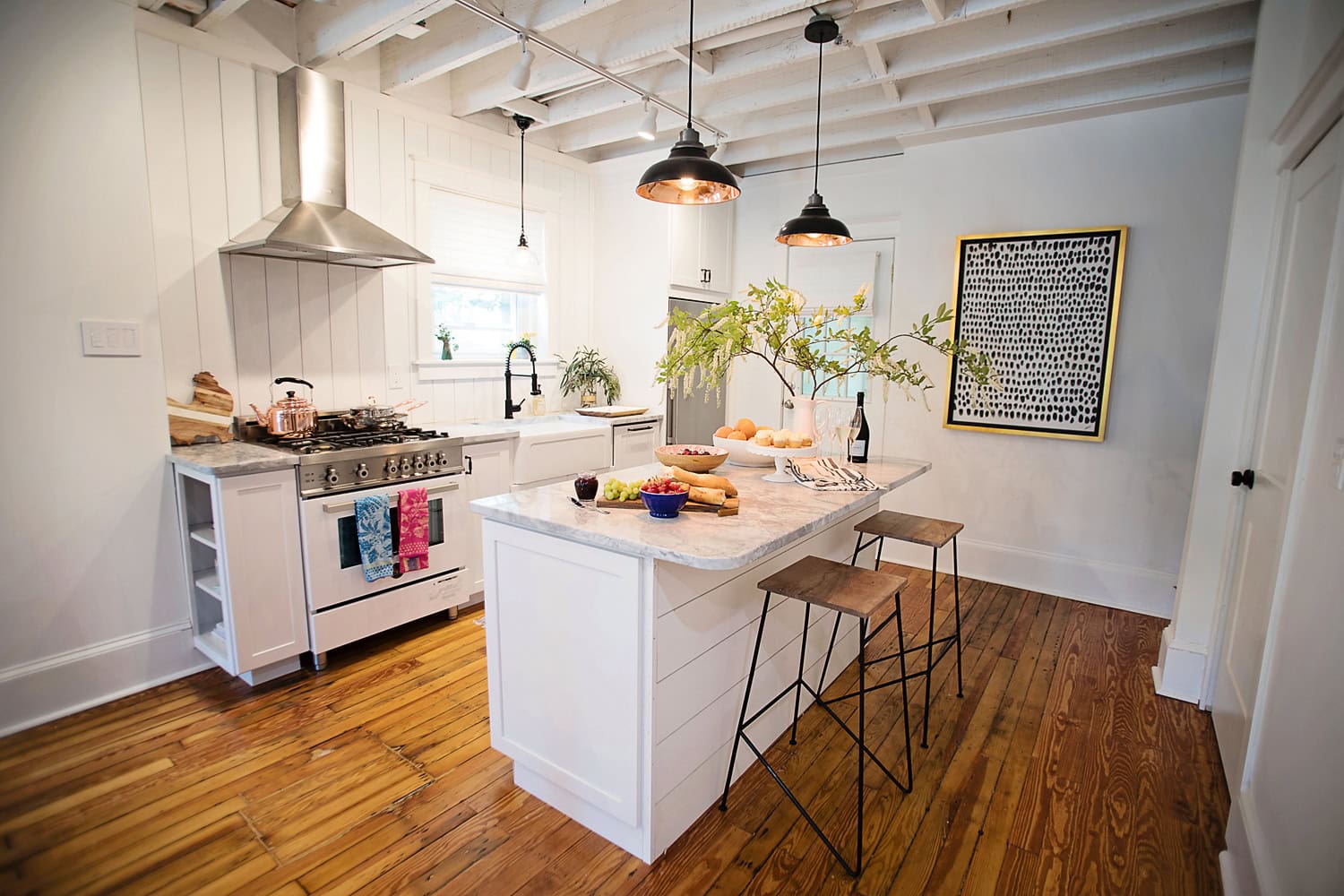 Stools (sold out) | Polka Dot Art | Pendant Lights | Range | Roman Shades by Urban Loft
(full post with all kitchen decor is here)
The Dining Area
Before:
After: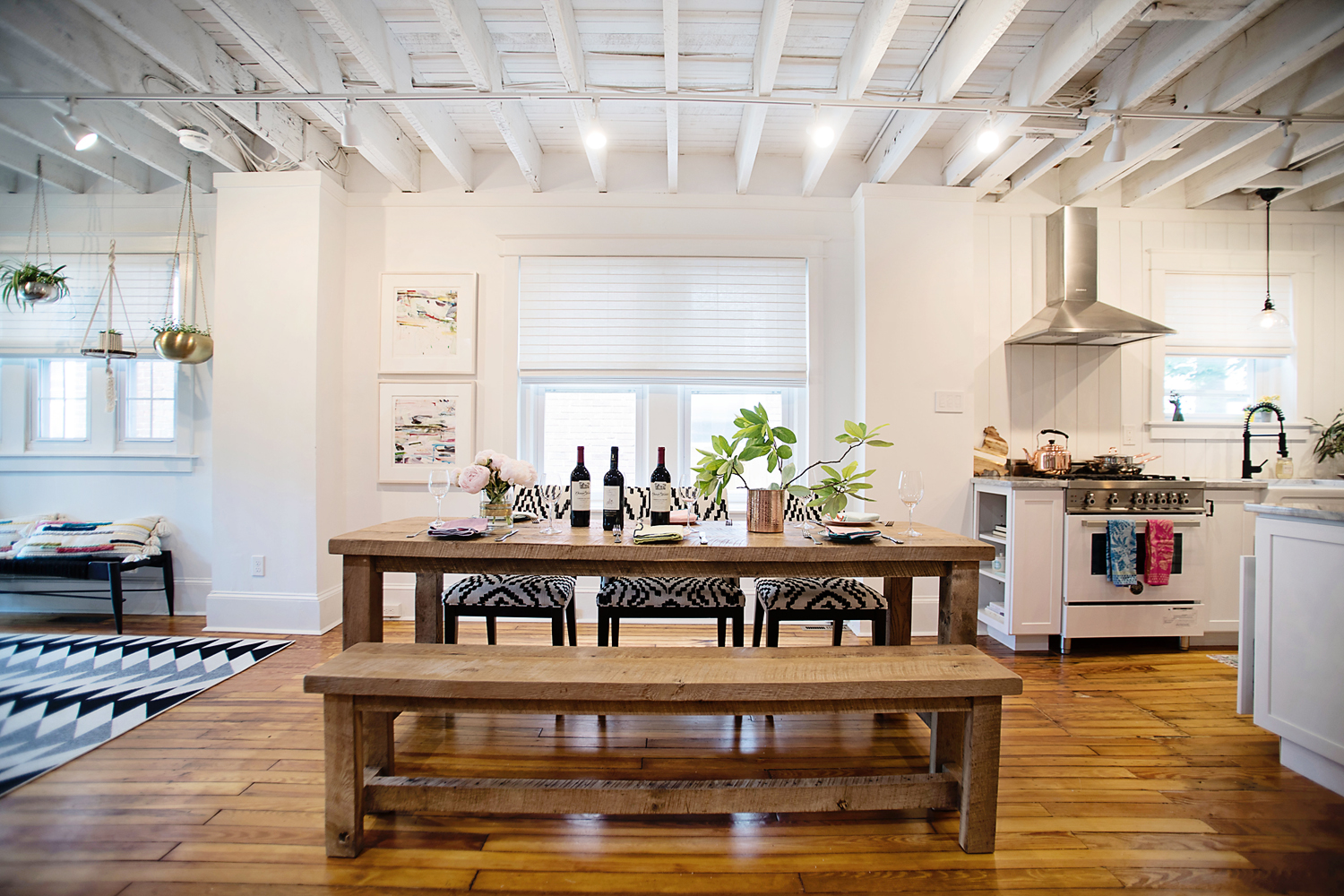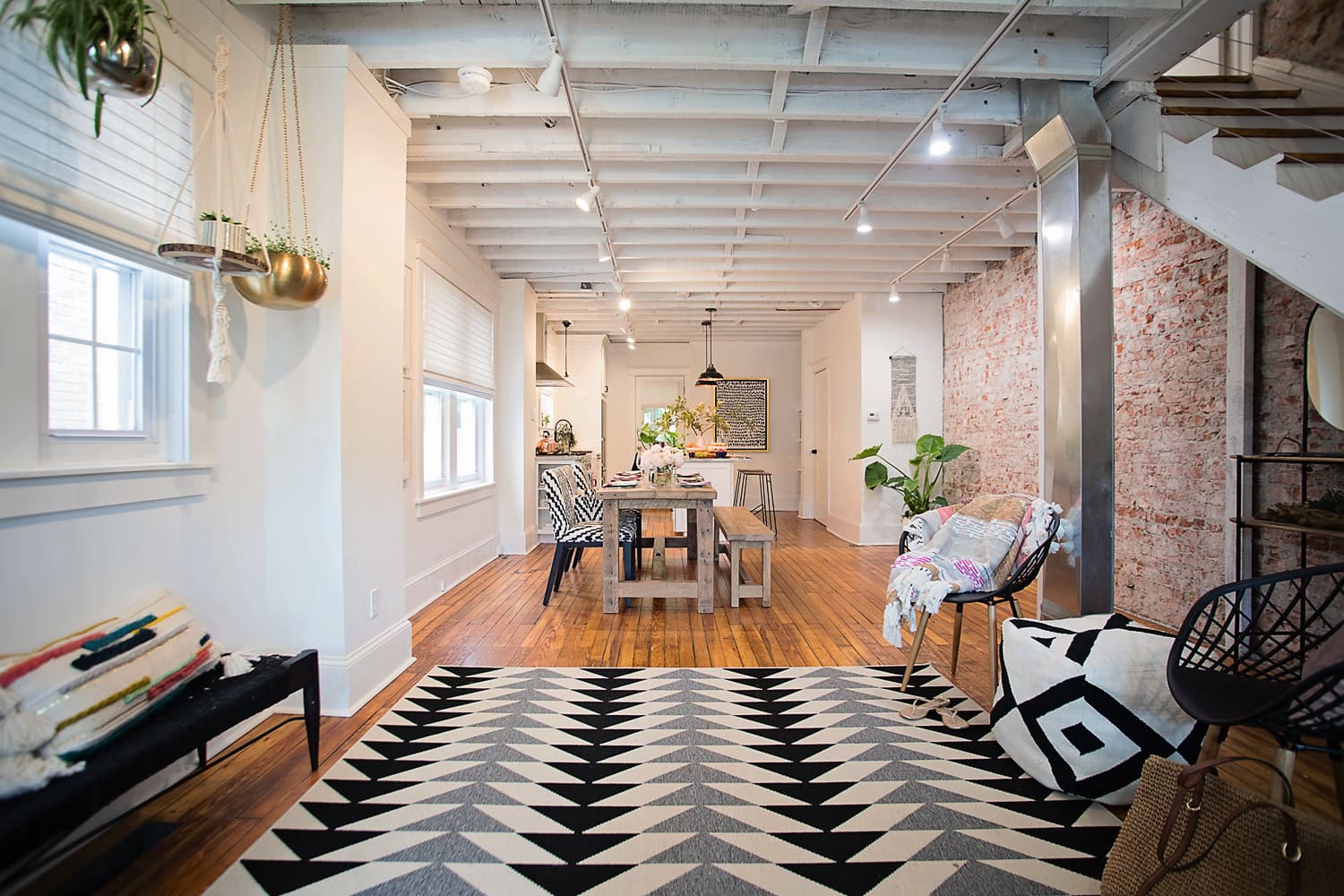 Custom Dinning Table & Bench By Salvage Works Co. | Black and White Dining Chairs | Framed Art (Barbara Straussberg) | Wall Hanging | Roman Shades by Urban Loft
The Lounge
Before:
After:
Chairs & Pillows | Sofa, Embroidered Pillow, Fur Pillow, Throw | Rug | Coffee Table | Chandelier | Side Tables | Art (Sal Panasci) | Candle | Bowl | Roman Shades by Urban Loft
The Office
Before: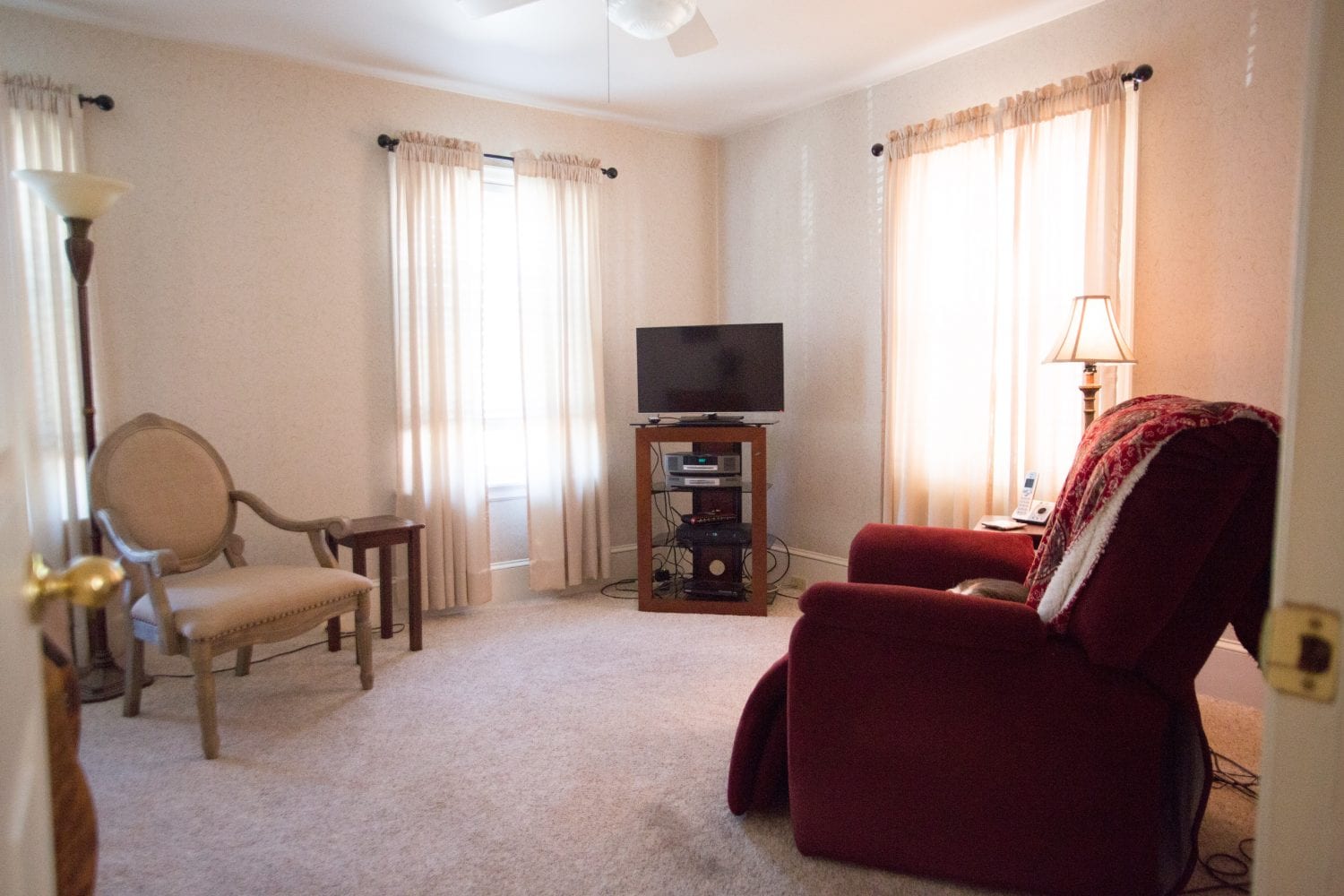 After:
Desk | Chairs | Art (Sal Pansci) | Roman Shades by Urban Loft
After Hours
Before:
After: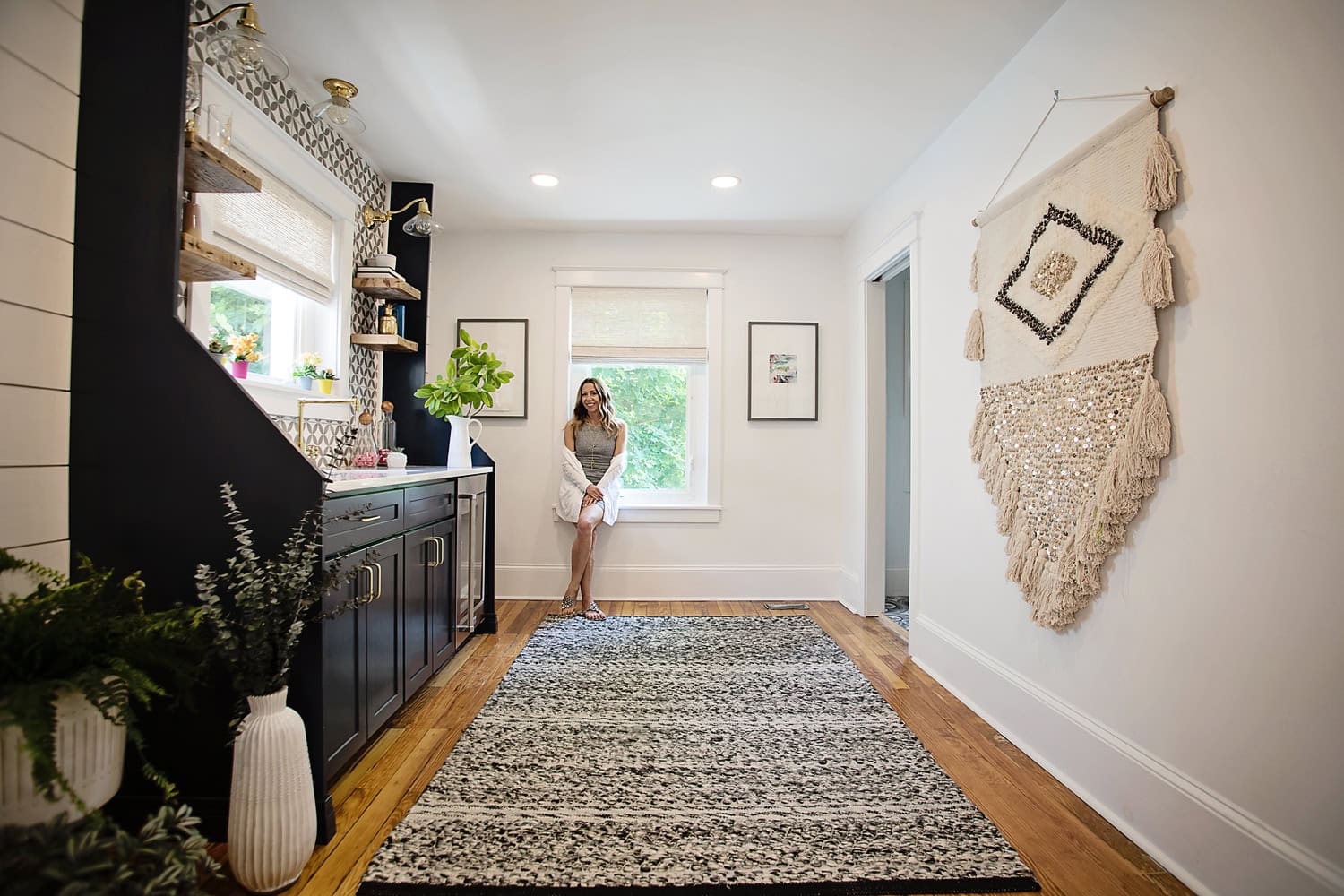 Planters | Rug | Framed Art (Barbara Straussberg) | Wall Hanging | Cement Wall Tile | Roman Shades by Urban Loft
Bathroom
Before:
After:
Mirror (Home Goods) | Cement Floor Tile | Art (Gail Morrison Hall) | Roman Shades by Urban Loft | Light Fixture
Closet
Before:
After:
Clothing Rack | Basket Planter | Chair | Ladder | Rug | Rattan Planter | Fashion Art | Roman Shades by Urban Loft
And there you have it! And to top it all off, it's stocked with fun drinks and candy and the most wonderful people to work with that I could ask for! If I left out a link, please let me know and you can shop the entire space below!

Huge thanks to all of the amazing companies that worked with me on this project:
Realtor: Hardy Real Estate Group – follow here
Interior Design: Larina Kase Interior Design – follow here
Construction: The Golden Hand – follow here
Window Treatments: Urban Loft Window Treatments – follow here
Dining Table: Salvage Works Co. – follow here
Kitchen: Hunter Kitchen and Bath – follow here
Art: LAA Art Collective – follow here