One of the most frequently asked questions I get in my inbox relates to how I stay in shape. I have always been an athlete and working out has always been a huge part of my life…. that is until motherhood. With four kids under nine, I have accepted the fact that now is not the time (for me) to be running marathons. Scratch that. If I mimic the steps of my 2 year old for 3 hours, it's likely close. But in all seriousness, I struggle with finding the time to work out and getting into a routine. If I get 2-3 workouts in per week I call it a good week!
But, you're still skinny? How do you take off the baby weight? Diet plays a huge role in how I keep my body trim. I always say that I eat whatever I want, I just don't eat a lot of it. Bacon egg and cheese from the Starbucks drive thru? I wouldn't think twice, but I eat slowly and split it with my son and then continue to graze all day. My staple snacks are Lara Bars and cheese sticks, and most of our dinners are lean protein with some sort of vegetable. But every Friday we eat pizza, and another night is pasta. I truly believe that everything in moderation is the best way to live so you never feel deprived. And yes I am drinking a glass of wine at 10pm at night as I write this. Maybe if I went to bed earlier I could get up earlier and have time to workout more often but I digress….
When my baby turned two a few months ago I decided that my husband and I needed to celebrate surviving the infant years (4x) with a trainer. We have never belonged to a gym so I chalked that up to money saved to be invested in a little kickstart. We were both having trouble getting back into a groove with consistent exercise, but if someone knocks on your door at 6:45am, you had better be up and ready! This has truly been the "kick in the butt" we both needed to jumpstart a more active lifestyle. They say it takes three weeks to create a habit and it's so true – working out can be so addicting!
I wanted to share a few things that our trainer, Adam, has taught me that anyone can do at home with literally zero equipment. Obviously when he comes there are bands and weights involved (if you follow on Instagram I post snippets of our workouts in my stories), but here I am sharing a workout I can do completely on my own.
Below are a series of exercises that you can do anywhere in your home or in an outdoor space. I go through the entire circuit, take a 2 minute walking water break, then repeat 2 more times.
Get Loose
Start by running in place for 60 seconds….
Butt Booster
Walking lunges (up and down the beach) – 60 seconds
Full Body Burpee
The easiest way to test your fitness level… just do a few of these. 60 seconds of these is torture, but #yougotthis….
Lines in the Sand
Unleash your inner child with a little hopscotch session. Actually it's more like a football drill. Do mini baby steps inside each square, then exit to the outside of the grid, and repeat on the other side by passing through another square. Confused? Just MOVE! And yes, for 60 seconds!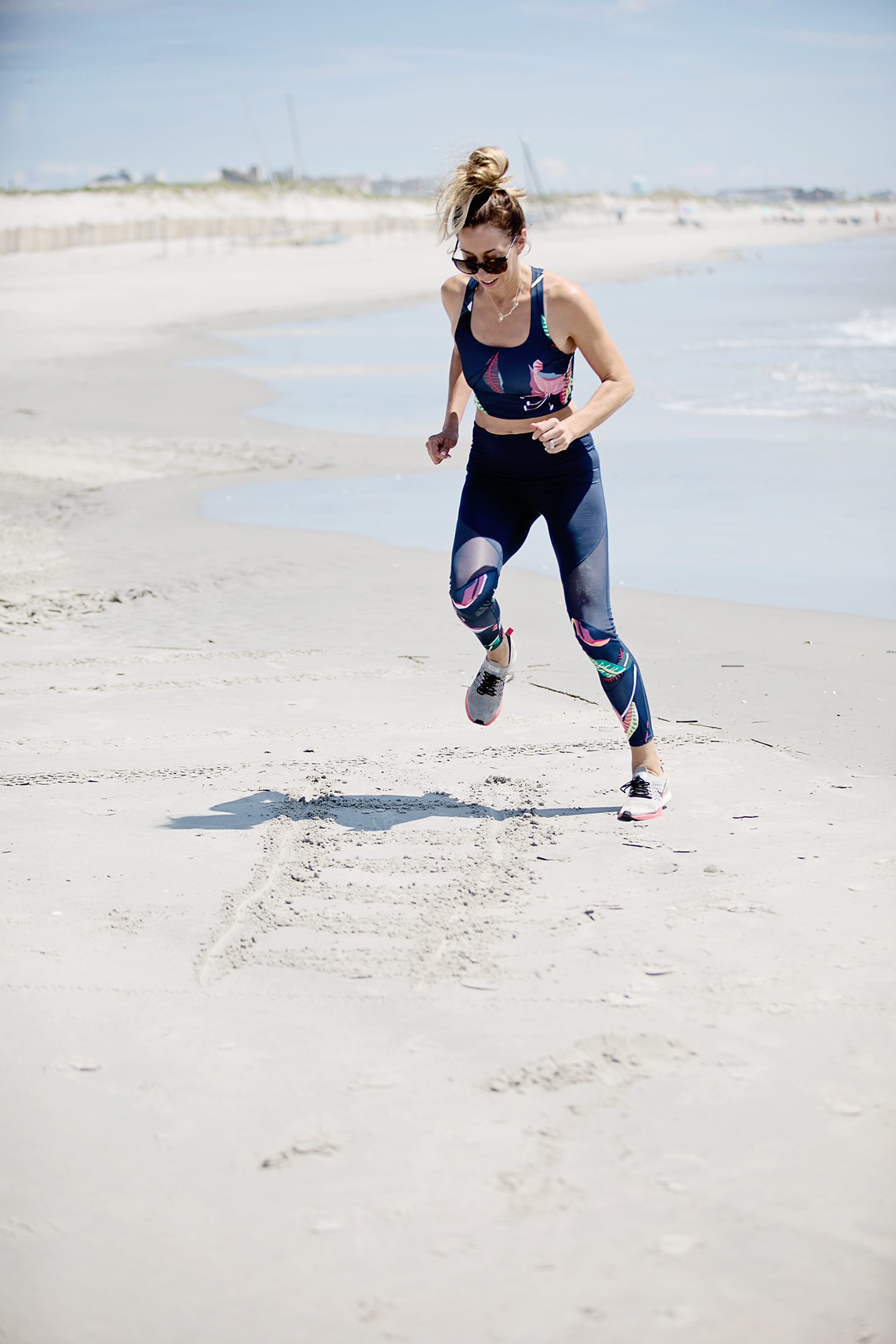 The Perfect Push Up
Work on the upper body with some simple push ups – do as many as you can in 60 seconds.

Flip it and Reverse it
Get rid of your flunken with this move – 60 seconds

Core Strength
Feel the burn with a few minutes in plank position – jk "only" 60 seconds!

Celebrate
Workout over… time to hydrate. Well, for 2 minutes until you repeat this entire circuit 2 more times!

Wearing
Sports Bra | Leggings | Sneakers
 A few more workout favorites…