As a mom I have learned that sometimes you have to go with the flow. For example, my youngest son exists on the countertop. But, hey, if he is happy, I am happy. I have adopted this same ideology when its comes to summer, frizzy, uncontrollable hair. Rather than fight the texture I have found learned to embrace it. Of course this post wouldn't be complete without a few easy summer hairstyles to help tame your mane. With the help of my favorite traveling hair salon, Concihairge, and the NEWEST member to their crew, the amazingly talented Cara (you can follow her here), we are going to show you 5 different hair styles that start with those beach-y "pinterest worthy" waves. For those visual learners who need video – you can view all of these in action here and also at the bottom of the post!
5 Easy Summer Hairstyles
Beachy Waves
This is an easy date night look that will have you feeling (and looking) like the dancing red dress emoji.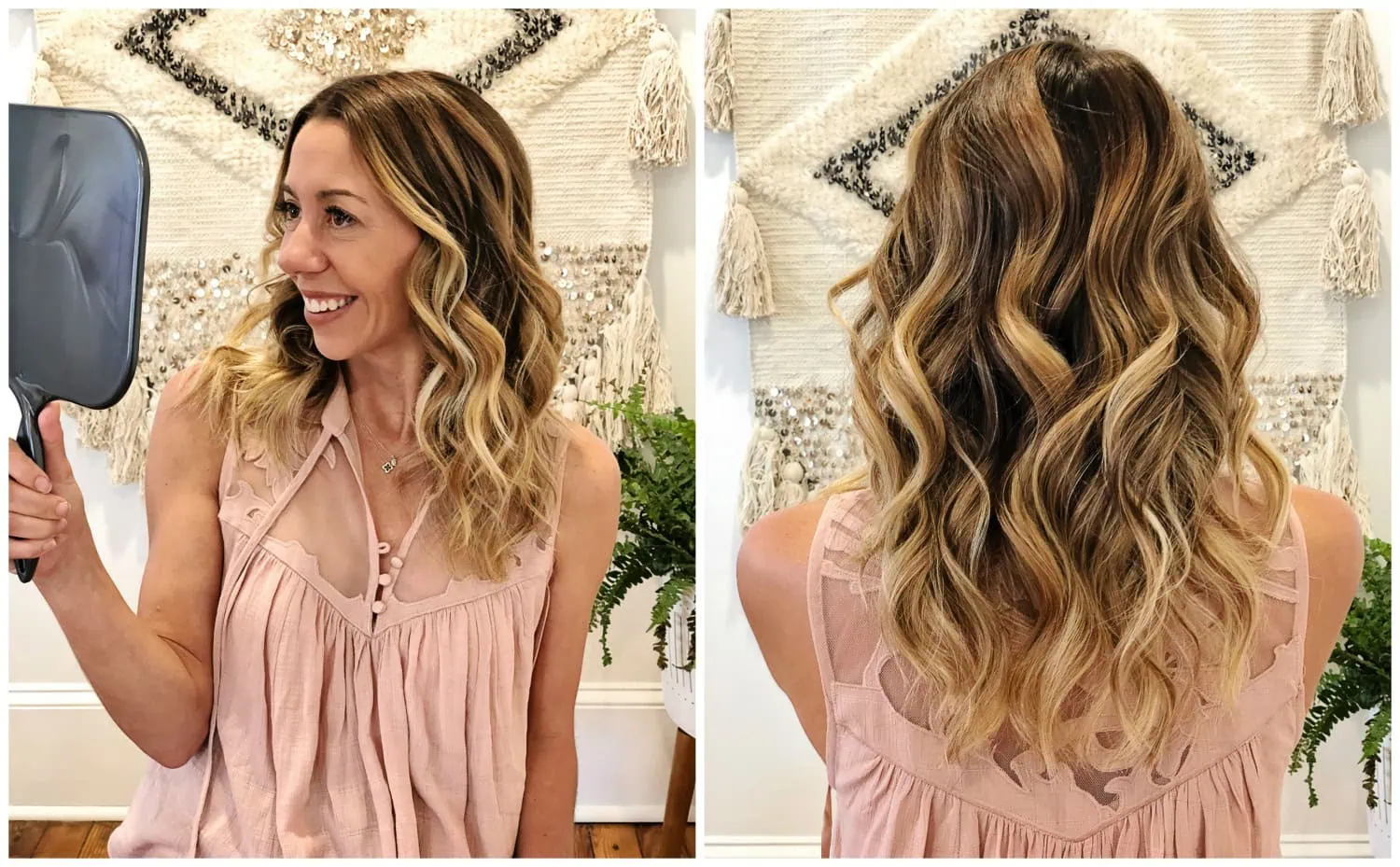 What you need:
Curling iron (barrel width – 1 1/4 in) Hot Tip! Use a curling iron for a smoother curl and a wand for a loose wave
Hairspray
Pomade
Bobby Pins
Hair Ties
Bandana
Steps:
Section off hair into bottom layer, middle and top.
Start with the bottom layer and curl hair in opposite directions. Hot Tip! Curing hair in opposite directions add volume!
Start with the iron in the middle of the hair, curl up and then pull the iron down to create a beachy wave look. If you start the iron at the end of the hair it will create a Shirley Temple curl.
When finished the bottom layer spray with hair spray for extra hold! Take down the middle layer and curl (again going in opposite directions) Don't forget to spray the middle layer too!
Then move onto the top layer. Be sure to curl the hair that frames the face away from face.
Once the entire head is curled, slowly take your fingers and run gently through the curls. Keep your fingers open to release the curls for a more natural look.
For a piece-y look take some pomade on your finger tips and twist around the face framing curls and on some of the ends of the curls. Hot Tip! For those with lighter color hair be sure the iron isn't above 350 degrees.
Hot Tip! Personally, I like to use the wand to achieve a similar look! Check out my wand tutorial here!
Accessorize!
For those super hot summer days sometimes a little accessory is needed to help keep your hair under control. A floral or printed bandana is also a great accessory to add a pop of color to simple outfit.
Steps:
Simply fold the bandana corner to corner and roll to your desired thickness.
Tie around your head start at the base of the neck. The knot can go on top or at the nape of the neck.
Pull some pieces around the face for an effortless look.
Half Up
For a simple yet sophisticated look (and for those who need a bit more hair out of the face) enter the half up look.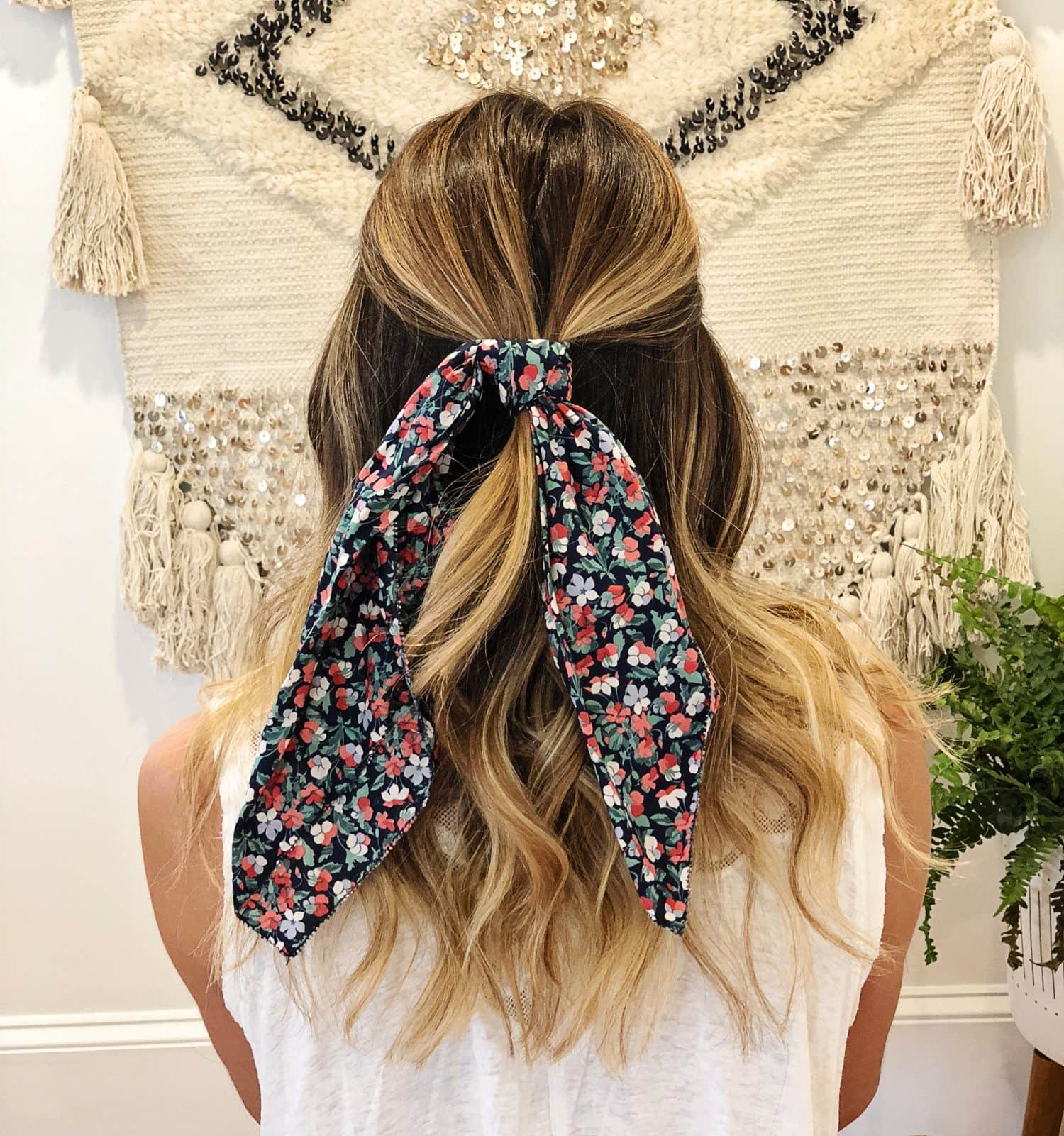 Steps:
Pull the top half of your hair away from your face. Keep your fingers open for a softer look.
Secure with a hair tie.
Knot the bandana around the hair and secure with two criss crossing bobby pins.
Simple Ponytail
I love pulling my hair back into a simple ponytail for a day or evening look. Kick it up a notch with these simple steps.
Steps:
Loosely pull hair back into a low ponytail. Keep fingers open for a softer look.
Secure with a hair tie.
Section off a small piece of hair from the under side of the ponytail. Hot Tip! Add a touch of pomade if you want the hair to be more pliable.
Wrap the hair around the hair tie and secure with criss crossing bobby pins.
Low Bun
Another easy and effortless look is a low bun. Bring back the floral bandana to add an extra pop!
Steps
Start with a low ponytail.
Wrap hair in a loose low bun. Secure with criss crossing bobby pins.
Use a fine tooth comb to pull some hair at the crown for volume and texture.
Also pull some face framing pieces for a romantic look.
Wrap the bandana around the head and tie under the bun.
Braided Bun 2 Ways
For an easy updo that you can easily replicate at home try a low braided bun.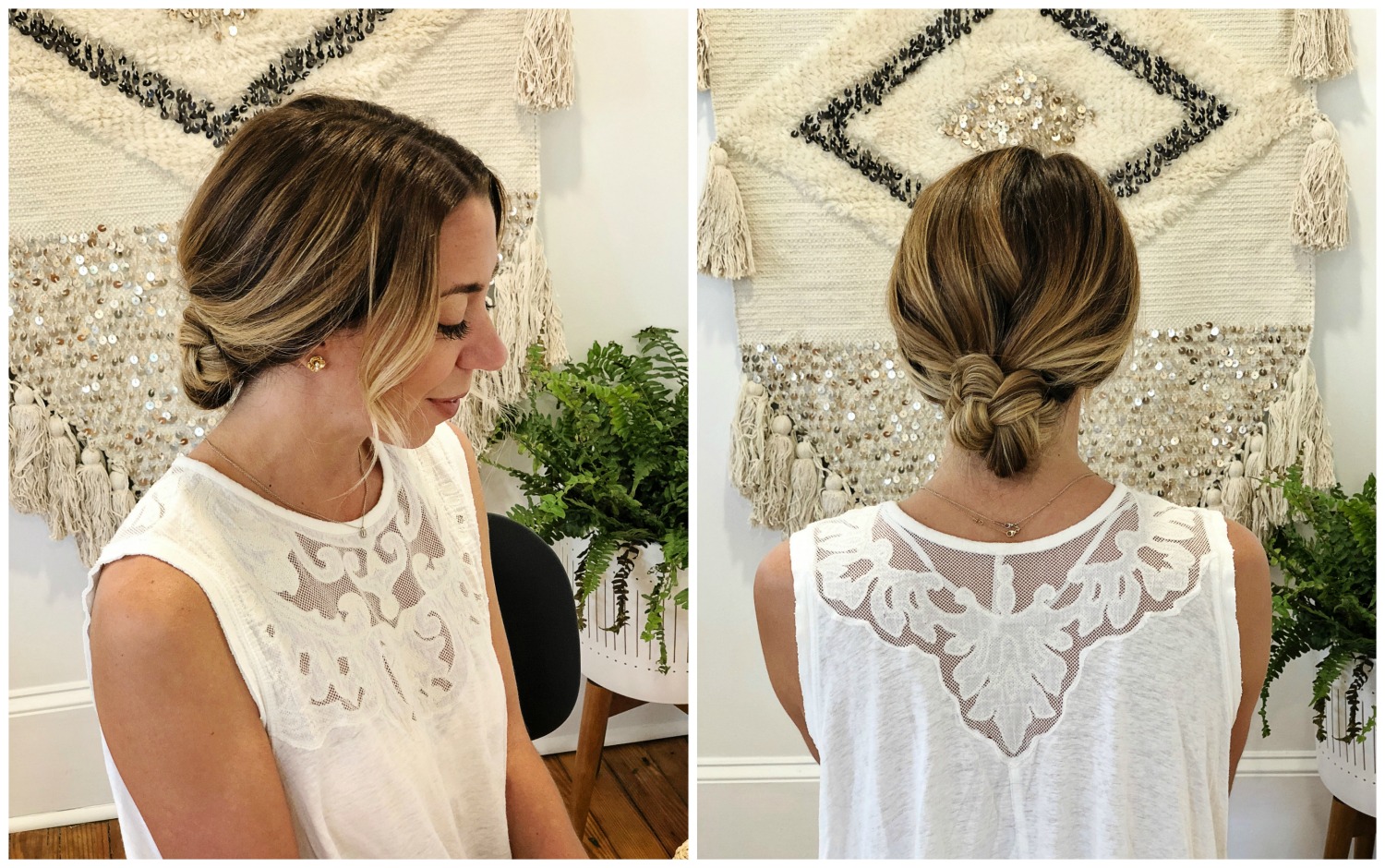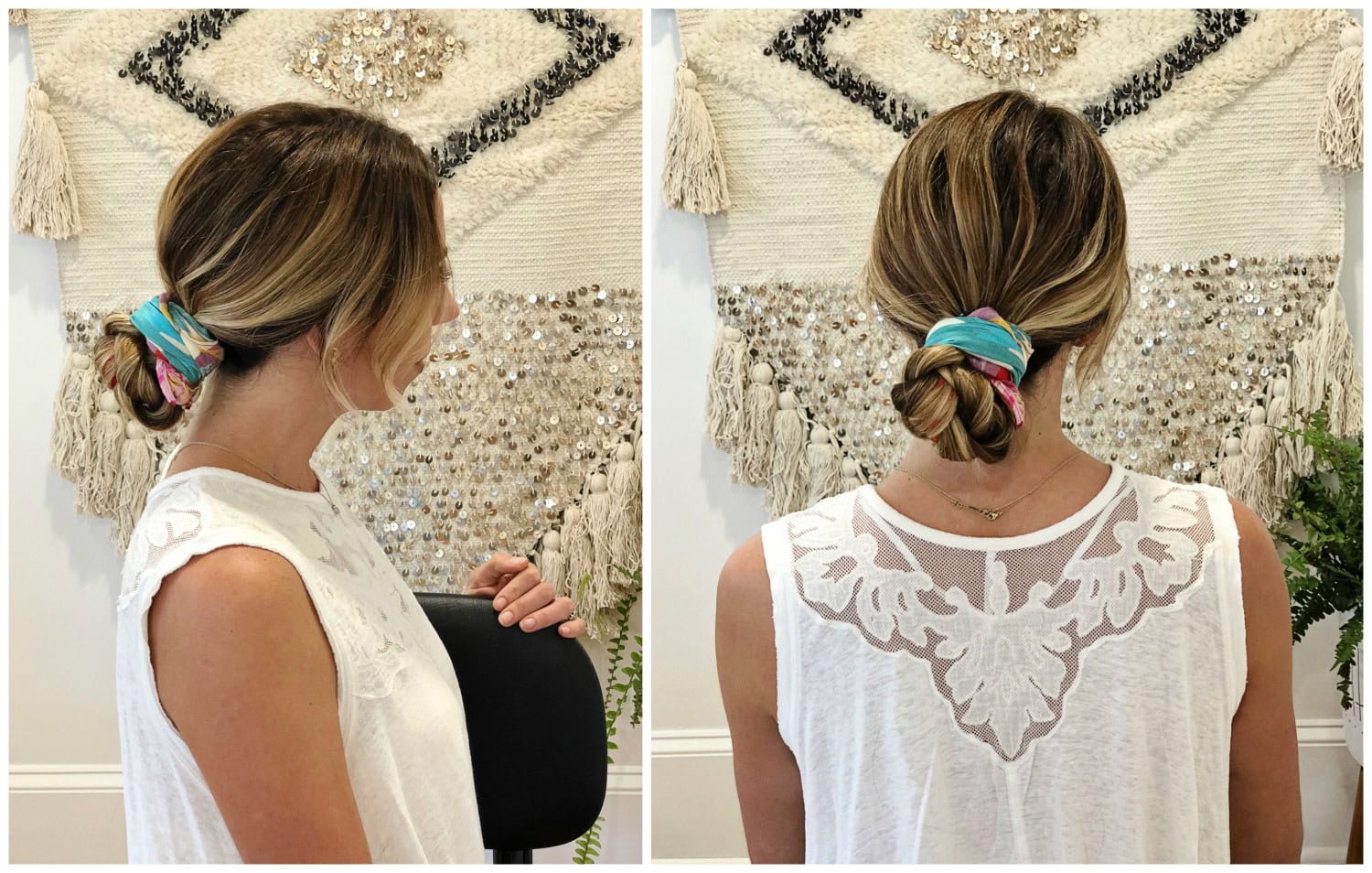 Steps:
Braid hair into a low braid. For an added twist use a bandana as a section of hair.
Wrap the braid into a low bun and secure with criss crossing bobby pins.
If using the bandana, use it to wrap around the base of the bun. Secure with criss crossing bobby pins.
Pull out face frame pieces using a comb and add a touch of pomade to the ends for extra hold.
View these styles in action in the video below!

Shop my favorite hair products here: 
And a few favorite hair accessories here: 
Have a great Hair Day!