If you live anywhere near me, there is still plenty of summer left. However I know the southern part of the country is (gasp) already gearing up to go back to school. Ok let's be honest, the back-to-school aisles have been fully stocked since the first day of summer break. It's cruel, really. In all honesty I was super nervous about this summer between having my kids home, working, and wanting to spend time with my kids in meaningful ways. But thanks to summer camp, babysitters, hiring new team members to help with some back end work, we have really had a wonderful, wonderful summer and I kinda sorta don't really want it to end…..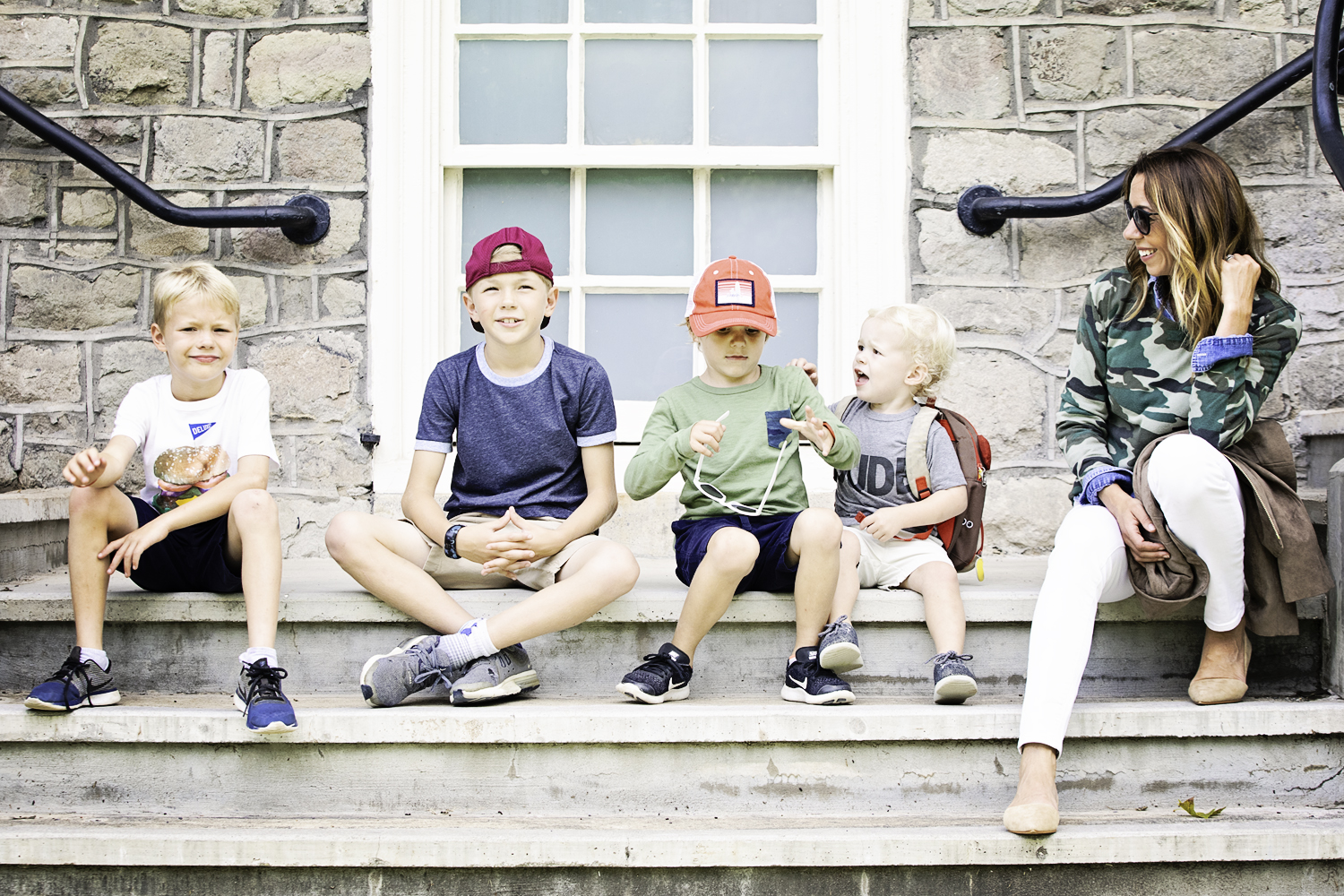 We are gearing for one last hoorah at the beach in a few weeks, but wanted to make sure we are somewhat ready to head back to school before we leave. My kids live in sports clothes, but I always like to pick up a few more "casual, cool, non-sporty" pieces for things, ohhhhh like you know… first day of school, picture day, fall outings where I want to take a family photo without clashing shades of dri-fit neon fabric. Is that too much to ask? Ha!
J.Crew Factory is the one place my kids and I can agree on. Their clothes are adorable (one check in my box) and soft and comfortable (two check in the kids' boxes). And little mom secret, if you want the kids to wear it, let them pick it out. So this post is all about style for kids by kids. Thank you J.Crew Factory for geniously creating collections where everything can be mixed and matched. Hamburger shirt with adorable striped half zip? Winning combo all around.
Ok so who is ready to go back to school?
One out of four. I'll take it.
Oh, and if you are a teacher or college student, make sure you take advantage of the 15% discount with valid id.
Wearing
My Outfit:
Chambray | Camo Sweater | Jeans | Earrings | Shoes | Jacket
Boys' Outfits:
Number 1: Ringer Tee | Shorts
Number 2: Hamburger Tee | Striped Half Zip | Shorts
Number 3: Camo Pocket Tee | Shorts
Number 4: Dude Shirt | Shorts
Shop More Back to School Picks for Kids:

For the girls…
For the Boys:

And we can't forget the women (so many great outfits for teachers!!)

And if you are ready to win some cash to help support your back to school shopping spree, be sure to enter the J.Crew Factory Back to School Giveaway where there will be one $2,500 cash prize and 10 other winners who will receive a $100 J.Crew gift card!
Thank you to J.Crew Factory for partnering on this post.