Little known fact, I taught 4th and 5th grade for many years before deciding to stay home with my boys. The people on my team always joked with me that I never wore the same outfit twice which means my love for fashion is nothing new. And for the record, I wore many of the same pieces more than once, just in different combinations to keep things interesting. Whether you are a teacher heading back to school or a professional who needs a little wardrobe upgrade – this post is for you!
When I think back to my teaching days, one of the hardest things to do was to truly captivate the attention of squirmy students. I picked up many tricks along the way – my favorite being that whispering is actually more effective than raising your voice. Go ahead, try it on your own kids!  And besides channeling your most engaging personality, it doesn't hurt to wear bright, vibrant colors to set the mood for a positive learning space. Ok that might be stretching it, but whatever works! Wearing bold colors boosts my own mood so I say it's worth shot. I've styled one look that would be perfect a back to school outfit for teachers and it is all a part of the Macy's Labor Day sale where you will save 20% site wide with code WKND and free shipping over $49!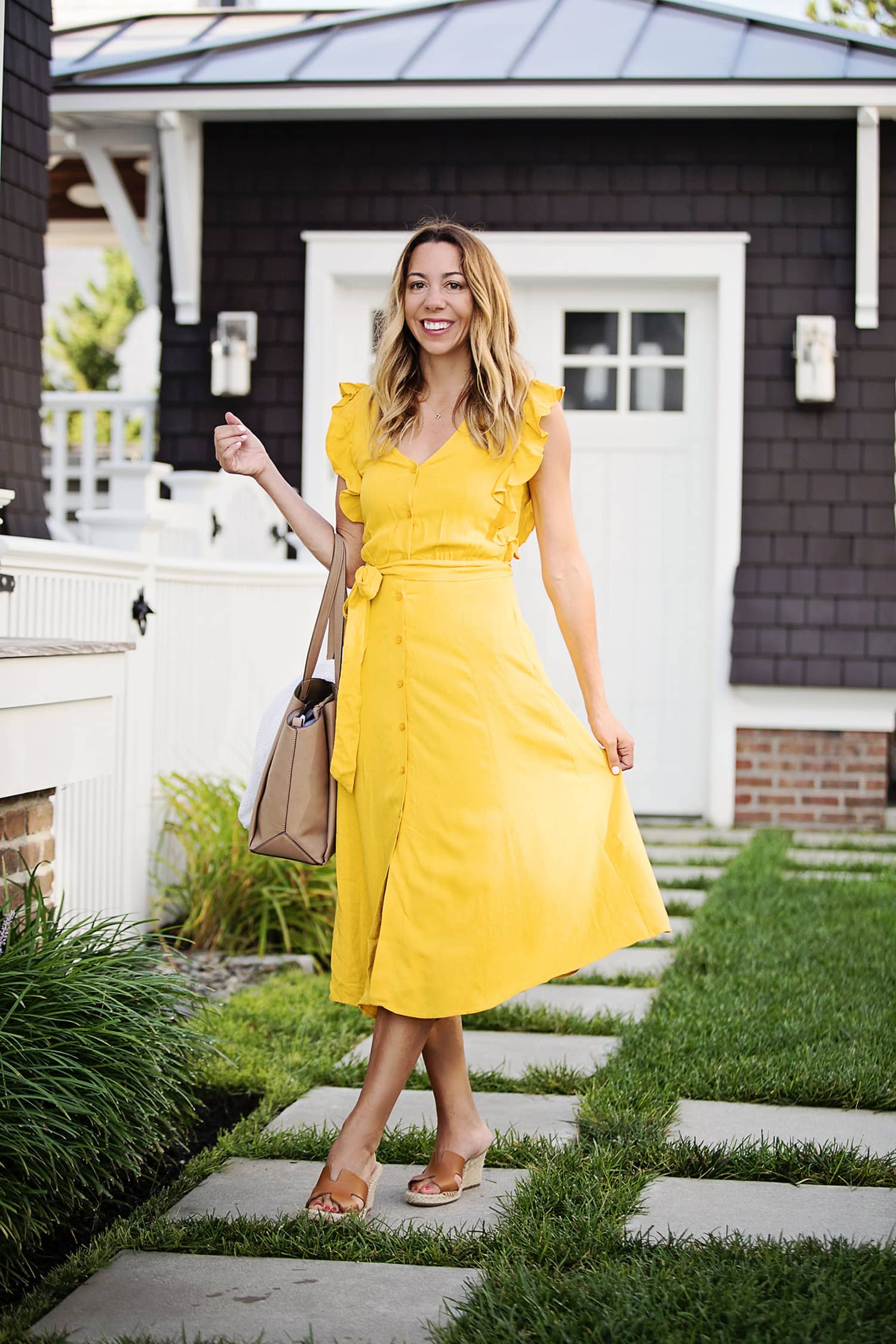 Wearing: 
Dress – Flowy, comfy, bold! Size up if wavering. I have on the XS and the last button was hard to clasp so small would probably fit best.
Cardigan – Top rated and under $35 – comes in lots of colors and perfect for transitional weather and cold AC
Sandals – The wedge version of one of my favorite flats! This is a low wedge so perfect for wearing all day/pacing the classroom!
Bag – Chic and big enough for a laptop
Earrings – Little outfit makers (not part of the sale)
And because we couldn't just stop at one look, here are three more back to school ready outfits that are equal parts comfortable, stylish, and eye catching in all the right ways.
Look 1:
Dress | Bag | Earrings | Flats
Look 2:
Look 3: 
Blouse | Tote | Flats | Necklace | Pants
Shop our entire Back to School Edit from the Macy's Labor Day Sale here:
Thank you to Macy's and ShopStyle for partnering on this post.