Last week I took my last baby to his first day of preschool. Yeah. I wasn't dying on the inside or anything. I am that girl who has always had a baby on her hip or in her belly and to think that those days are ending is oh so bittersweet. There was a time in the thick of it all when my conversation skills were totally lacking because I went for such a long stretch of time never being able to complete a normal dialogue with another adult. I was always interrupted, or distracted, or not able to find a child but I digress. And I say it's bittersweet because even though I am leaving the baby phase, I also have a 9 year old and a 7 year old and a 5 year old and I have experienced the fact that each phase is special in it's own way. Ask me again when I have a teen, but until then…..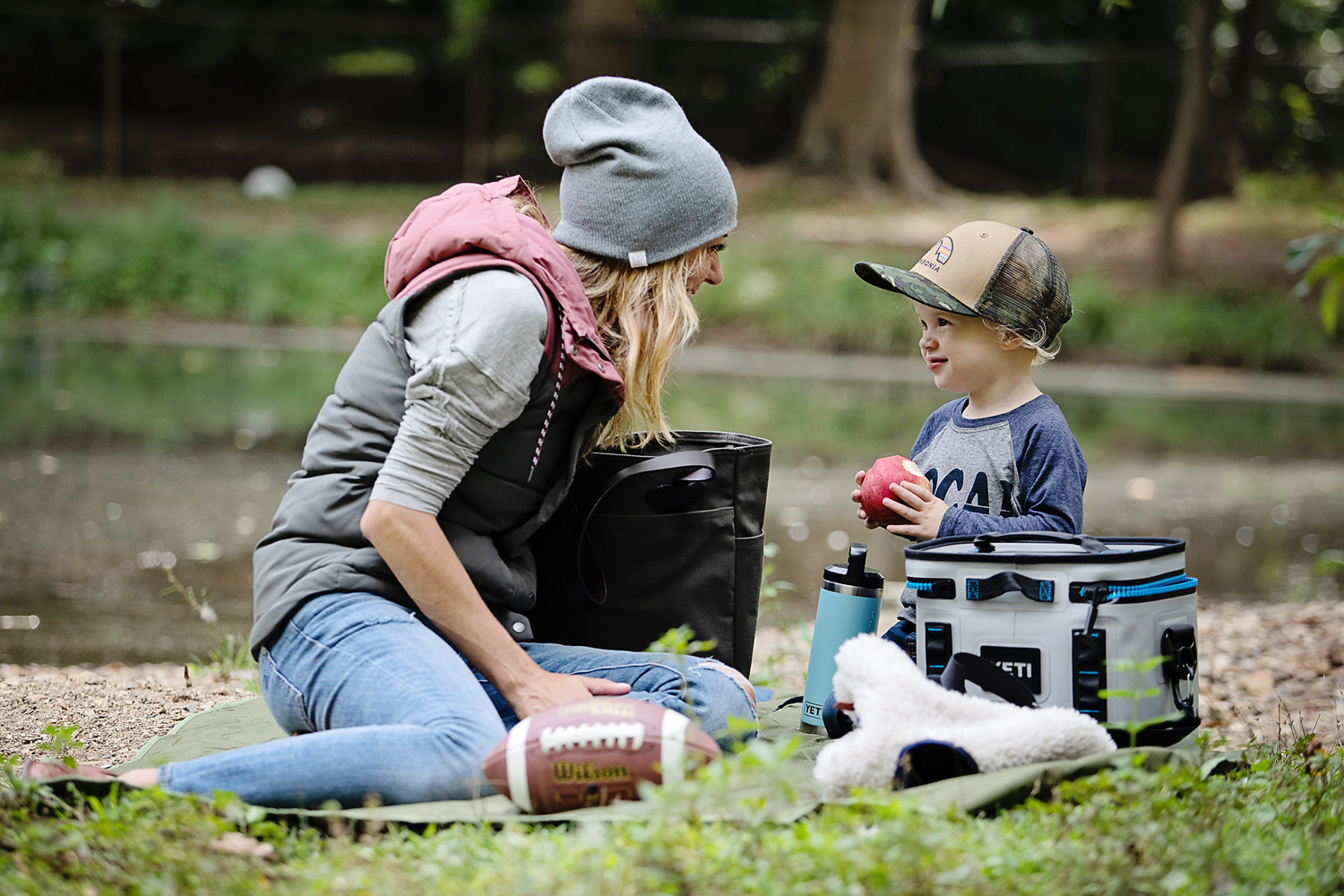 I am going to savor the heck out of this baby – yes, I still refer to him as "the baby" … and do all of the things he loves to do outside this fall season, including but not limited to throwing rocks into ponds and eating apples that he has dropped on the ground 7-10 times with zero concern for the 5 second rule. Does this look like the face of a kid who cares about a little dirt?
This little guy spends so much time watching his brothers do all of their things, that it's refreshing for both of us when I can be with just him and do everything on his level. And it doesn't take much – just give him some dirt, a pond and he's a happy dude. The "waterfall" – total bonus points on my part!
And it wouldn't be The Motherchic if I didn't mention what we're wearing. These are the outfits that I am sure 99% off us live in on a daily basis – give me cute booties, comfy jeans, and a puffer vest and I'm in my element. Backcountry has all of the pieces you need for that fall outdoor lifestyle that are as fashionable as they are functional in their new Fall Lifestyle edit. I am also excited to announce that Backcountry is offering Motherchic readers 15% off your first purchase with code: LINDSEY15 (some exclusions apply).
And speaking of functional – the gear! Actually I don't even know if it qualifies as gear, but I never leave my house on the weekend without a cooler of snacks and drinks and a waterproof blanket because if we are not pond side, we are soccer field side.
My Outfit:
Patagonia Hooded Vest | Free People Top | DL1961 Jeans | Booties | Beanie Hat
His Outfit:
Local Tee | Patagonia Fleece Vest | Trucker Hat
Accessories:
Waterproof Blanket | Yeti Hopper | Yeti Rambler | Filson Tote Bag
Shop My Top Fall Outdoor Lifestyle Picks Below…
Thank you to Backcountry and ShopStyle for partnering on this post.