I'll admit it. I am NOT a skirt girl. I am a ripped skinny jeans and a tee kinda girl. I am an "I-only-have-2-and-a-half-minutes-to-get-ready, run to the school bus, finish the cold coffee, did I leave my curling iron on (???), throw on jeans and sneakers" kinda girl. But this skirt may have converted me. By next week I just may turn into a "wakes up early, reads the paper, meditates, grinds own coffee beans, plans outfits the night before" kind of girl.
Ahhh, who are we kidding? Back to the skirt…
It feels like silky pajamas, is long enough to cover my legs (insert crying emoji due to bad veins) and is the perfect shade of pink. This skirt can easily be paired with my other throw-on-and-go items, ie: chambray top and sweatshirt, that give me all the jeans and a tee kinda feels.
Look 1: Classic Chambray + Crinkle Skirt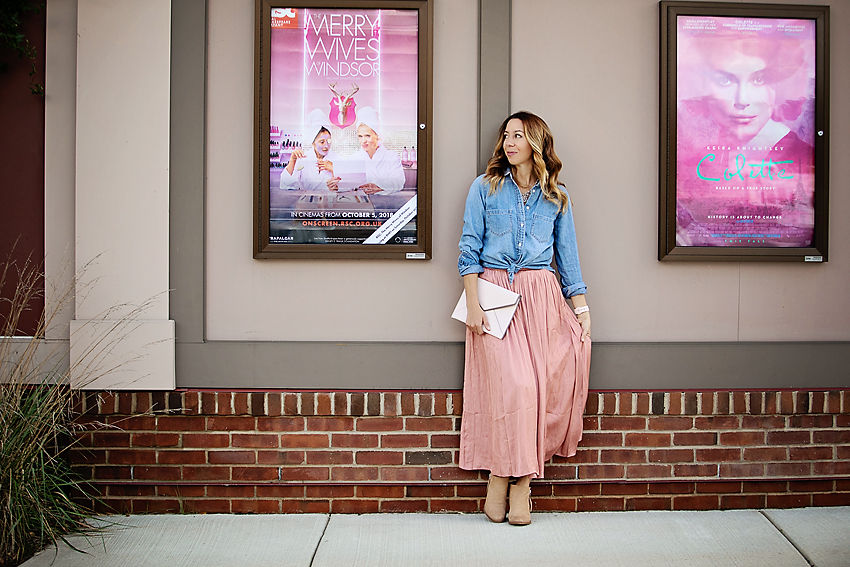 Wearing
Chambray | Skirt (size down) | Booties | Bag | Necklace | Watch
Look 2: Pink All Over
Wearing
Sweatshirt | Skirt (size down) | Sneakers | Hat
More Ways to Wear it…
Pair this skirt with a silky cami and statement shoes and earrings for an evening event.
Try a graphic tee and a flat mule for a casual yet refined look.
Top it off with a cropped sweater and ultra-feminine shoes and crystal necklace for made you look twice look 😉
More Skirts we LOVE…