My sister and I have 8 kids between the two of us – (7 boys, 1 girl to be exact). Some days it feels like we are constantly feeding them. Sometimes a dish goes over well, sometimes not so much. And then there are those days where taking a chance is not an option. Some days we just want a sure thing.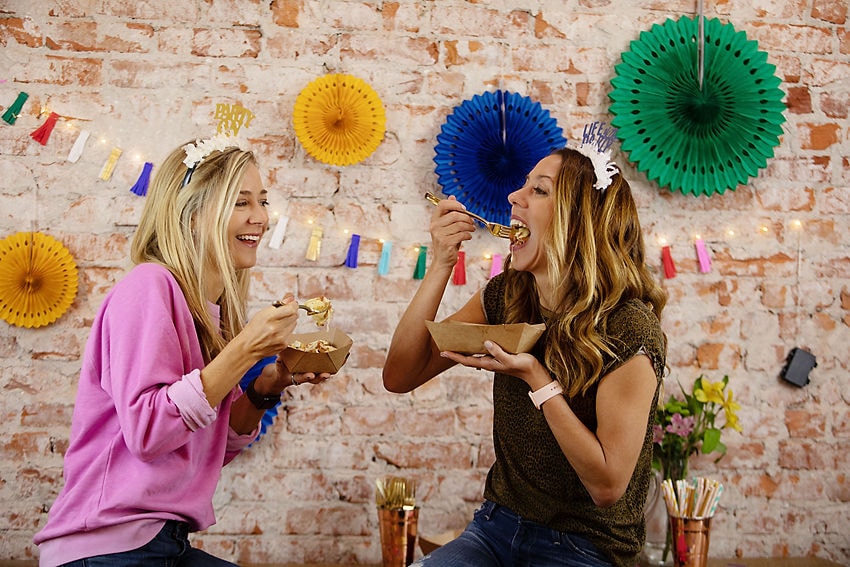 Earlier this week October 8th, the country celebrated the 10th Annual National Pierogy Day (yes, it's a thing!). I happened to be in the city with my team for a photoshoot and we stopped by Mac Mart in Rittenhouse Square to taste Mrs. T's and Mac Mart's Macagories & Cheese. Yes, it is exactly what you think it is – arguably two of the world's best comfort foods in the same dish: pierogies with mac and cheese sauce, plus, oh you know, some caramelized onions and crumbled bacon. No big deal.
Mrs. T's & Mac Mart's Macarogies & Cheese will be available the entire month of October, so be sure to swing by before it's too late!
We decided to recreate this dish and have a little "pierogy get together" of our own – you know, just as a little taste test to see if our crew would approve. The verdict? We are going to need a few more boxes of Mrs. T's Pierogies because once the scent lingered to the second floor of the office, they were gone in seconds flat. If you are looking for crowd pleasing food ideas (hello, Sunday Football) or just a "sure thing" weeknight meal, this recipe is definitely worth a try!
Mrs. T's & Mac Mart's Macarogies & Cheese Recipe: 
First you sauté the pierogies in olive oil or butter (go with the butter).
Next make the cheese sauce….
Load it on to your liking….
Swoon.
Top it off with caramelized onions and crumbled bacon….
Serve hot. And yes, it will be gone in seconds flat!
Try it out and let us know what you think! And if you are looking for other fun pierogy recipes, I am definitely going to try these Bacon Wrapped Pierogies or this Pierogy Minestrone Soup looks delish for fall!
Be sure to follow Mrs. T's for more pierogy inspo on their website, Facebook, and Instagram!
You can also find Mac Mart on Instagram and Twitter.
Thank you to Mrs. T's for sponsoring this post.