Got 10 minutes? Yes, yes, we know this series is called a Mother Minute 😉 My sister, Liz, is always thinking of out of the box recipes that are also kid friendly. And this recipe is literally box-less! No flour included (meaning these are gluten free). So if you have a few ripe bananas lying around, yup that one that looks a little too mushy for your liking, is perfect. Add a few other simple ingredients and only 8 minutes baking time for this super delicious after school snack! I present the cutest chocolate chip mini muffins!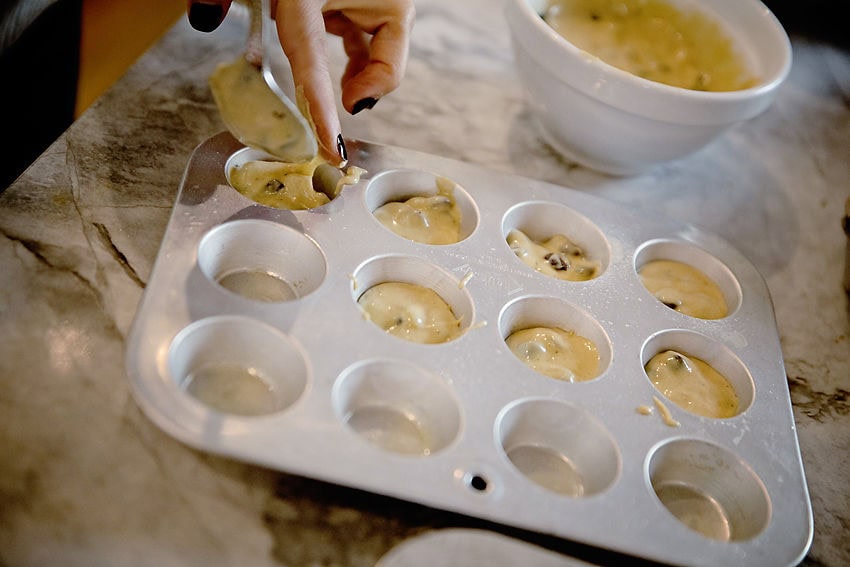 Ingredients
1 ripe banana, peeled
1 large egg
1/2 cup creamy peanut butter
3 tbsp honey
1 tbsp vanilla
1/4 tsp baking soda
1/8 tsp salt
1/2 cup mini semi-sweet chocolate chips
Cooking spray (I use coconut cooking spray from Trader Joe's)
Directions
Preheat oven to 400 degrees. Spray mini muffin tins with cooking spray and set aside.

In a blender, add banana, egg, peanut butter, honey, vanilla, baking soda, and salt.

 

Blend for about 1 minute until creamy.

Add chocolate chips but do not blend… use hand to stir them into the batter.

Scoop a heaping tablespoon of the batter into each of the mini muffin tins.

Bake for about 8-9 minutes. Once cooled a bit, take them out of the tins and ENJOY!
They are best eaten right away.. and I'm not sure they will last much longer than that! My kids devour them in seconds!