It's already more than midway through October, which means Halloween will be here in 30 seconds and then, you guessed it…. it's high school reunion season. Now stop right there for a second because I know what is happening. Many of you probably got a pit in your stomach when you heard those words "high school reunion", didn't you? Take a deep breath and think positive thoughts. Trust me, you didn't peak in high school even though you might think that you did. You are a million times more awesome now than you were back then…. and you got this.
Ok end of pep talk.
Your next thought probably immediately shifts to what to wear to a high school reunion. Cue the FREAKING OUT. But just stop. We got you. If I had to guess you're probably going for that I-didn't-try-too-hard but undoubtedly fabulous kind of look. And whether your reunion is at a posh hotel in the city or the local dive bar everyone used to go to, we have an outfit for you. One look through Nordstrom's new arrivals and we've come up with 4 wow-inducing looks for your upcoming high school reunion.
What to Wear to a High School Reunion
Look 1: Sophisticated (and sexy)
When in doubt, a beautiful silk camisole, jeans, and heels is always perfection. I love the navy combo here with a pop of blush – so classic. Grab a draped jacket for an extra layer and……well, own it girl!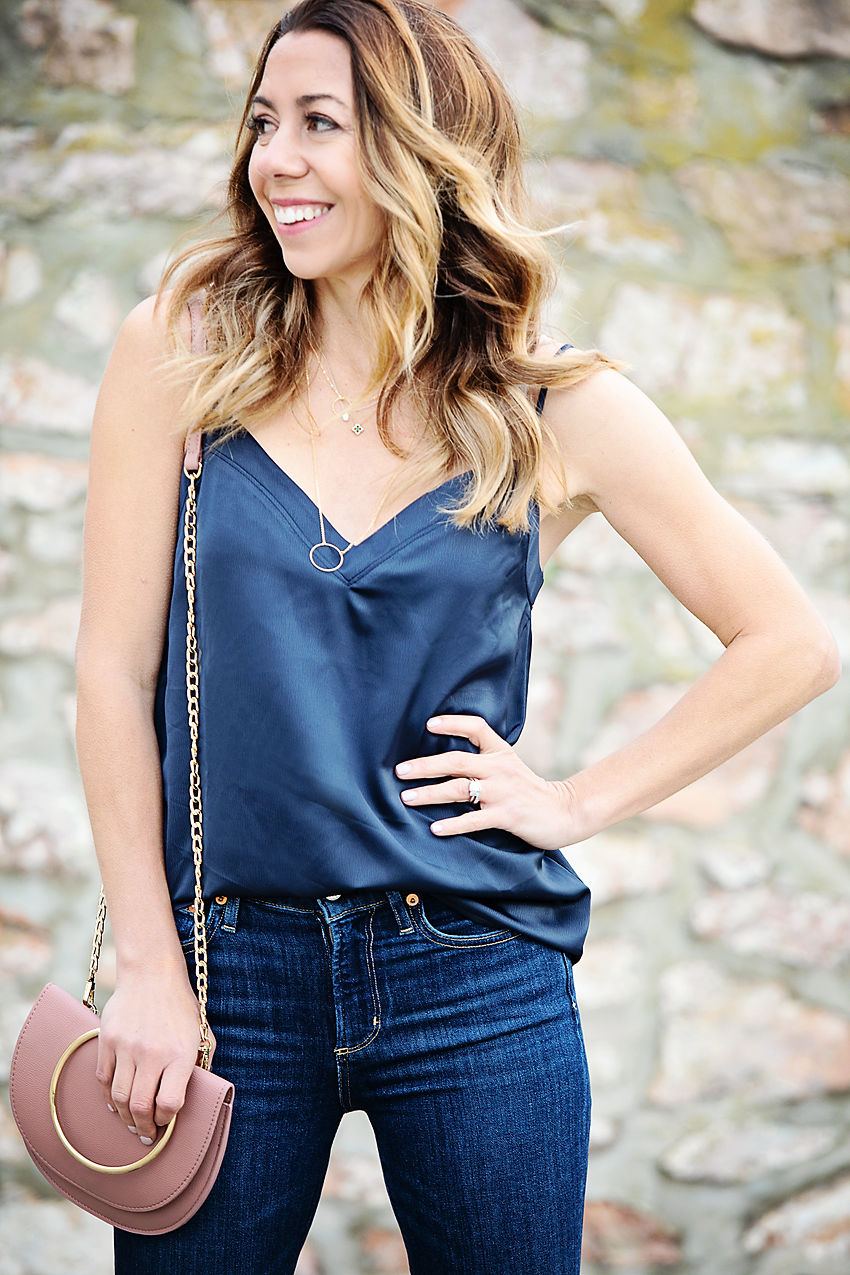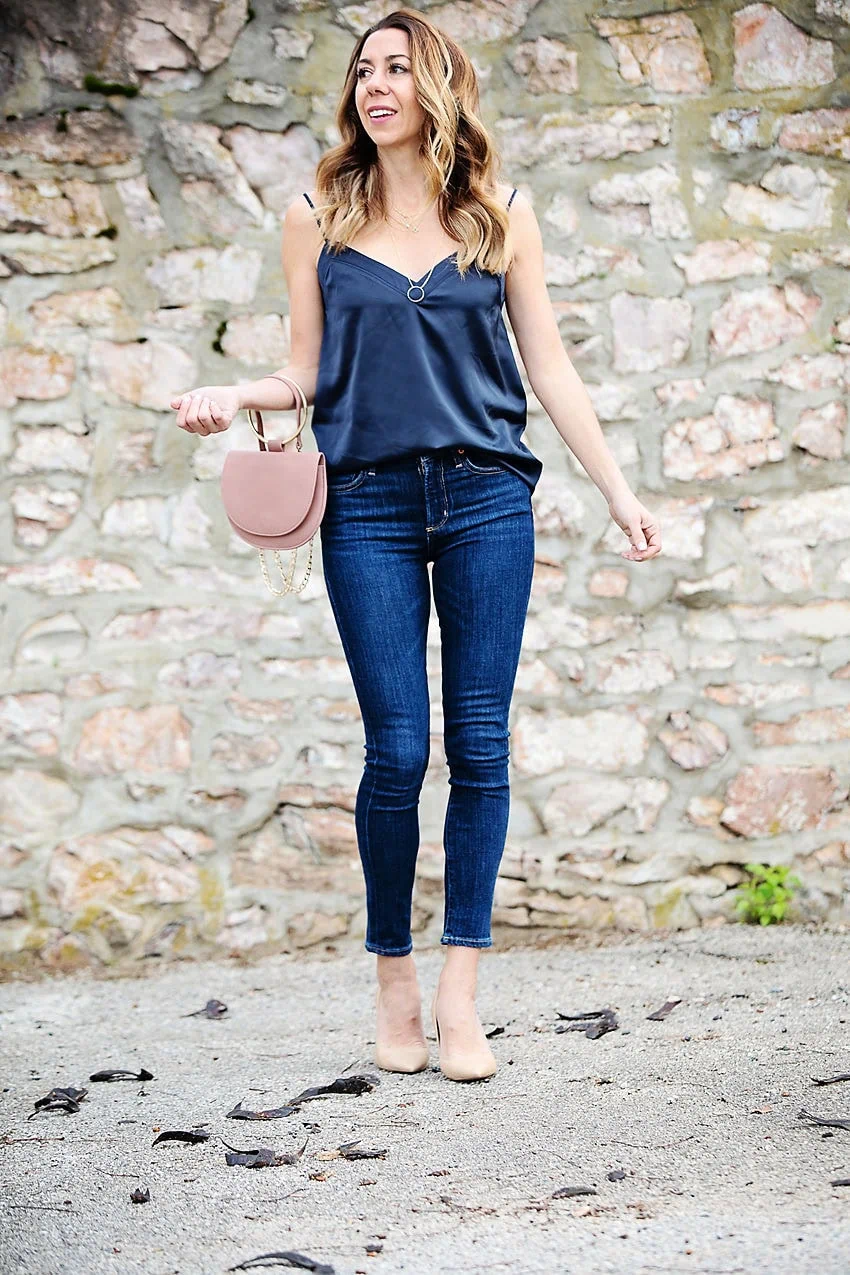 Wearing
Cami | Jeans | Necklace | Bag | Heels
Look 2: Casual and Confident 
This sweater is a little #extra with the off the shoulder silhouette. It shows just enough skin to make it "going out" worthy. Dress it up with your favorite pumps and add in delicate jewelry.
Wearing
Sweater | Jeans | Heels | Necklace | Bag
Look 3: Fancy and Fab
Dark grounded floral and knee boots are always a winning combination. This dress has so many great details and the side tie knot makes it figure flattering. If you need to turn the fancy factor up a notch, swap out the boots for heels.
Wearing
Look 4: Red Hot and Radiant
Turn heads with this wow-factor red, pleated, surplice blouse. The top does the talking so finish the look with your favorite denim (I recommend high waisted because the top runs a little short).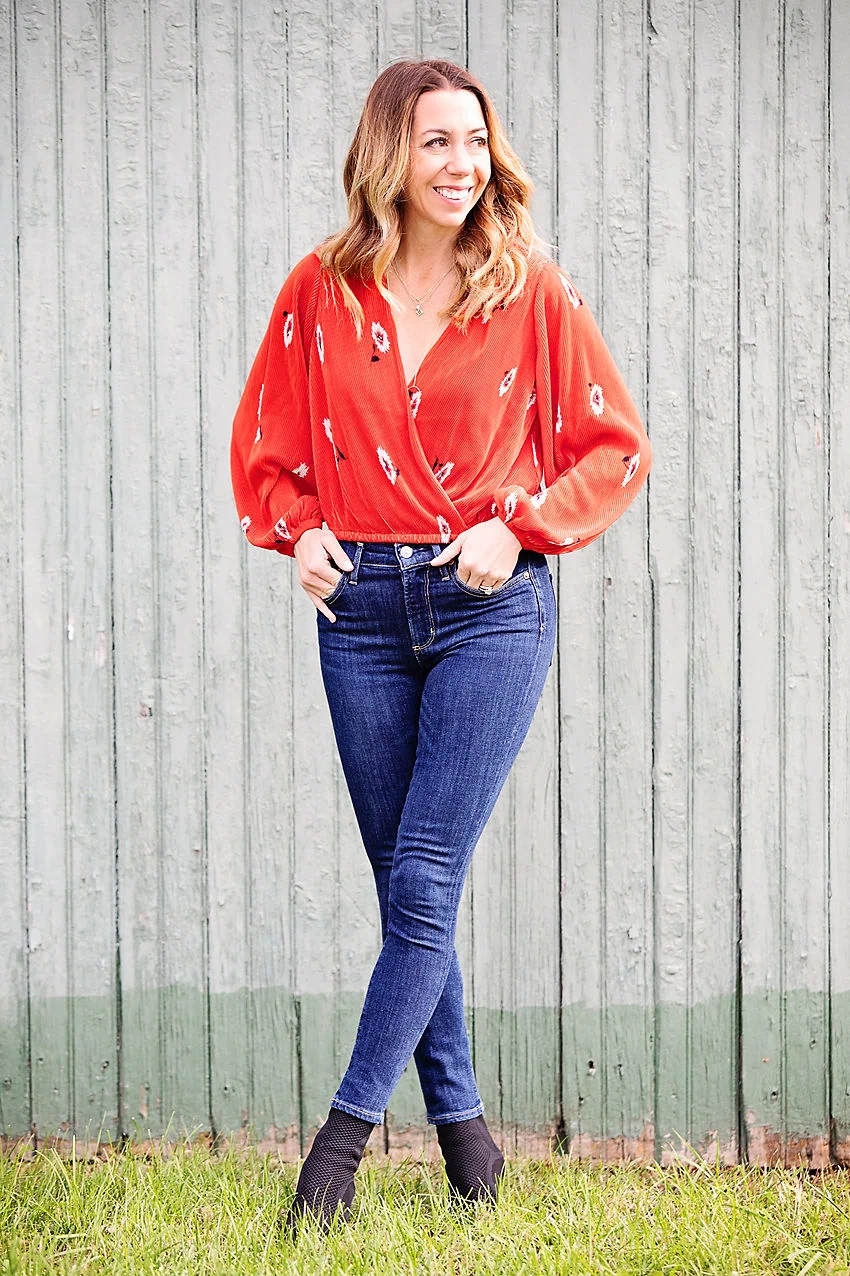 Wearing
Floral Top (size up) | Jeans | Necklace
OK so now hopefully this made you a little more excited for your upcoming high school reunion? Which look is your favorite? And if you can't decide, take advantage of all the amazing services Nordstrom has to offer – free shipping/free returns, free alterations, curbside pick-up…. I mean, they almost make it too easy! Shop some more high school reunion worthy looks below….
The What to Wear to a High School Reunion Edit: 
Thank you to Nordstrom and ShopStyle for partnering on this post.