Thank you to Backcountry and ShopStyle for partnering on this post.
A few months back my mom and sisters asked if I wanted to go on a yoga retreat. Yeah. Sure. Why not? I love yoga, but don't do it nearly enough as I wish I could, but to me this trip read: girl's weekend. 
I'm in.
I went in with little expectations and left with a calmed mind, nourished body (no really, I never knew vegetables could be so good), and some new ways of thinking thanks to guided meditations and lots of time for internal reflection. I also left knowing that I am way too immature to endure a 120 second eye gaze without bursting out laughing, but that's a story for another time. 
We "road tripped" to upstate New York which was equal parts beautiful and scary thanks to the leaves changing and my sister driving. We arrived safely, thank goodness, and spent the weekend at a "secret hotel". Ok fine it was called the Dutchess, but you need to be on the list to be able to stay there. If you are interested….. let me know, because, well, you know, now I'm on "the list". After we enjoyed our pear flower petal welcome tea by the fire (no big deal), we jumped right into our yoga gear for some exploring and the first class of the weekend.
Left Vest | Middle Vest | Right Zip Up
Left Leggings | Middle Leggings | Right Leggings
Zip Up | Tank | Leggings | Bag

Turtleneck Sweatshirt

Left // Alo Bra Top | Leggings | Sneakers
Right // Cropped Yoga Top | Leggings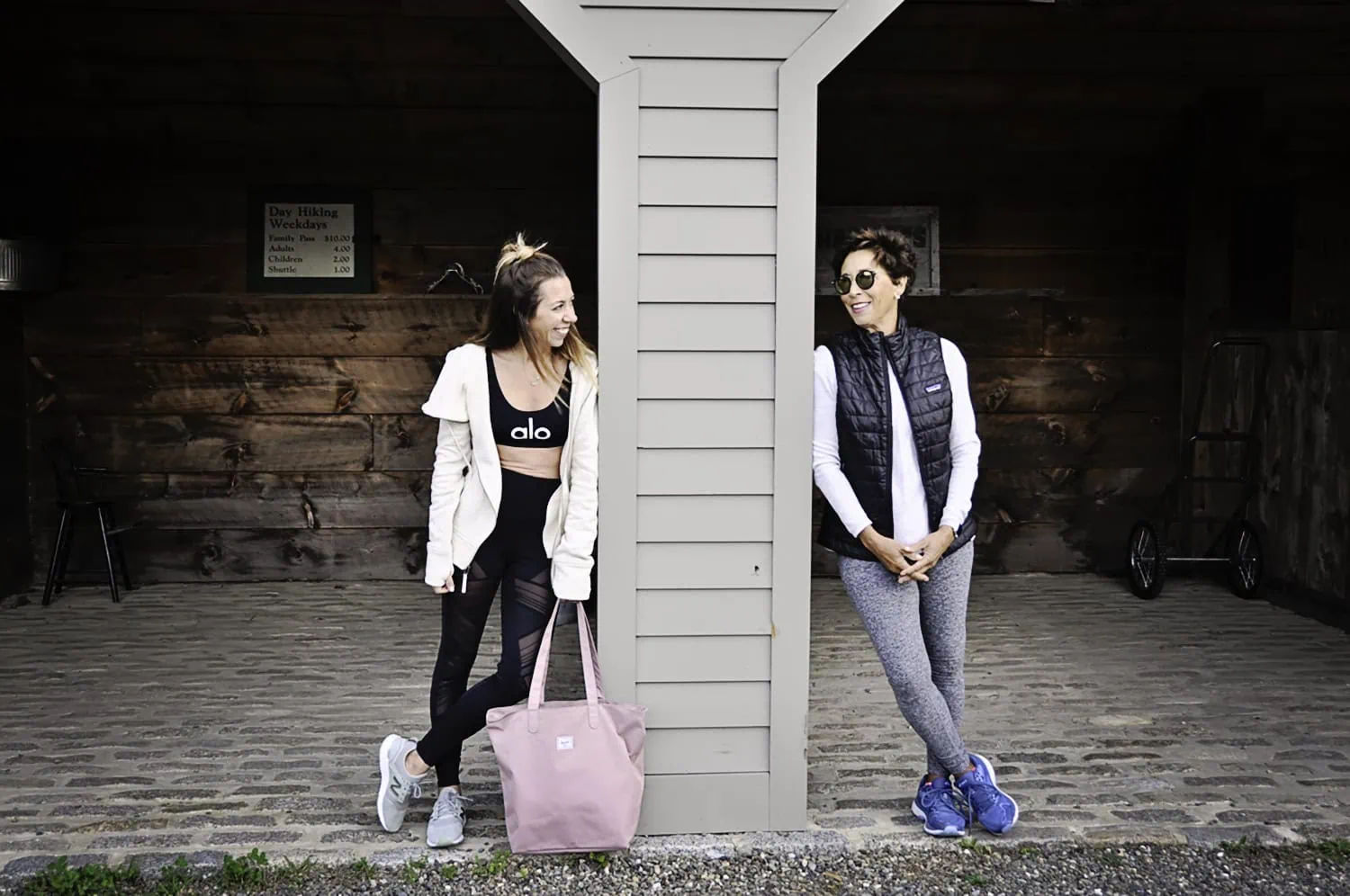 Vest | Turtleneck Pullover | Leggings 
My entire family has always been active in competitive sports, but it's sort of funny how we have evolved over the years and now all practice yoga – bringing the competition inward. And I promise we are not just in it for the gear, although I think we can all agree yoga pants all day everyday are not such a bad way to live life. We are all huge Alo, Beyond Yoga, Patagonia, Prana fans so you can bet we did a little pre-trip shopping at Backcountry to outfit us for the weekend. Because what's a girl's weekend without a few (107) photos? We needed to feel our best! I'm so excited to announce that Backcountry is offering 15% off your first purchase with code LINDSEY15.
Although yoga was the backdrop to the weekend, we hiked, got massages, drank wine, and spent some great quality time together which is rare when between the 5 of us, we live in three different states. And now that I've experienced my first ever retreat, I am set on creating one of my own. Some yoga, some cooking, some fashion, lots of fun…. who's in? I mean, you would get to hang with this lively crew 🙂
Shop our looks here: